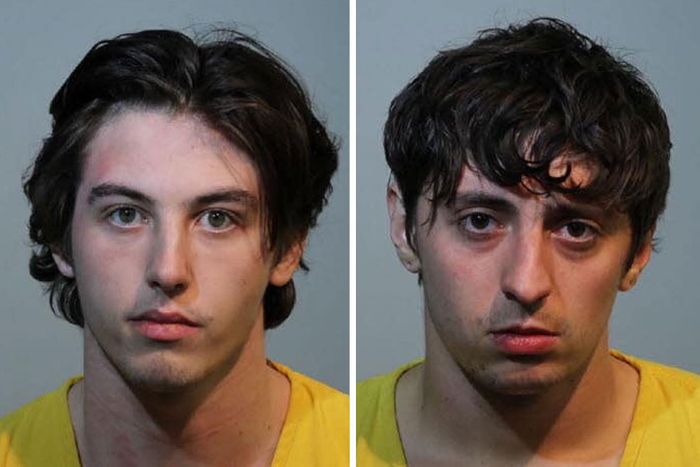 Ian McClurg, left, and Jake Bilotta.
Photo: Seminole County Sheriff's Office
Earlier this week, Joshua Barnes, a 24-year-old Floridian, was stabbed to death, allegedly by his two former roommates. The roommates — Jake Bilotta, 22, and Ian McClurg, 21 — reportedly lured Barnes back to the apartment they used to share under the guise that the trio would attend a party together, ABC reports. When Barnes arrived, they did not go to a party. Instead, Seminole County sheriff Dennis Lemma said, Barnes was stabbed repeatedly with a seven-inch chef's knife.
The motive? Bilotta and McClurg reportedly believed Barnes had broken into their apartment over the weekend and stolen their PlayStation 4. Lemma noted the three only lived together in their apartment in Maitland, Florida, for about two weeks before Barnes was evicted. "It is the most bizarre and disgraceful act that one can imagine … over these gaming systems and things that have little value, definitely no association with the value of human life whatsoever," Lemma said.
The new roommate who replaced Barnes, Walter Johnson, came home on Monday — from a Tinder date, of all things — and allegedly found McClurg and Bilotta putting the body into plastic bags. Johnson ran out of the apartment, back to his car, where his Tinder date was waiting, and called 911. "Walter said Jake was searching through a backpack next to the body," a police report, via BuzzFeed News, explained. "Jake made the statement that he had to 'give the fucker credit, he put up a good fight.'" Police found McClurg inside the bathroom in the apartment and caught Bilotta, believed to have been the main attacker, on foot after he attempted to run. Both men are in custody and have been arrested for suspicion of premeditated homicide charges.