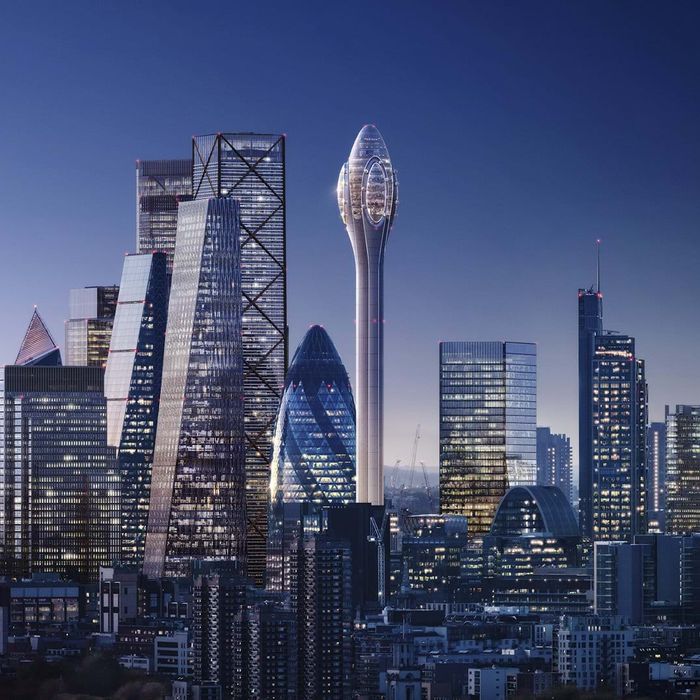 Norman Foster's Tulip, soon to be erected in London.
Photo: DBOX for Foster + Partners
If there's one thing London needs right now, in the midst of opaque Brexit haggling and a fuzzy economic outlook, it's clarity of vision — the figurative kind. Trust an architect to take that metaphor literally and, with a grand voilà, unveil a plan to help people see out to Surrey from a high point in the heart of the City. Norman Foster, a.k.a. Baron Foster of Thames Bank, has proposed the Tulip, an observation deck on a concrete stem, 1,000 feet in the air. This is to be no ordinary viewing platform, but a multistory glass bubble, where visitors can have a drink or a meal, absorb a little history, hurtle down a glass slide, and tiptoe across sky bridges. Best of all, they'll be able to climb into a glass pod that glides across the façade exterior, bobbing and looping gently far, far above Bishopsgate. This kind of vision, London can do without.
Foster has spent decades as an architectural magus, fashioning glass and steel into domes, bubbles, bug-like carapaces, levitating canopies, airports that look like they're about to follow the planes into the skies, and towers held together from the outside in. The firm produces so many iterations of cool high-tech drama that the James Bond franchise could film all future films in Foster + Partner works and never run out of locations. The office has also provided several cities with their defining guidebook-ready image, including the crystalline cupola atop Berlin's Reichstag (united Germany's beacon of democracy) and HSBC bank tower in Hong Kong, a statement of the city's financial clout. London alone has acquired a flock of his glassy landmarks: the tilting beehive of City Hall, the gridded tent over the Great Court of the British Museum, and of course, 30 St Mary Axe, popularly known as the Gherkin.
At 83, Foster seems in a hurry to do more. His firm's to-do list spans the world, and it must dismay him that he has lost his dominion over his hometown's skyline. When the Gherkin opened in 2004, it instantly became London's most diva-like (though not tallest) tower. At once sensual and aggressive, organic and industrial, it embodied the vitality of a former imperial capital that had rediscovered its global reach. But that same constructive energy overwhelmed its symbol, which is what eventually happens to virtually all skyscrapers — the Empire State Building, for example. The 1,017-foot Shard and the mastodons of Canary Wharf are too far away to interfere, but the cluster of skyscrapers in the City, London's financial district, now includes Kohn Pedersen Fox's Heron (Salesforce) Tower and the Leadenhall Building, by Rogers Stirk Harbor & Partners. Since Foster neglected to include a hydraulic mechanism for lengthening his shaft when the need arises, the only way for him to regain his place in London's silhouette is to build something bigger and new.
J. Safra Group, the Brazilian conglomerate that bought 30 St Mary Axe in 2014, jumped at his suggestion for the miniature lot next door: Instead of a bona fide skyscraper, an airborne snowglobe. Client and architect may both be hoping to redeem the Gherkin, but the impression that the current and would-be buildings make amid the ever-denser City is of somewhat stumpy waiter holding a silver cloche aloft on his fingers to get through a crowded room.
Still, there's a certain logic to the idea of running a crow's nest up to the top of a flagpole. Renting views is big business: In New York, the observation decks of the Empire State Building, Rockefeller Center, and One World Trade Center together sell $270 million worth of tickets per year, and that's before food and merch. They're about to be joined by One Vanderbilt and the sky deck that shoots out like a beak from the top of 30 Hudson Yards. London has vistas of its own, but the Tulip would sit 200 feet higher than the observation deck atop the Shard and 500 feet higher than the Sky Gallery in Rafael Viñoly's Walkie Talkie tower at 20 Fenchurch Street.
No doubt Safra will claim that separating the observatory from a building is actually a frugal thing to do, since you need fewer elevators, air ducts, windows, than an office building would, and you can concentrate the expense where it's needed most: near the clouds.
Foster can also invoke a tradition of unoccupied structures that draw visitors up in the air, though perhaps none that is quite so pointless.
When the Eiffel Tower opened in 1889, it announced the supremacy of lightweight metal trusses that would go on to make possible the 20th century's skyscrapers. Berlin's TV Tower, completed in 1969, was a Cold War statement, proclaiming Communist East Germany's might and the power of television as an instrument of propaganda. The technology of broadcasting invited such structures, like CN Tower in Toronto and the Space Needle in Seattle, both of which loomed over their low-rise cities.
In all of those spires, the viewing platform was secondary to their symbolic and logistical functions. The Tulip, on the other hand, is pure razzmatazz, a thin-air pleasure dome. After the 2008 recession, with climate change menacing and massive migrations under way, architecture supposedly veered away from flamboyance, retreating into socially conscious sobriety. Foster's had quite enough of that, thank you: This is Instagram architecture inside and out, a photogenic structure from which to shoot dramatic panoramas. To soften the self-indulgence, the proposal includes a "classroom in the sky," for 20,000 schoolchildren a year. Providing kids with the ultimate window to stare out of seems like an odd way to "deliver national curriculum topics," as the educational component promises to do. More likely, the Tulip will deliver giggles galore. With its bulbous head atop a long flagellum, Foster's play tower strongly suggests that he's dying to fit out his Gherkin with a prodigious spermatozoon. Maybe that's a virile globalist's answer to Brexiters' insistence that Britain "pull out" of Europe. This is a delicate moment for a great city, ad if there's one thing London doesn't need right now, it's to clutter its skyline with vanities.