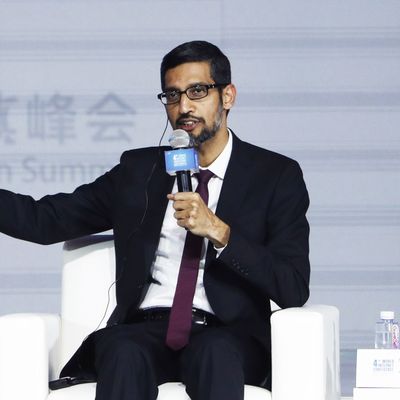 Google CEO Sundar Pichai.
Photo: China News Service/VCG via Getty Images
Google's Project Dragonfly, a search engine designed around China's strict censorship laws, has been contentious since the day its existence became public this summer, following a report from The Intercept. "Google's Chinese search app will automatically identify and filter websites blocked by the Great Firewall. When a person carries out a search, banned websites will be removed from the first page of results, and a disclaimer will be displayed stating that 'some results may have been removed due to statutory requirements,'" the report explained.
This, for obvious reasons, did not sit well with people. Including many at Google, who, on Tuesday, published an open letter opposing the project in conjunction with Amnesty International. From Google Employees Against Dragonfly via Medium:
Our opposition to Dragonfly is not about China: we object to technologies that aid the powerful in oppressing the vulnerable, wherever they may be. The Chinese government certainly isn't alone in its readiness to stifle freedom of expression, and to use surveillance to repress dissent. Dragonfly in China would establish a dangerous precedent at a volatile political moment, one that would make it harder for Google to deny other countries similar concessions.




Our company's decision comes as the Chinese government is openly expanding its surveillance powers and tools of population control. Many of these rely on advanced technologies, and combine online activity, personal records, and mass monitoring to track and profile citizens. Reports are already showing who bears the cost, including Uyghurs, women's rights advocates, and students. Providing the Chinese government with ready access to user data, as required by Chinese law, would make Google complicit in oppression and human rights abuses.
The expanded surveillance powers of the Chinese government referenced in the letter have been well documented. In February, police began using facial-recognition glasses to track criminal behavior. Earlier this year, over a thousand Google employees signed a similar letter which was circulated internally demanding the company not be complicit in aiding a country already actively repressing and surveilling its citizens. (As opposed to the earlier letter, Tuesday's is signed by dozens of Googlers who are listed by name.)
Google's CEO Sundar Pichai responded saying Dragonfly was "early stages" and "exploratory." "I genuinely do believe we have a positive impact when we engage around the world and I don't see any reason why that would be different in China," Pichai said. Which, sure, if the positive impact you're going for is a giant, previously untapped market for your company at the expense of human rights … that's probably true.