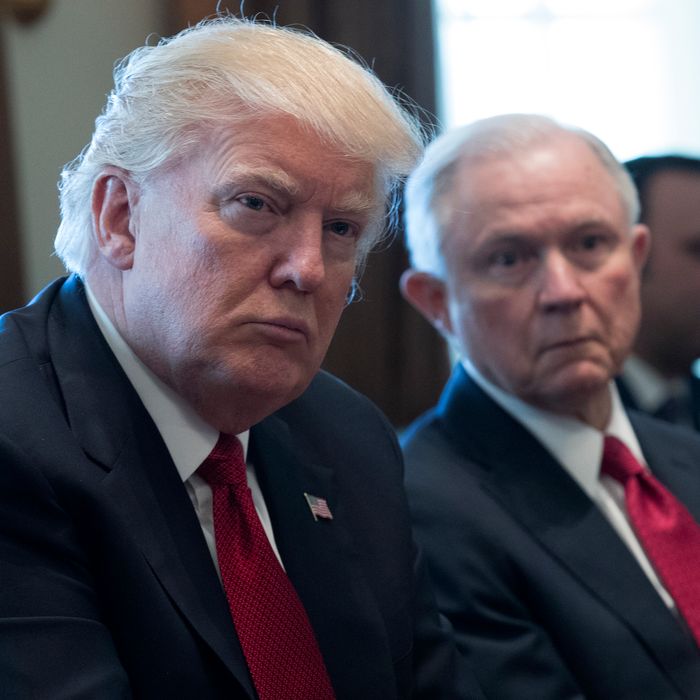 It was doomed almost from the start.
Photo: Pool/Getty Images
As a senator, Jeff Sessions was one of Donald Trump's earliest supporters, and he served as one of his campaign's top foreign-policy advisers. But the seeds of the attorney general's rift with the president were planted during his confirmation hearing, when he offered up some thoughts about Russia collusion that turned out to be not entirely accurate. Here's how their relationship devolved to the point that Sessions was asked to submit his resignation a day after the midterms, following months of the two 71-year-old lawmakers barely speaking, except to lob insults on Twitter.
Sessions's Russia Contacts Are Revealed
In March 2017, President Trump was basking in the unusually positive reviews from his first address to Congress. The very next day, we learned that Sessions met with Russian ambassador Sergey Kislyak at least twice while working with the Trump campaign — yet during his confirmation hearing he denied, under oath, having any such contacts.
"I'm not aware of any of those activities," Sessions said of Trump officials' Russia contacts, "I have been called a surrogate at a time or two in that campaign and I did not have communications with the Russians."
Amid calls for him to step down, at least from the FBI's Russia investigation, Sessions said he would "recuse myself on anything that I should recuse myself on, that's all I can tell you."
The White House stuck by Sessions, claiming then-Democratic Senator Al Franken pushed the story to distract from Trump's good press. Trump himself told reporters he had "total" confidence in Sessions and did not think he should recuse himself.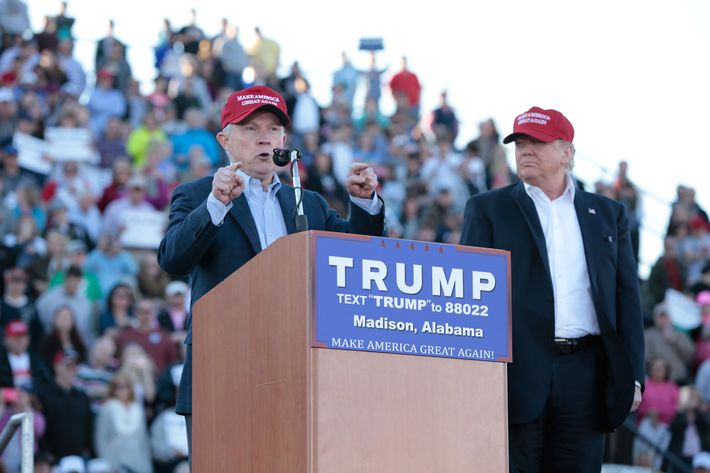 Sessions Recuses Himself
The next day Sessions announced he would recuse himself from any investigation into the 2016 campaign. "So in the end I have followed the right procedure," he said, "… just as I believe any good attorney general should do."
Trump Is Furious
Trump was reportedly livid over Sessions's recusal.
Over the next 48 hours, he lashed out at various Democrats, baselessly accusing President Obama of wiretapping him during the campaign. Many months later, the New York Times reported that Trump instructed then-White House counsel Don McGahn to keep Sessions from recusing himself, and when he failed Trump attacked his staff:
Mr. McGahn was unsuccessful, and the president erupted in anger in front of numerous White House officials, saying he needed his attorney general to protect him. Mr. Trump said he had expected his top law enforcement official to safeguard him the way he believed Robert F. Kennedy, as attorney general, had done for his brother John F. Kennedy and Eric H. Holder Jr. had for Barack Obama.




Mr. Trump then asked, "Where's my Roy Cohn?" He was referring to his former personal lawyer and fixer, who had been Senator Joseph R. McCarthy's top aide during the investigations into communist activity in the 1950s and died in 1986.
Sessions Aids Effort to Discredit Comey
The Times also reported that despite his recusal, Sessions worked to spread negative information about FBI Director James Comey after he refused to publicly confirm that Trump wasn't under investigation.
Two days after Mr. Comey's testimony, an aide to Mr. Sessions approached a Capitol Hill staff member asking whether the staffer had any derogatory information about the F.B.I. director. The attorney general wanted one negative article a day in the news media about Mr. Comey, according to a person with knowledge of the meeting.




A Justice Department spokeswoman said the episode did not occur. "This did not happen and would not happen," said the spokeswoman, Sarah Isgur Flores. "Plain and simple."
Trump Fires Comey, Ostensibly Because Sessions Told Him To
In the statement announcing Comey's firing on May 9, 2017, the White House said, "President Trump acted based on the clear recommendations of both Deputy Attorney General Rod Rosenstein and Attorney General Jeff Sessions." The administration released a letter from Rosenstein arguing that Comey's handling of the Hillary Clinton email probe was inappropriate, and a one-paragraph letter from Sessions saying that he agreed. Later Trump said he'd decided to fire the FBI director regardless of what Rosenstein and Sessions said, referencing the Russia probe.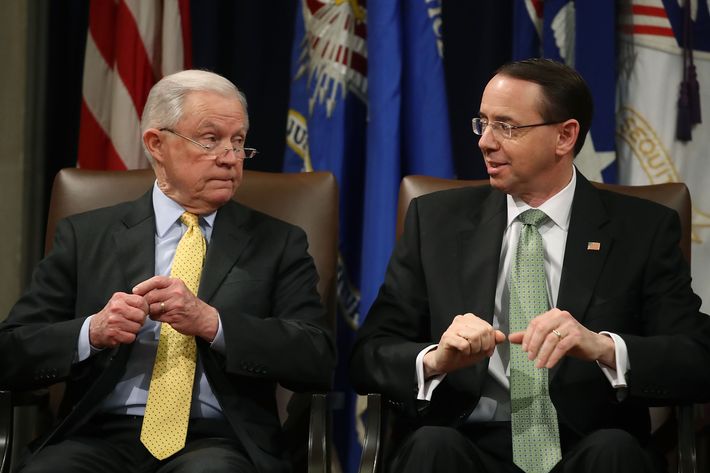 Rosenstein Appoints a Special Counsel
If Trump was firing Comey to curtail the Russia investigation, it backfired spectacularly. Rosenstein, who is in charge of any campaign-related matters thanks to Sessions's recusal, appointed former FBI director Robert Mueller as a special counsel on May 17, 2017, to look into "any links and/or coordination between the Russian government and individuals associated with the campaign of President Donald Trump,'' as well as "any matters that arose or may arise directly from the investigation." Mueller was "authorized to prosecute federal crimes arising from the investigation of these matters."
Trump Berates Sessions in Oval Office
Shortly after Mueller's appointment, Trump berated Sessions during an Oval Office meeting, pointing to his recusal as the moment the administration lost control of the Russia probe, according to the Times. Sessions offered to resign, but Trump decided to keep him on after being persuaded that firing him would create a bigger mess:
Accusing Mr. Sessions of "disloyalty," Mr. Trump unleashed a string of insults on his attorney general.




Ashen and emotional, Mr. Sessions told the president he would quit and sent a resignation letter to the White House, according to four people who were told details of the meeting. Mr. Sessions would later tell associates that the demeaning way the president addressed him was the most humiliating experience in decades of public life.
Priebus Saves Sessions's Job, Twice
In his book, former White House chief of staff Reince Priebus said he prevented Sessions from resigning on two occasions. Priebus said he learned the AG planned to step down just after the incident in the Oval Office, and he ran to catch up with Sessions before he left.
"I knocked on the door of the car, and Jeff was sitting there and I just jumped in and shut the door," Priebus said. "And I said, 'Jeff, what's going on?' And then he told me that he was going to resign. I said, 'You cannot resign. It's not possible. We are going to talk about this right now.' So I dragged him back up to my office from the car."
A White House insider said that Trump told Priebus to obtain Sessions's resignation in June as well, but he talked him out of it, telling him, "If I get this resignation, you are in for a spiral of calamity that makes Comey look like a picnic.'"
Trump Calls Sessions Recusal "Unfair"
In his first public attack on Sessions, Trump told the New York Times on July 19, 2017, that he wouldn't have nominated Sessions if he knew he was going to recuse himself.
TRUMP: So Jeff Sessions takes the job, gets into the job, recuses himself. I then have — which, frankly, I think is very unfair to the president. How do you take a job and then recuse yourself? If he would have recused himself before the job, I would have said, "Thanks, Jeff, but I can't, you know, I'm not going to take you." It's extremely unfair, and that's a mild word, to the president. 
Trump Tries to Humiliate Sessions into Resigning
Trump doesn't love firing people when he's not on a TV set, and in July 2017 he lobbed a number of public insults at his attorney general that were widely viewed as attempts to force him to resign. Reports suggested Trump was considering Rudy Giuliani or Senator Ted Cruz as Sessions's replacement, but both men shot down the idea. Axios reported that he had called a political associate and asked, "What would happen if I fired Sessions?"
The Washington Post reported that Trump had been musing about using a recess appointment to install a new attorney general without the approval of Congress once Sessions was gone.
In an interview with The Wall Street Journal, Trump wouldn't say whether he planned to fire Sessions, and dismissed his early campaign endorsement. "It's not like a great loyal thing about the endorsement," Trump said. "I'm very disappointed in Jeff Sessions."
He also continued lashing out at Sessions on Twitter:
Sessions said he intended to stay on "as long as that is appropriate."
Democrat Wins Sessions's Old Seat, Humiliating Trump
Though Sessions had little to do with it, having his old Alabama Senate seat go to a Democrat probably didn't improve his relationship with Trump. The president initially backed establishment candidate Luther Strange, who had been appointed to replace the AG, but the GOP nomination went to Roy Moore. Trump stuck by Moore even after he was accused of sexually assaulting several teen girls, but Sessions contradicted the official line, saying "I have no reason to doubt these young women." Democrat Doug Jones wound up winning the December 2017 special election.
FBI Director Threatens to Quit Amid Pressure From Sessions
Following Trump's public complaints about FBI deputy director Andrew McCabe, Sessions reportedly pressured FBI director Christopher Wray to fire him in December. Wray refused and threatened to quit if Sessions didn't back off, according to Axios, and McGahn told him it wasn't worth losing another FBI director.
Trump Renews Attacks on Sessions, Misspells Name
After laying off Sessions for a few months, on February 21, 2018, Trump resumed his public shaming of the AG, criticizing him for failing to prosecute Obama for failing to stop the Russian election meddling Trump officials are accused of participating in. Also, in the initial version of the tweet, Trump called him Jeff "Session."
Trump Lashes Out at Sessions for Following DOJ Rules
Showing once again that he does not understand how the Justice Department works, Trump was angered by Sessions asking the Justice Department's inspector general to review Republican claims that Trump campaign officials were improperly surveilled, instead of ordering an investigation. As the Times notes, "an attorney general cannot order an inspector general to investigate anything, only refer information."
Sessions Defends Himself
Rather than silently accepting Trump's insults as he has so many times in the past, in March 2018 Sessions responded to the president's "disgraceful" tweet with a statement explaining his actions.
We have initiated the appropriate process that will ensure complaints against this Department will be fully and fairly acted upon if necessary. As long as I am the attorney general, I will continue to discharge my duties with integrity and honor, and this department will continue to do its work in a fair and impartial manner according to the law and Constitution.
In case it was not clear that Sessions was siding with the law rather than the president, he then made sure he was spotted dining with Rod Rosenstein and the Solicitor General Noel Francisco — who happen to be the next two people in line to run the Justice Department.
A source close to Sessions told Axios that Francisco had requested the meeting some time ago, and it was "in no way planned as pushback or an act of solidarity against the president."
Mueller Probes Trump's Attacks on Sessions
In addition to revealing that Trump has given Sessions the derisive nickname "Mr. Magoo," the Washington Post reported in February that Mueller is investigating whether Trump's efforts to drive Sessions out of his job were part of an effort to obstruct the Russia probe. So it appears Trump's anger at Sessions for indirectly starting the Mueller investigation became more fodder for the Mueller investigation.
Trump Repeatedly Asked Sessions to Unrecuse Himself
Axios reported in May 2018 that Trump repeatedly tried to get Sessions to reverse his decision to step aside from oversight of the Mueller probe, pressuring him "on at least four separate occasions, three times in person and once over the phone, according to sources familiar with the conversations." Trump reportedly told Sessions that he'd be a "hero" to conservatives if he did the "right thing," but the AG didn't budge.
Trump Jabs Sessions in Sarcastic Tweets
In an August 2018 Fox & Friends interview, Trump groused about Sessions's recusal again, saying he "never took control of the Justice Department." Sessions "took the job and then he said, 'I'm going to recuse myself.' I said what kind of a man is this?" Trump recalled.
Sessions responded by issuing a statement, saying he "will not be improperly influenced by political considerations." The statement was released just moments before he was scheduled to arrive at the White House for a meeting on criminal justice reform.
"I took control of the Department of Justice the day I was sworn in, which is why we have had unprecedented success at effectuating the president's agenda — one that protects the safety and security and rights of the American people, reduces violent crime, enforces our immigration laws, promotes economic growth, and advances religious liberty," Sessions continued.
Trump then snapped back with a series of tweets quoting Sessions's statement:
The incident culminated with Judiciary Committee Chairman Chuck Grassley and Senator Lindsey Graham – who's shot down speculation that he might be up for attorney general – suggesting that they'd changed their position, and would be fine with Trump firing Sessions – as long as he waited until after the midterms.
"The president's entitled to an attorney general he has faith in, somebody that's qualified for the job, and I think there will come a time, sooner rather than later, where it will be time to have a new face and a fresh voice at the Department of Justice," Graham said.
Trump Blast Sessions Over Indictments of Two GOP Congressmen
After two Republican representatives up for reelection, Duncan Hunter and Chris Collins, were indicted in August, Trump lashed out at Sessions again via tweet. (As it turns out, both candidates won on Tuesday despite the indictments.)
Trump Denies That He Insulted Sessions Behind His Back
In Fear, Bob Woodward reported that Trump once said of Sessions: "This guy is mentally retarded. He's this dumb Southerner. … He couldn't even be a one-person country lawyer down in Alabama." Trump denied uttering these particular insults, but didn't counter by saying anything nice about Sessions:
Trump Was Already Interviewing Potential Sessions Replacements
By this fall, it was widely expected that Sessions would be pushed out some time after the midterms (though perhaps not one day after the midterms). The Wall Street Journal reported last month that Trump was already interviewing potential replacements:
The potential candidates include Health and Human Services Secretary Alex Azar, Transportation Department general counsel Steven Bradbury, former Attorney General Bill Barr, Deputy Secretary of State John Sullivan and Janice Rogers Brown, a retired appeals court judge from the District of Columbia Circuit, the people said.
Meanwhile, the Washington Post reported that Trump had been talking to Sessions's own chief of staff, Matthew Whitaker – who was just named acting AG via tweet. The Post said Trump had "seemed to take a liking to the attorney general's chief of staff," noting:
In September 2017, [Whitaker] wrote a column for CNN saying that special counsel Robert S. Mueller III — who CNN had reported at the time could be looking into Trump and his associates' financial ties to Russia — had "come up to a red line in the Russia 2016 election-meddling investigation that he is dangerously close to crossing."
This post was originally published on March 1, 2018. It was updated throughout following Jeff Sessions's resignation on Wednesday.