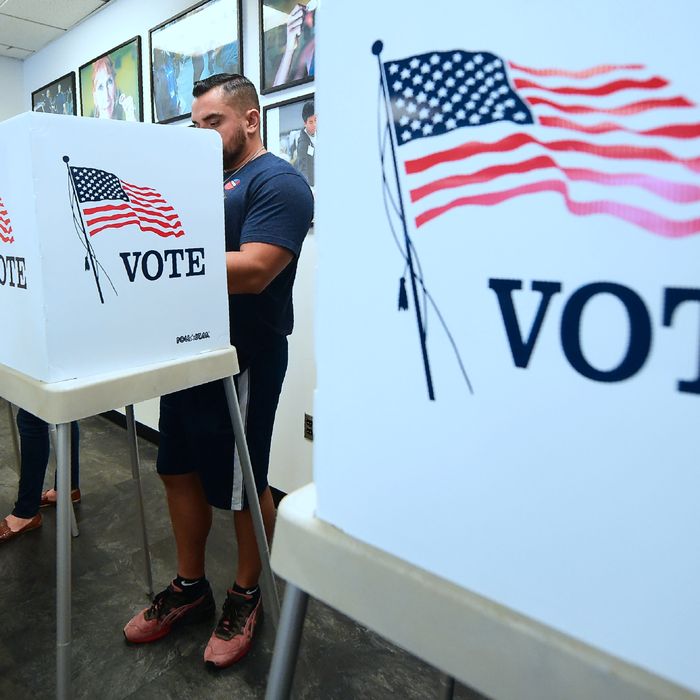 Voters cast their early-voting ballots in Los Angeles on November 5, 2018.
Photo: FREDERIC J. BROWN/AFP/Getty Images
Congressional seats, gubernatorial offices, state legislatures — they're all at stake in Tuesday's midterm election. If Democrats at least take the House and even up control of state legislatures and governors' mansions, we can say at last that there is a real backlash to the presidency of Donald Trump. But as important as these races are, they won't be the only indications of voter realignment post-Trump. Voters will also consider a range of important ballot initiatives when they go to the polls. Ballot initiatives don't usually receive marquee billing, but they can dramatically reshape states, economically and politically, and they're a useful way to gauge public support for specific policy issues. They aren't just proxies for party alignment, either. For instance, while Medicaid expansion has partisan implications — the Democratic Party tends to support it, and the Republican Party tends to oppose it — when voters consider the policy in isolation, they usually support it, regardless of how red or blue a state may appear. Maine voters voted to expand Medicaid in 2017, after their outgoing Republican governor, Paul LePage, repeatedly vetoed bills to do so. That nonpartisan trend doesn't just apply to health-care policies. Missouri has a conservative reputation, but voters overwhelmingly voted to repeal the state's right-to-work law in August. Ballot initiatives can produce surprising results.
This is by no means a comprehensive list of the most important initiatives on ballots tomorrow, but here are a few I'll be watching closely:
Medicaid Expansion
Voters in Idaho, Utah, and Nebraska will vote on whether not to expand Medicaid, while voters in Montana will decide whether to make the state's current expansion program a permanent fixture. These are all deeply red states — President Trump won each by wide margins, and a Republican trifecta occupies each state government, too — but on the subject of Medicaid, voters don't seem particularly swayed by the Trump administration's antipathy. A recent Idaho Politics Weekly poll put public support for the state's Proposition 2, which would expand Medicaid, at 70 percent; in a break with his own party, the state's Republican governor, Butch Otter, endorsed the measure last week. In Utah, 59 percent of voters favored Proposition 3 in a Salt Lake Tribune-Hinckley Institute of Politics poll conducted last month. There is no public polling available on Nebraska's expansion measure. Montana's Initiative 185, which would raise taxes on tobacco products to fund Medicaid expansion, polled within the margin of error, according to an October survey from Montana State University and Montana Television News. Cigarette makers like Altria have invested millions in a campaign against the initiative, according to NPR.
Gerrymandering
In Michigan, Utah, Missouri, and Colorado, voters will consider redistricting initiatives. "Although they range in details, each of these ballot questions would assign responsibility for redistricting to an independent commission," CityLab reported on November 2. An October poll conducted by the Detroit News-WDIV showed 58.5 percent of Michigan voters in favor; a poll conducted jointly by the University of Utah and the Salt Lake Tribune found a similar margin of support in Utah, with 58 percent of voters inclined to back redistricting. Missouri's initiative, Amendment 1, wraps redistricting into a package of reforms that would, according to KSHB News, cap lobbyist gifts to state legislators at $5 and ban departing state legislators from working as lobbyists for at least two years after leaving office. As Governing reported on November 1, Colorado's Amendments Y and Z would redraw legislative and congressional maps. These states aren't all gerrymandered to the same degree, but the topic is currently a popular one; Republican officials in North Carolina and Virginia determinedly fought litigation to redraw congressional maps in each state; those maps currently favor Republican candidates.
Voting Rights
Florida voters will decide whether to extend voting rights to convicted felons. As The Atlantic reported in September, Florida is one of three states to permanently block felons from voting booths. The state does allow felons an opportunity to regain voting rights — but only if they go before a clemency hearing officiated by the governor. Florida is the only state with such a requirement, according to the Washington Post, and if voters approve Amendment 4, approximately 1.6 million people will regain voting rights in the state. According to the South Florida Sun-Sentinel, three polls averaged together show that 66 percent of Florida voters currently favor the ballot initiative.
Amendment 4 isn't the only voting-rights provision that American voters will consider on November 6. Voters in Michigan and Nevada will consider amendments to approve automatic voter registration in each state. An EPIC/MRA poll conducted for the Detroit Free Press says 70 percent of voters support Proposal 3, which would allow new voters to register on the day of an election. If voters in Nevada approve Question 5, residents would have to opt out of voter registration — as would residents in Michigan, if the state's Proposal 3 passes.
Housing
Rent control will be on a number of ballots tomorrow. Among the provisions tracked by the National Low Income Housing Coalition are California's Proposition 10, which would allow communities to strengthen rent-control laws. (The Costa-Hawkins Act currently enforces strict restrictions on rent control in California.) Voters in Chicago's 35th, 46th, and 49th wards will consider an advisory referendum opposing the state's rent-control preemption law. As The Chicago Reader reported in October, 75 percent of voters in 77 wards favored repeal of rent-control preemption when the question was put to them during a primary election last spring. Though the referendum is advisory, and therefore not binding, its results would help measure ongoing public support or opposition to rent control. Voters in Austin, Texas; Portland, Oregon; and Charlotte, North Carolina, among other cities, will also consider proposals that would fund the increased construction of affordable-housing units.
Health Care
If Maine voters vote yes on Question 1 tomorrow, the state will provide free home care to people with disabilities and to the elderly. As reported by PBS News Hour, Question 1 would fund the program with a 3.8 percent income-tax hike on households making over $128,400 per year. The Maine state Chamber of Commerce opposes the proposal on the grounds that it will unfairly burden middle-class families. The state's population is increasingly elderly: The Bangor Daily News reported in March that unless trends change, and change drastically, Mainers ages 65 and older will outnumber Mainers under age 18 by 2020. A Suffolk University poll conducted in August found that roughly half of all Mainers support Question 1, with 14 percent still undecided.
In other health-care news, voters will consider a number of initiatives that would impact reproductive health. Rewire News reported on November 1 that voters in Alabama, Oregon, and West Virginia could approve restrictions on abortion rights. In Alabama, Amendment 2 would amend the state constitution to bestow fetal personhood; Oregon's Measure 106 would ban the use of public funds for abortions; and West Virginia's Amendment 1 would update West Virginia's constitution to state that nothing in it "secures or protects a right to abortion or requires the funding of abortion." In Nevada, voters could eliminate taxes on tampons and other menstrual-care products by passing Question 2.
Minimum Wage
As Vox reported in October, voters in Missouri and Arkansas could raise the minimum wage in each state. In Missouri, Proposition B would raise the state minimum wage to $12 by 2023. In Arkansas, Issue 5 would raise the minimum wage to $11 by 2021. According to Missourinet, a poll by Missouri Scout showed 60 percent of Missouri voters in favor of Proposition B — a possible byproduct of this year's successful campaign to repeal the state's right-to-work law by referendum. A poll commissioned by Arkansans for a Fair Wage, which supports a minimum-wage hike, found that 64 percent of Arkansans voters supported Issue 5. Arkansas voter previously voted to raise the state's minimum wage from $6.25 to $8.50 in 2014. Analysis from the National Employment Law Project, an organization that supports a higher minimum wage nationally, found that Arkansas's minimum-wage increase correlated to higher earnings for retail and food-service employees, and to record unemployment lows in the state.