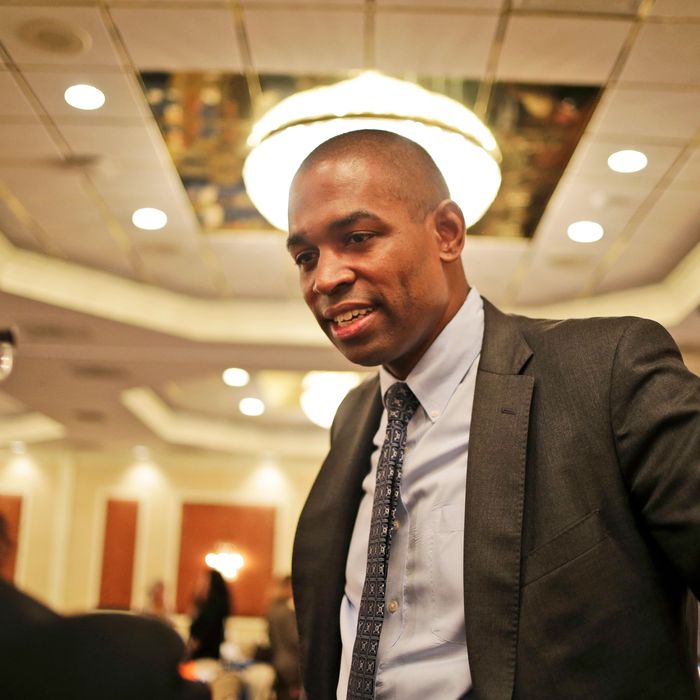 Getting out the word in the 19th.
Photo: Seth Wenig/AP/REX/Shutterstock
When the O+ Festival, a celebration of "art and music and wellness" took over the picturesque upstate town of Kingston, New York, murals were being painted in alleyways, bluegrass bands spilled out of coffee shops, and there was a free Reiki workshop. A woman tap danced beneath a sign that said "30 Minutes Negativity Limit, Karma Enforced." Michelle Williams was spotted up the street with her small children, and Janeane Garofalo headlined the "Comedy Resistance" show.
At the edge of the whole circus, Antonio Delgado stood under an awning, away from the rain. Delgado is one of the more unlikely political stories of 2018, and there on the street in Kingston, it was not hard to see why. Kingston, population 23,000, is the biggest city in New York's 19th Congressional District, a large swath of the rural Hudson Valley and Catskills region that is the size of Rhode Island and Connecticut combined. The district is also nearly all white, and Delgado, who, at six-foot-four, towers above most everyone else at the street festival, is not.
Yet polls have shown the race in the 19th district to be one of the purest toss-ups in the country, one resting on a knife edge, with Delgado up several points in some, and Faso up in others. (FiveThirtyEight currently gives Delgado a 64 percent chance of winning.) The 19th is precisely the kind of Obama-Trump seat that Democrats need to win if they have any hope of taking a majority in the House.
The tattooed and shredded crowd in Kingston was looking for answers. The Senate was voting on Brett Kavanaugh, and many who came up to Delgado had advice about how to deal with the Republicans — and in particular how to take the fight to John Faso, the 66-year-old incumbent congressman, who shed his moderate image to become a reliable yes vote for Trump and the House Republicans.
It's a record that had Democratic blood boiling among festival goers in Kingston. One older woman gave Delgado a hug and posed for a selfie while saying that she, an apparent dabbler in Wicca, had put a hex on Faso.
To each voter who expressed anguish or anger, Delgado flashed a smile, and preached patience and understanding. "This blind partisan rage, it is tearing us apart," he said to one concerned festivalgoer. "We need to inject some empathy in our politics," he told another. "There is just too much cruelty right now." ("You are right, you are right," the man, bespectacled and sporting a gray ponytail, conceded. "I am just coming to you from a place of panic right now.")
"Love is love, man," Delgado said later in the day, his large frame folded in a tiny room that serves as a campaign office on a dreary stretch of the main street in Monticello, New York, a 6,000-person town that fell into disrepair after Catskills tourism dried up in the 1960s, and which never really recovered. "I'm an African-American running in a district that is 87 percent white and what I hear over and over is that if you lead with your heart, if you demonstrate that you care about people, and you engage, it is very hard to turn away from that for most people."
Delgado is just 41, and his story diverges from and intersects with that of many strivers who came of age in the Clinton era. A basketball star at a local Schenectady Catholic high school, he ended up at a lily-white liberal-arts college, Colgate University. A campus leader who hosted his own public affairs show on the school's television station, he was named a Rhodes Scholar and went to Harvard Law, where he met his wife, Lacey Schwartz. (Schwartz went on to achieve some notoriety for a documentary she made in 2015 that described her discovery that although she grew up Jewish and in a Jewish family, she is actually half black from an affair her mother had with a family friend.) The couple landed in New York, where she got a job at an organization that promotes ethnic and racial diversity among Jews, while he went to work at the high-powered law firm Akin Gump. They had twin boys, settled in Montclair, New Jersey. After the 2016 election, the family moved to the Hudson Valley — Lacey is from Woodstock — when it was clear there was going to be a chance to run for Congress.
Both Delgado's parents worked at General Electric, once a major employer in the region. He was a latchkey kid; they clipped coupons and moved from rental apartment to rental apartment to save up money for their first home. Both left the company amid downsizing.
After Harvard Law, Delgado moved out to Los Angeles to start a career in music, running a record production company that used hip-hop as a way to teach young people about social activism and political engagement.
It was a decision that was hard to explain to his parents, who had just watched their son graduate from one of the nation's most prestigious law schools with a pile of student-loan debt.
"That was … not their vision for me," he told me, choosing his words carefully. "But I think my parents knew that I was always interested in figuring out who I was and living an authentic existence. I had already taken so many paths that weren't in the cards for someone like me, so they were like, here is just one more thing, even if it is something we don't fully comprehend."
Delgado's vision was to use hip-hop to introduce young people to issues of social justice and civic engagement. That period of his life has since become central in the late stages of the campaign. Faso and national Republicans seized on an album Delgado wrote and rapped on under the name AD the Voice in which he says, "criticize — it's what a patriot does" and "God Bless Iraq." Like a lot of hip-hop, the album is sprinkled with misogynistic and racially charged lyrics.
A super-PAC affiliated with House Speaker Paul Ryan has paid for ads called "Who Is the Real Antonio Delgado," featuring the candidate rapping as a younger man, juxtaposed with footage of Delgado's own campaign ads, with his wholesome life and young family. Ominously, and, unsubtly, the ad ends with a darkened shot of Delgado in a hoodie.
The backlash has been intense. The district's previous Republican congressman denounced the ads, a local radio station refused to air them, and several dozen clergy wrote to Faso calling it racist. When a popular pundit, Gerald Benjamin, a longtime political science professor at SUNY New Paltz, said to the New York Times, "People like us, people in rural New York, we are not people who respond to this culture," he was widely denounced, including by his university president, and he quickly apologized. Faso has said that Delgado's lyrics "denigrated our nation and the free enterprise system, and often glorified pornography and drug use," but also said that he couldn't do anything about the ads, since they were put out by an outside group.
"It's a play that comes out of a playbook that's got a lot of rust on it, making me out to be something I am not," Delgado says, a Wendy's paper soda cup from dinner sitting untouched in front of him. Talking about hip-hop was a way, he said, of not talking about health care or the environment or education.
"I think it is by design. They don't want to have these conversation. We can do more. We can be a lot better at this. Because unless we change it we are going to remain in this tailspin."
Democrats have suffered in the Hudson Valley in part because they keep nominating the wrong kind of candidate: New York City liberals who know the area mostly as a weekend playground, a demographic which generates understandable resentment. In the primary, Washington Democrats rallied around Pat Ryan, a West Point graduate and Iraq veteran, while many in New York backed Gareth Rhodes, a former aide to Governor Andrew Cuomo. Delgado was seen by activists as too much of a centrist — he prefers a public option over single-payer health care, and declined to back a bill that would place a moratorium on new fossil-fuel projects and move the country to 100 percent renewable energy by 2035. And then of course there was the obvious question: Could he really win?
The district voted twice for Obama, but the Voting Rights Act was written, in part, based on the belief that white people won't vote for candidates of color. And Delgado asks voters to be open-minded in a way that Obama never did. Imagine if instead of writing about his own journey of self-discovery, Obama had called poverty "the purest form of terrorism," and wrote, "Look, we only goin' from chains to cuffs, still N—s still locked up, stuck on stuff."
"Haha, you guys just nominated the worst candidate possible! A rapper?!?" Sajaa Ahmed, a local Democratic activist, says a Republican friend texted her on the night of the primary.
Delgado's background "was an issue for a lot of people," says Ahmed, who hosts a popular political podcast that covers the district, in which there are no major TV markets. "Even Democrats were wondering if this district will elect a black congressman. It would have been easier to have nominated one of the six white candidates."
On her podcast, Delgado addressed the issue head-on, telling Ahmed that voters who would be susceptible to the kind of naked racial appeals that the GOP was sure to use — another more recent ad featured shots of liquor stores, ominous warnings about food stamps and welfare and Delgado's "New York City values" — probably weren't going to vote for a Democrat anyway.
"There are a lot of folks in my district who voted for Obama and they voted for Trump. Those are the folks who I think wanted more from their representatives. They want to feel like they are being heard," Delgado told me. "That is what I am tapping into — a sense that folks think they are going to get true representation, someone who is going to be beholden to them and not to corporate PACs."
Delgado's story, though, isn't really one of the plucky underdog who takes on the machine and wins. He brings plenty of parts of the machine with him. He raised $2.7 million for the primary, and has continued the pace since, raising $3.8 million in the third quarter alone, nearly four times what Faso has raised and one of the biggest hauls of any challenger in the country.
Danielle Gray, a former Obama aide who went to Harvard Law with Delgado, convened Obama-world supporters. His connections to the Manhattan white-shoe legal community helped too. Brooklyn congressman Hakeem Jeffries and the members of the Congressional Black Caucus were early backers. Bradley Tusk, a top aide to Mike Bloomberg and a venture capitalist, met with Delgado just as he was exploring a bid.
"I wasn't sure he would necessarily fit the district, but I thought he was compelling," Tusk said. "I talk to a lot of would-be candidates, and it didn't seem like it was manifest destiny with him, it was not, 'I am really ambitious and the next thing I need on my Wikipedia page is for it to say congressman.'"
It isn't just money and connections that gave Delgado his advantage. The 19th District is enormous, lacks cell-phone coverage in a lot of it, and even larger stretches of it are places with vanishingly few Democratic votes. Delgado was relentless, though, in hunting for spare votes in every corner, in part to signal to more persuadable voters that he was building a big tent. And so throughout most of this year and last, it's been hard to find a lumberjack festival, tractor pull, or fireman competition across this part of New York where Delgado wasn't working the crowds.
"I underestimated him at first," added Gareth Rhodes, the former Cuomo aide who came in second in the primary. "Most candidates, they are either out there nonstop, or they raise a ton of money. Somehow he managed to do both."
But the political pros who feared that nominating Delgado would hurt Democratic chances weren't necessarily wrong. It is clear even in the context of a rural congressional race that Antonio Delgado is a serious political talent, someone who could have a long career in state politics. But he has to win in his backyard first, and the prospects of that are far from clear.
Faso has both deep roots in the district – but also some profound political vulnerabilities. A longtime Albany lobbyist prior to winning his seat in 2016 as the district swung markedly to the right, Faso helped provide the decisive vote that passed the GOP's Obamacare repeal plan out of committee, backed the repeal of Dodd-Frank, defended the Trump administration's child separation policy and voted to allow concealed carry permits operate across state lines.
Delgado has been running ads slamming Faso for a moment caught on tape in which he promised a woman suffering from a brain tumor that he wouldn't vote to take away her health care, even though by their lights six weeks later he did (Faso has said the ad is misleading.) Most notably, Faso has avoided the spectacle of a town hall to explain his health care vote, which led to a Democratic congressman from a neighboring district, Sean Patrick Maloney, to travel to Faso's turf and host one in his stead.
And so Delgado, despite all of the "There is too much anger in our politics," has started to show himself unafraid to twist the knife in Faso. On a Saturday night last month in Monticello, over a hundred voters came out to a Delgado town hall at dreary recreational center a few blocks away from the downtown. The room was nearly all white and older, blue jeans and baseball caps over gray heads. Some even said they were from neighboring districts, but had come to see someone who can flip a seat blue. They were probably all Democrats, too, or at least Deglado supporters, and although he talked of healing the broken divisions of politics, he also described the current congressman as bought and bossed by corporate interests, willing to take away health care from the people of the Hudson Valley if it's what his big-money donors ask for.
"There is a lot of pain going on. You would think the sitting congressman would know something about that," he said. "Where is he?"
The audience loved it, standing and clapping as he eviscerated Faso.
"We know what is going on in D.C.," he said. "But we have a representative that is absent! That isn't doing the work! I want to be held accountable! I want your trust!"
He had won the room. It's a big district though, and the election is only days away.