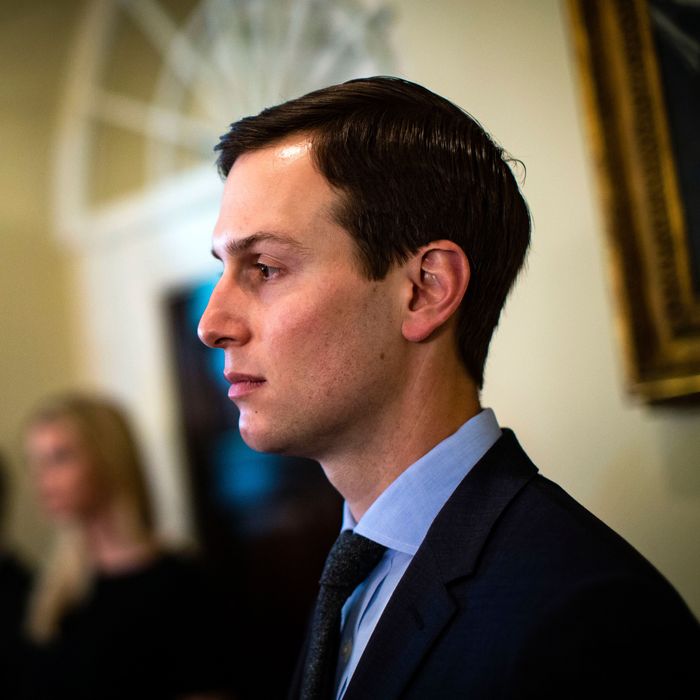 Kushner.
Photo: Al Drago - Pool/Getty Images
Jared Kushner, senior adviser and son-in-law to the president, has a lot to do. Already, as head of the Orwellian-titled Office of American Innovation, the 37-year-old is responsible for solving the opioid crisis, resolving the Israeli-Palestinian conflict, reforming the prison system, and "unleashing American business." But it appears that this smorgasbord of policy moon shots is not enough.
According to a new report from Politico, Kushner is lobbying for a close ally, assistant to the president Brooke Rollins, to become the director of the White House's Domestic Policy Council. An overlooked office with outsize influence on President Trump's policy agenda, the 15-staffer council shapes legislation for all noneconomic domestic policy, including education, transportation, housing, labor, and health care; under Trump, it has crafted legislation to repeal Obamacare and drafted an executive order on welfare reform. According to a Republican close to the White House, Kushner has had his eye on the council as a way to extend his sphere of influence further into domestic policy, and sees Rollins, with whom he worked on prison reform, as an ideal proxy.
Under prior DPC head Andrew Bremberg — who has been nominated to become the next ambassador to the U.N. Mission in Geneva — the council split its priorities: senior advisor Stephen Miller grabbed immigration, and the DPC took everything else. If Rollins is appointed, it appears that Miller's unofficial role will be formalized, giving him the opportunity to create a dreamscape of far-right border policies. Meanwhile, Kushner could influence the rest of DPC's broad purview, further siphoning policy control into fewer and fewer hands in the West Wing. As one former senior administration official told Politico of the White House's attitude toward who's officially at the helm in the DPC: "Does it matter?"
If the plan shakes out, Kushner could have effective control over another insanely comprehensive policy shop — an exciting occasion, since he's already done so much. Since becoming son-in-law-in-chief, Kushner has seen his security clearance downgraded; helped to get James Comey fired; stamped a new name on the same old NAFTA; got an award from Mexico for doing that; acted as a leverage point for Chinese and Emirati officials to influence the administration; lobbied to sell $110 billion to the Saudis; and created new looks in the military-industrial-casual dress code. All this while paying almost no federal taxes, and bleeding out the family company at 666 Fifth Ave.
The good news is that the Domestic Policy Council supervises infrastructure policy, meaning that this competent adult son will ostensibly plan future infrastructure weeks — a time that has brought so much calm into our lives over the years.