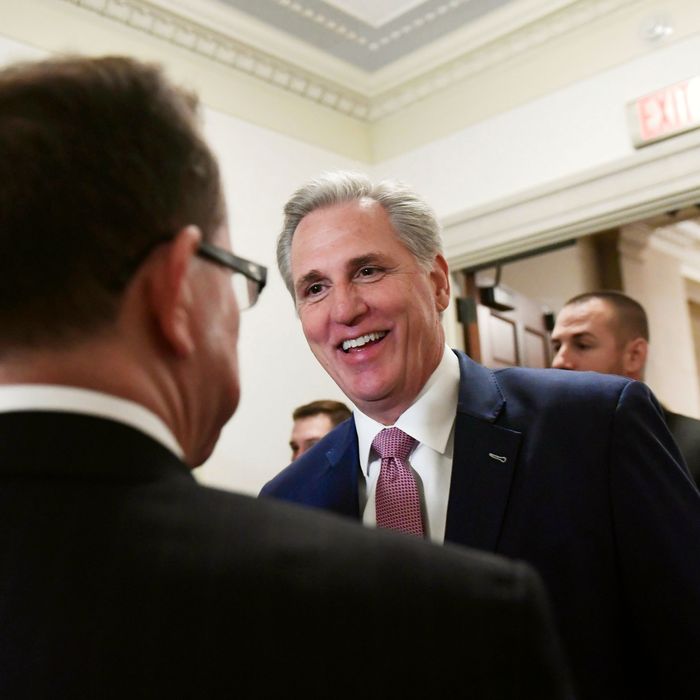 McCarthy finally wins the top House GOP position, though it came without the Speaker's gavel.
Photo: Susan Walsh/AP/REX/Shutterstock
California Republicans, who had a really bad midterm election, did get one good piece of news today, as Kevin McCarthy was elected House Minority Leader in a surprisingly easy 159-43 victory over conservative leader Jim Jordan of Ohio, a founding member of the ever-fractious House Freedom Caucus. McCarthy, previously the second-ranking House Republican, will succeed retiring Speaker Paul Ryan as leader of a diminished GOP band in the lower chamber.
The win gives McCarthy some measure of vindication — or maybe even revenge, as Politico notes:
The victory seals McCarthy years-long drive to rise to the top of the House Republican Conference, an effort that had been derailed by Jordan and the House Freedom Caucus in 2015.




At that point, McCarthy was running for speaker, but ran into opposition from the hard-line Freedom Caucus and withdrew his name for consideration. That cleared the way for Rep. Paul Ryan (R-Wis.) to become speaker.
According to some accounts, some intrigue involving none other than Donald Trump may have greased the skids for McCarthy.
This would require some juggling that might upset other House Republicans, as Politico notes:
The rare and unexpected presidential foray into internal House politics could scramble what, until now, had been a fairly low-key fight over the position. Rep. Doug Collins (R-Ga.) is the leading contender to become the ranking Republican on Judiciary — though Rep. Steve Chabot (R-Ohio), a veteran of the Clinton impeachment battle, is also running.
Jordan could instead be given the ranking minority position on the House Oversight and Government Reform Committee, another likely investigatory hotbed in the new, Democratic-controlled House. That would provide the Ohioan with an opportunity to strut his Trumpy stuff outside the more legally fraught venue of the Judiciary Committee.
House Republicans quietly lifted Steve Scalise to the No. 2 leadership position (he retains the same title, Whip), while electing Liz Cheney — you-know-who's daughter — to the No. 3 position as chair of the House GOP Conference.