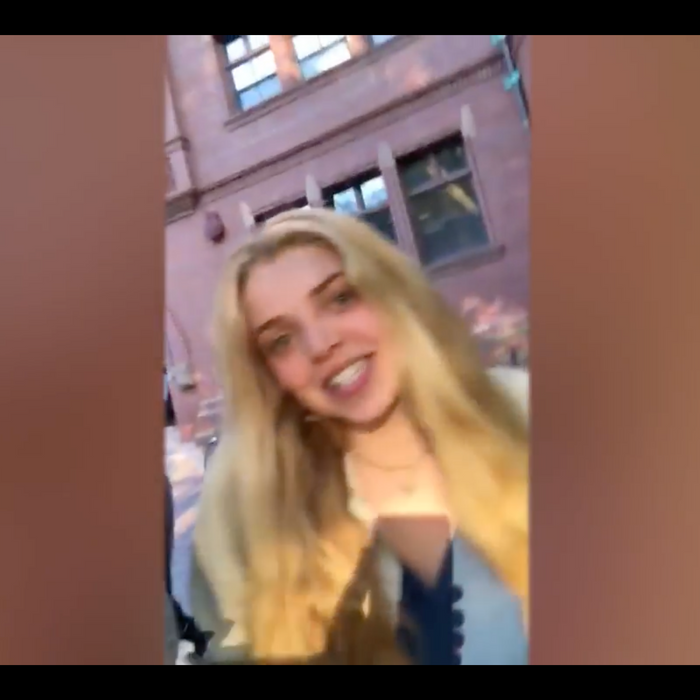 Just hanging out on campus, posting a quick vid that will live forever and perhaps determine whether I get a job or not.
Photo: LinkedIn
LinkedIn, the best place to wish people a happy work anniversary and to read posts from people whose job title is "CEO of Myself, Inc.," is rolling out a new feature: stories!
True, you could post short, disappearing videos on any number of other social networks: Facebook, Instagram, WhatsApp, and, of course, Snapchat, the originator of the stories format. But LinkedIn stories are completely different. For one, they're on LinkedIn. Also, they aren't called stories. They're called "Student Voices."
First spotted by social consultant Carlos Gil and confirmed by TechCrunch, "Student Voices" will be short videos university students can post to their "campus playlists," (also a new feature rolling out to LinkedIn). After seven days, the video will disappear from the campus playlist, but will remain on the user's profile under "recent activity."
This appears to mean the video will never permanently disappear, removing one of the most appealing parts of whole "story" format. Stories allow users to post spontaneous, ephemeral moments from their life without worrying about them coming back to haunt them. LinkedIn is meant to serve as a page to advertise yourself to potential employers. You can see why spontaneity might be stifled in this format.
"It's a great way for students to build out their profile and have this authentic content that shows who they are and what their academic and professional experiences have been," LinkedIn product manager Isha Patel told TechCrunch. "Having these videos live on their profile can help students grow their network, prepare for life after graduation, and help potential employers learn more about them." So all you have to do is post fun, authentic content that will also be appropriate for potential employers to look at, which is definitely what my college experience was all about.
For those no longer in college and feeling a bit left out, don't worry. Student Voices is just the first of several new video initiatives rolling out at LinkedIn; the company plans to build out stories for more groups of users — those lucky college kids will just be the first to get access to the feature.
More broadly, this very odd and ill-conceived product highlights the difficulty LinkedIn now finds itself in. The social network, which was bought by Microsoft for $26.2 billion in 2016, works very well for the average person to post their resume and then check the site once every three months, and for recruiters to trawl for potential job candidates. But LinkedIn wants to make itself a daily habit, like Facebook, Instagram, Twitter, or Snapchat. The hope is that video content may do that. But it seems unlikely that vertical handheld video from would-be business gurus on topics like "How to Build a Great Company Culture" are going to be the magic ingredient that turns LinkedIn into a daily destination.