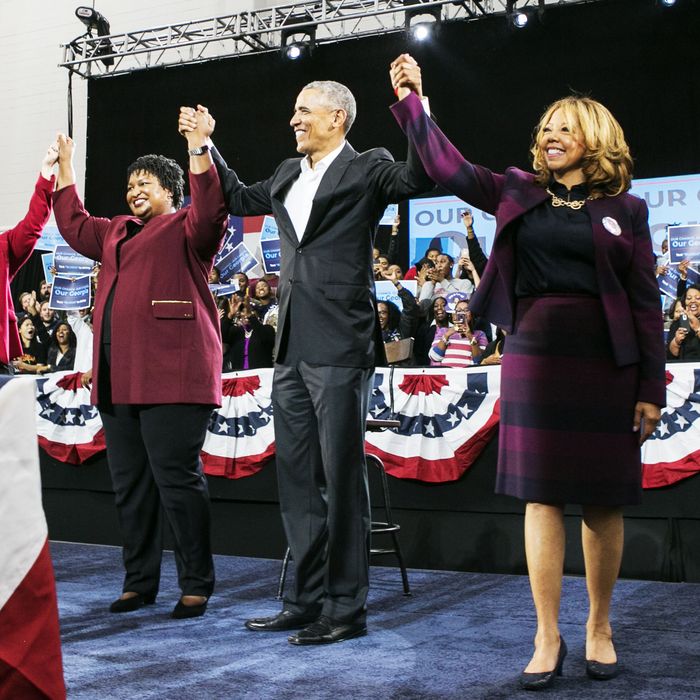 Lucy McBath with former President Barack Obama and Georgia gubernatorial candidate Stacey Abrams.
Photo: Jessica McGowan/Getty Images
Lucy McBath, whose son Jordan Davis was murdered by a racist motorist in Florida in 2012, declared victory on Wednesday in her bid to unseat Republican incumbent Karen Handel as the representative of Georgia's Sixth Congressional District. McBath currently holds a lead of around 3,000 votes — well within recount range, according to the Atlanta Journal-Constitution — with 4,700 combined provisional and overseas ballots yet to be counted for Fulton County, part of which is included in the district. "I pledge to work hard fighting for every single person and family in this district," McBath said in a statement.
Before Handel first won the seat in a tight and historically expensive special election in 2017, it was held for 12 years by Tom Price, who left to begin his brief tenure as President Donald Trump's secretary of Health and Human Services. Perhaps most famously, Georgia's Sixth District was represented for two decades by Newt Gingrich, who was elected there in 1978 and engineered the Republican takeover of the U.S. House of Representatives in 1994 before resigning in 1999. The Atlantic described Gingrich in a recent profile as "the man who broke politics," due to his then-novel weaponization of wedge issues like abortion to drive extreme partisanship in Congress. His website during his failed 2012 presidential bid trumpeted his A rating from the National Rifle Association. Now, his old seat looks like it will go to a pro-choice black woman Democrat whose claim to national prominence is her gun-control advocacy.
McBath, a former Delta Airlines flight attendant, turned to activism after her son's death. Jordan Davis, 17, was parked at a Jacksonville gas station the day after Thanksgiving five years ago when a white man named Michael Dunn began complaining about the loud music Davis and his friends were playing. An argument ensued, and Dunn drew a handgun and fired ten bullets into their vehicle, killing Davis. He was later convicted on three counts of attempted murder and sentenced to life in prison, but won a mistrial on the most serious charge, first-degree murder, due to jurors' interpretation of Florida's notorious "stand your ground" law. "I had never really heard of that law other than the Trayvon Martin case," McBath told me in 2015. "Most definitely, now that has completely changed. My learning curve has gone straight up."
McBath dedicated the next several years of her life to gun-control advocacy, making the Sixth Congressional District an unlikely gambit for her. It has been held by Republicans for 40 years, and Republican presidential candidates John McCain and Mitt Romney each won it by over 18 points in 2008 and 2012, respectively. Trump, however, fared much worse. He edged Hillary Clinton there by less than two points in 2016, exposing what Democrats thought was an opening to capture it. The 2017 election between Handel and Democratic challenger Jon Ossoff proved a demoralizing defeat, but it was close — Handel won by less than four points.
McBath drew a sharp contrast between herself and her Republican opponent on health care: she supports Medicaid expansion and the Affordable Care Act where Handel opposes both, and abortion rights where Handel voted earlier this year to ban most abortions at 20 weeks. And as with Georgia's most-watched election this year — the governor's contest between Republican secretary of State Brian Kemp and former Georgia House of Representatives minority leader Stacey Abrams — race was an unavoidable element.
Abrams's mobilization of nonwhite voters and the Sixth Congressional District's shifting demographics played a likely role in McBath's lead. Where it was 72.4 percent white at the time of the 2010 census, the district had dropped to below 68 percent by 2017, with corresponding increases in its Hispanic and Asian populations. McBath herself has not been shy discussing race in the course of her advocacy. "There was no doubt this was very racially motivated," McBath said of her son's death in 2015. "[Michael Dunn] talks about black prisoners as thugs, and at one point says if we took guns and shot these people down, maybe they'd get the hint and stop acting how they do. We were not surprised or blindsided. But you also learn racism. You have to be taught. At one point, I felt very sorry for him. He's living in his own hell."
Perhaps most remarkably, McBath appears to have flipped a four-decade Republican district while appearing publicly as one of the Mothers of the Movement, a group of black women whose children have been killed by police or vigilante violence. Along with the likes of Sybrina Fulton, the mother of Trayvon Martin, and Lezley McSpadden, the mother of Mike Brown, McBath appeared onstage at the Democratic National Convention in 2016 to endorse Hillary Clinton for president. For Republican voters that backed a racist "law and order" president, black women whose stories indict the wave he rode to victory seem an unlikely draw. Whether voters embraced that tension, overcame it, or simply forgot about it in Georgia's Sixth District is unclear. But one thing is not: McBath appears to have won them over either way.