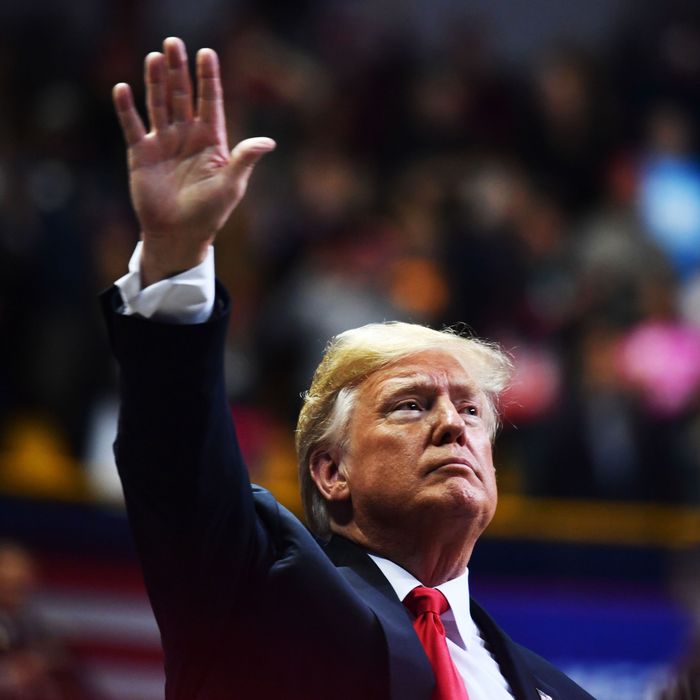 President Trump.
Photo: Nicholas Kamm/AFP/Getty Images
Before the forced resignation of Jeff Sessions as attorney general, it was possible, however optimistically, to dismiss Donald Trump's authoritarianism as mere rhetoric and affect. It is not possible any longer. Sessions's departure, and his replacement with Matt Whitaker, is Trump's plan to corrupt the Department of Justice. It is the most dire threat to the republic since Trump's election itself.
If you study literature of democratic backsliding, the frightening conclusion is that nobody has devised a system of laws comprehensive enough to guarantee the survival of a democratic government. Because there is always wiggle room in the execution and enforcement of the law, democracies rely on informal norms. One of those norms is the independence of federal law enforcement, without which, the ruling party could use the law as a weapon against its enemies while shielding itself.
Of course, presidents have the leeway to choose their own attorney general. It is mere tradition that dictates that the attorney general, once selected, operate at arm's length from the president's political interests. There is simply no doubt that Trump's entire rationale for firing Sessions is his refusal to quash the Russia investigation, because he has not even bothered to conceal his motive. Trump has repeatedly lambasted Sessions for failing to "stop this Rigged Witch Hunt right now." Sessions is an original Trump loyalist, an unusually committed believer in and effective implementer of the president's ethnonationalist agenda on immigration and crime. Sessions's sole failure (in Trump's eyes) was having to recuse himself from the Russia investigation, and refusing Trump's demands to reverse the decision. Corruption is literally Trump's only motive for turning against him.
What's more, he has frequently expressed the overarching ethos with which the Department should operate. Trump told the New York Times that President Obama's attorney general, Eric Holder, covered up what Trump claims to be multiple serious crimes by Obama and that this is the correct way for him to operate. "Holder protected the president," he said. "And I have great respect for that, I'll be honest, I have great respect for that." At other times, reaching for a more familiar example, he wished the attorney general would be "my Roy Cohn," referring to the architect of Joe McCarthy's notorious smears, who went on to mentor Trump.
Trump has every reason to believe that he has found his Roy Cohn in Whitaker. The archconservative new acting attorney general has run for office and appears to see his future in Republican politics. As a candidate, he publicly declared that judges should be "people of faith" who had "a biblical view of justice." In practical terms, he has interpreted the biblical view of justice the way most of his fellow Christian conservatives do: a combination of stern, Old Testament punishments meted out to Democrats combined with New Testament forgiveness toward any sin by a Republican.
Whitaker has publicly attacked the FBI for failing to indict Hillary Clinton for using a personal email. He defended Donald Trump Jr.'s decision to meet with a Russian operative promising dirt on Hillary Clinton. He opposed the appointment of a special counsel to investigate Russian election interference ("Hollow calls for independent prosecutors are just craven attempts to score cheap political points and serve the public in no measurable way.") Whitaker has called on Rod Rosenstein to curb Mueller's investigation, and specifically declared Trump's finances (which include dealings with Russia) off-limits. He has urged Trump's lawyers not to cooperate with Mueller's "lynch mob":
And he has publicly mused that a way to curb Mueller's power might be to deprive him of resources. "I could see a scenario," he said on CNN last year, "where Jeff Sessions is replaced, it would recess appointment and that attorney general doesn't fire Bob Mueller but he just reduces his budget to so low that his investigations grinds to almost a halt."
More recently, having been installed in the Department of Justice, Whitaker has reportedly operated as a kind of White House spy to keep tabs on officials who might be suspiciously independent of Trump. Trump's Chief of Staff John Kelly "has privately described [Whitaker] as the West Wing's 'eyes and ears"' in a department the president has long considered at war with him," the New York Times reported two months ago.
At his press conference this morning, President Trump reveled in the defeat of several Republican House candidates who had declined his "embrace." He warned the incoming House Democrats not to investigate him or his administration. He is demonstrating the confidence of a man who believes he can reduce every political question, however indisputably wrong or corrupt his own position, into a partisan conflict. And in such a conflict he has every reason to believe he commands the loyalty of the party base, and his own party will join his side.
The federal government has awesome and terrifying legal powers, which have been held in check since Richard Nixon nearly shook them from their moorings. Republicans have ignored every warning sign of Trump's designs on these powers. The one thing we can know for certain is that he will not stop here.