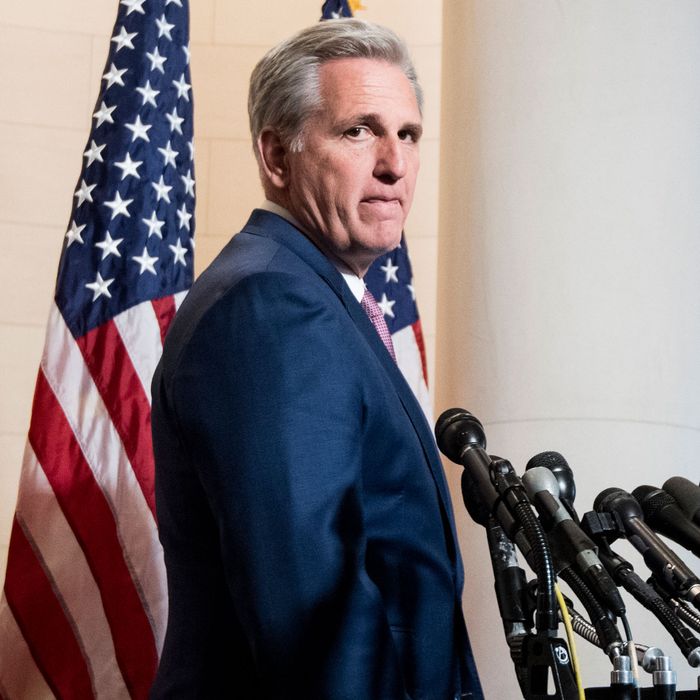 House Minority Leader Kevin McCarthy's close alliance with Trump didn't much help his state party.
Photo: Bill Clark/CQ-Roll Call,Inc.
It's an interesting moment in the career of Representative Kevin McCarthy. Shortly after his party lost control of the House in the 2018 midterms, he was easily elected to succeed Paul Ryan as the top Republican in the House (albeit without Ryan's speaker's gavel), satisfying his longtime personal ambition. But his ascent was accompanied by the destruction of a GOP congressional delegation from his home state of California that he had helped to build. And it's hard to avoid acknowledging that McCarthy himself had something to do with his Golden State colleagues' demise.
McCarthy's ascent, by all accounts, was based on his effectiveness in inculcating discipline in the ranks and strong support for the agenda of his friend and master, the president of the United States (who has been known to refer to McCarthy as "my Kevin"). The California congressional delegation was a strong test case for McCarthy, given Trump's deep unpopularity in the state and the locally controversial nature of major GOP initiatives like the repeal of Obamacare and a tax bill that hit upper-middle-class Californians hard. He delivered all right, as the Los Angeles Times reminds us:
When the House voted to repeal the Affordable Care Act, Kevin McCarthy trooped with other Republican lawmakers to a splashy Rose Garden celebration, smiling alongside President Trump as they celebrated the moment.




As majority leader, McCarthy had helped round up the votes to narrowly pass the hard-fought legislation, convincing 13 other California Republicans to go along, even though several faced tough reelection fights.




Fewer than half will be returning in January.
McCarthy talked all but two of his California GOP colleagues into supporting the tax bill, as well (just enough to help secure its narrow passage). One of the yes-voters retired and four others were defeated in the recent midterms.
More generally, McCarthy's very close association with Trump helped brand the entire California Republican Party as in thrall to a president whose job performance was "strongly disapproved" of by 56 percent of midterm voters in the state, according to exit polls.
This deal with the devil came at something of a personal as well as a political cost to McCarthy, as the Times notes:
A former leader of Republicans in the state Assembly, he was instrumental in shaping California's GOP delegation. After being elected to Congress in 2006 and rising in the leadership ranks, he personally recruited Reps. Valadao, Walters and Jeff Denham to run for their seats; the latter two served with McCarthy in Sacramento and Denham was his roommate in the state capital.
They're all gone now, along with Steve Knight and the veteran Dana Rohrabacher, whose defeat capped off a Democratic congressional sweep in Orange County, the ancestral stomping grounds of California conservatives, as USA Today noted:
The area south of Los Angeles was long known as Reagan country, the place the conservative icon said was "where all good Republicans go to die.''




The largely suburban county, with a population of 3.2 million, was Nixon's birthplace, and it's the site of his presidential library.




Its airport is named after Wayne, the legendary movie cowboy who was an avowed and prominent Republican.
Rohrabacher is one defeated incumbent who isn't blaming his defeat on McCarthy or Trump:
"The reason I lost and we lost is because you had Bolshevik billionaires who pumped in enormous sums of money to defeat us. That was it," the 15-term lawmaker said.
Rohrabacher, known as "Putin's favorite congressman" for his coziness with Russia, probably knows a thing or two about Bolsheviks. McCarthy probably won't miss Rohrabacher much, if only because his absence means people will eventually forget this deeply embarrassing 2016 remark:
"There's two people I think Putin pays: Rohrabacher and Trump," McCarthy (R-Calif.) said, according to a recording of the June 15, 2016, exchange, which was listened to and verified by The Washington Post.
Now, Trump's not only the most important figure in Kevin McCarthy's life: he's also the politician on which the Californian has staked his, and his state party's, future, sacrificing more than a few old friends along the way.