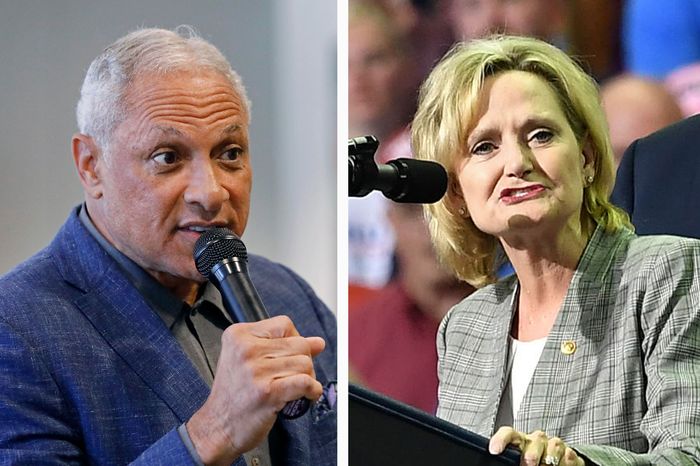 Can Democrat Mike Espy upset appointed Republican Cindy Hyde-Smith in a November 27 runoff?
Photo: Rogelio V Solis/AP/REX/Shutterstock; Mandel Ngan/AFP/Getty Images
On election night (and thereafter) Senate results included an asterisk: The special election in Mississippi for the seat resigned by Thad Cochran earlier this year was going to a November 27 runoff. That wasn't a big surprise; a win required a majority. And with conservative firebrand Chris McDaniel (who very nearly took down Cochran in a 2014 primary) in the field, the odds were low that appointed Republican senator Cindy Hyde-Smith would top 50 percent, particularly with an unusually well-regarded Democrat, former congressman and U.S. secretary of Agriculture Mike Espy, on the ballot. But the margin between the incumbent, who won 41.5 percent of the vote, and Espy, who won 40.6 percent, raised some eyebrows; the only public poll of the race showed Hyde-Smith leading by nine points.
Still, Mississippi is Mississippi, where the last Democratic senator, the very conservative John Stennis, retired 30 years ago (he had first been elected in 1947). And aside from being staunchly Republican (it's gone Democratic in presidential elections exactly once since 1956, and not at all since 1976), the state is famously polarized by race, and Espy is African-American.
But the state also has a large enough African-American population to provide a solid base for any Democrat who can bridge the divide and attract Republican or (more likely) independent voters. According to exit polls, a third of the Mississippi electorate in the first round of this contest were African-Americans. And Espy, who had a moderate reputation during his stint in the U.S. House, actually led among self-identified independents.
Had control of the Senate depended on this runoff, it would have attracted vast resources from both national parties. Since it doesn't, there will be more attention paid to the two candidates than to their party labels. Espy's main hope is to benefit from a supercharged black turnout and to draw white voters interested in what would be a highly symbolic biracial breakthrough in the home of racist titans Jefferson Davis, Theodore Bilbo, and Jim Eastland (among many others). And Hyde-Smith has inadvertently set the table for Espy with some racially insensitive fumbles and mumbles right off the bat, as Gideon Resnick explained:
At a campaign event on November 2, Hyde-Smith praised a supporter and said "If he invited me to a public hanging, I'd be on the front row." The comment reopened old wounds in the state, where according to the NAACP, 581 African-Americans were lynched from 1882 to 1968 (the highest number in the country).
She was just joshing, her allies suggested. The senator must have a strangely calibrated funny bone, because she soon went back to this particular well of racially tinged "humor:"
On Thursday, Hyde-Smith was caught again making questionable comments on video, endorsing the idea of making it harder for some "liberal folks" to vote. Her campaign once again downplayed the incident saying she was making a joke and the video was "selectively edited."
Republicans must be wondering if Hyde-Smith has some secret desire to self-destruct. And an Espy strategy that was already focused on African-American turnout and white moderates over Mississippi's past may have found traction. Until very recently, you'd think a special election between Thanksgiving Day and Christmas would be paradise for Republicans, whose base is thought to be more likely to show up for low-turnout events. But that was before Democrat Doug Jones won a December 12 special Senate election next door in Alabama last year. Unless she goes for the trifecta with another borderline-racist "joke," Hyde-Smith is no Roy Moore, but Mississippi Republicans were divided over her appointment and candidacy, and Democrats may be super-psyched after their super-turnout in the midterms.
National Democrats say that they want to adopt the "Doug Jones model" for Espy, referencing the approach they took to the Democratic Senate special election in Alabama last year. Sam Coleman, a former staffer for the Alabama senator is now working for Espy as is Trippi, a former adviser for Jones.




"It's an uphill fight. It's Mississippi," Trippi told The Daily Beast, adding that like Alabama, which saw a contentious Republican primary, some voters who supported McDaniel might not come back to Hyde-Smith. "Just as Alabama was—we only won by 23,000 votes over there. But I think that this is in play. I think we proved that on Election Day on November 6. I don't think anybody expected us to be in a dead heat with her."
You can expect Republicans to go negative on Espy, bringing up his resignation from Bill Clinton's Cabinet subsequent to a special prosecutor's investigation of his alleged acceptance of illegal gifts from lobbyists (he was subsequently acquitted, and the whole brouhaha was generally regarded as an example of special prosecutor overkill second only to Ken Starr's). And they can add to their attacks a more recent controversy involving Espy's own lobbying for the government of the Ivory Coast not long before its president was charged with war crimes. There's nothing like an ethics scandal to complement the standard southern Republican innuendos about those people and how they behave.
While the national stakes of this race are mostly symbolic, it does look like some heavyweights will come to Mississippi. The president has agreed to hold two rallies for Hyde-Smith the day before the runoff. Today Senator Cory Booker of New Jersey is campaigning with Espy, and next weekend his fellow African-American senator and possible 2020 presidential rival Kamala Harris of California will do the same. Given Mississippi's history, Hyde-Smith has to be considered a solid favorite. If Espy wins, though, it will be another sign of a brand-new day in southern politics.