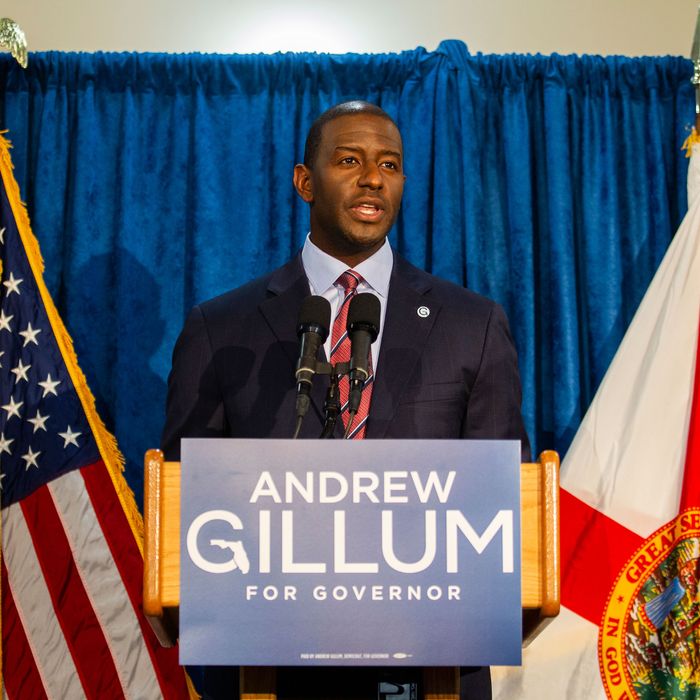 Trailing by a margin larger than the threshold for a manual recount of ballots, Florida Democratic gubernatorial candidate Andrew Gillum may have reached the end of the line.
Photo: Mark Wallheiser/Getty Images
Despite efforts by Democrats to delay a Thursday deadline to allow completion of a machine recount in Palm Beach County, where counting machines melted down earlier this week, it appears this phase of the Florida saga is ending. That likely means curtains for Democratic gubernatorial candidate Andrew Gillum, while Senator Bill Nelson's hopes of overtaking his Republican opponent, Governor Rick Scott, will depend on a hand recount that is scheduled to conclude on Sunday.
A day of intense activity in county election offices and in the courtroom of U.S. District Court judge Mark Walker is coming to a close with every county other than Palm Beach — yes, including that GOP punching bag, Broward County — completing its machine recount. Democratic attorneys tried to convince Judge Walker to extend the machine-recount deadline to accommodate Palm Beach, but the judge refused. That means the original pre-recount numbers will be filed for Palm Beach, a Democratic-leaning jurisdiction that Democrats hoped would cough up some more votes.
At the same time, Democrats have mostly failed in legal efforts to force the counting of ballots rejected by county election boards on various grounds, though Walker did rule that voters casting provisional ballots rejected on grounds of mismatched signatures should have two more days to contact election boards to dispute the rejections and establish their eligibility. But that probably won't be enough to keep Gillum's candidacy — which isn't within the threshold for a manual recount — alive, as Politico notes:
All of Gillum's hopes ride on a series of unlikely events tied to his fellow Democrat, Sen. Bill Nelson, who has filed a host of lawsuits to broaden the pool of countable ballots by overturning or changing Florida election laws and rules….




The Gillum campaign got a small dose of hope Thursday morning when a federal judge ruled that absentee and provisional ballots that were thrown out because of mismatched signatures could be counted if each voter in question cures his or her ballot by 5 p.m. Thursday.




Still, the pool of votes — which could range from 4,000 to 7,800 — is relatively small compared to Gillum's deficit of 33,684 heading into the manual recount, which Florida law mandates if election results are within .25 percent after a machine recount. Judging by the current election results, those votes would split about equally between Gillum and DeSantis.
And so, barring some overnight judicial intervention, the hand recount of the Senate race (and also the state agriculture commissioner race) begins, as described by the Miami Herald:
Following a five-day machine recount of the more than 8.3 million votes cast in the Nov. 6 elections, Secretary of State Ken Detzner ordered hand recounts Thursday afternoon in the race between U.S. Sen Bill Nelson and Gov. Rick Scott, and also the race for agriculture commissioner between Nicole "Nikki" Fried and Matt Caldwell.




The order gives canvassing boards in the state's 67 counties three days to pore over thousands of ballots that were rejected by machines because of "overvotes" — a voter appears to have chosen more than one candidate in a race — or "undervotes," in which a voter appears to have skipped a race altogether. With the help of state guidelines, the canvassing boards, which are allowed to enlist the help of volunteers, will try to determine how these voters intended to vote.
It's unclear whether there are enough ballots involved in the hand recount to erase Scott's current 12,063 vote edge over Nelson:
It's not entirely clear how many such overvotes and undervotes exist in the U.S. Senate race. A Herald/Times analysis of state and county data shows the number could be between 35,000 and 118,000.
You can expect more litigation and controversy in Florida between now and the scheduled completion of this (presumably the final) Florida recount of the 2018 election.
And right on schedule, we have this development:
Make that two large, Democratic-leaning counties whose machine recount will be disregarded.