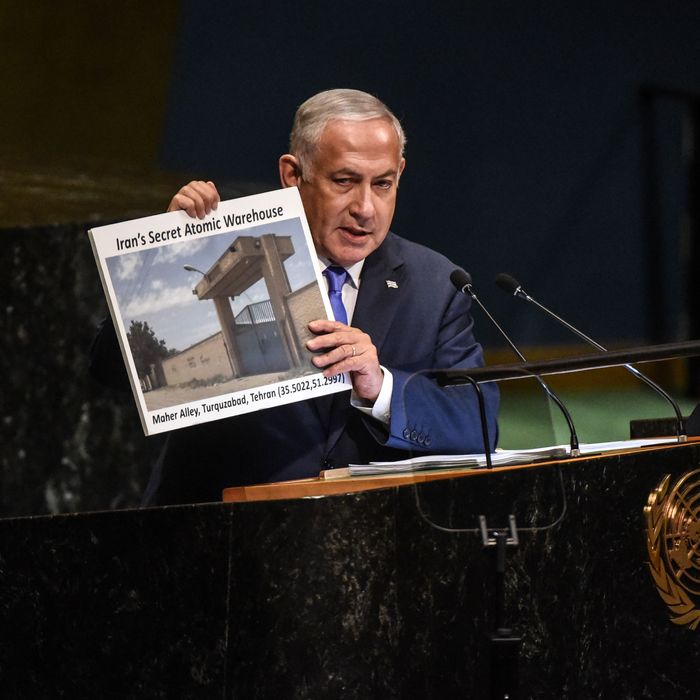 Benjamin Netanyahu, Prime Minister of Israel holds up a placard of a suspected Iranian atomic site while delivering a speech at the United Nations.
Photo: Stephanie Keith/Getty Images
Israeli defense minister Avigdor Lieberman abruptly resigned his post on Wednesday, withdrawing his Yisrael Beiteinu party from the governing coalition and leaving Prime Minister Benjamin Netanyahu with a slim one-seat majority in the 120-seat Knesset. Shortly thereafter, the Jewish Home party threatened to pull its eight seats out of the coalition, collapsing the government entirely and forcing early elections, unless its chairman, education minister Naftali Bennett, was appointed to replace Lieberman.
The precipitating factor in this existential crisis for Netanyahu's fourth government was not, say, any of the multiple corruption investigations in which the prime minister might be indicted early next year, but rather a cease-fire agreed upon Tuesday between Israel and armed Palestinian factions in Gaza to halt an escalation in violence that was threatening to become a repeat of the disastrous 2014 war.
The escalation began with a raid by the Israeli military into Gaza on Sunday, described as a botched intelligence operation, which killed Hamas commander Noor Baraka and at least six other Palestinians, while an Israeli lieutenant colonel was also killed in the mission. The incursion set off a wave of retaliation in the form of 460 rockets fired by Palestinian militants in Gaza, to which Israel responded in turn with over 160 air strikes. The reported death toll from the exchange of fire included one person in southern Israel and six in Gaza.
The violence forced Netanyahu to hurry home from Paris, where he was just telling reporters there was "no diplomatic solution to Gaza," as Hamas could not be negotiated with as long as it rejected Israel's right to exist, but that he was trying to avoid any "unnecessary wars." His government had nonetheless been working toward a longer-term deal with Hamas, the armed Islamist faction that rules Gaza, to get Hamas to crack down on demonstrations at the border in exchange for some economic assistance.
Netanyahu has faced pressure to take a harder line on Gaza from the most hawkish elements in his government, including Lieberman and Bennett, as well as Justice Minister Ayelet Shaked, another member of Bennett's religious nationalist Jewish Home party and architect of the infamous Jewish nation-state law passed by the Knesset earlier this year. As part of the negotiations over a long-term cease-fire (most emphatically not a peace treaty) with Hamas, Netanyahu last week allowed Qatar to transfer millions of dollars to Gaza to cover the salaries of civil servants in the cash-strapped Hamas government and provide aid to poor families. The prime minister faced harsh criticism from his coalition partners over this decision, which Bennett described as paying protection money to criminals.
The beleaguered Netanyahu has protested that his policy toward Gaza has been aimed at protecting southern Israel from rocket fire while averting humanitarian catastrophe in the strip. Declining to further punish the people of Gaza for the latest round of violence, which Israel started, was clearly a bridge too far for ultrahawks Lieberman and Bennett.
In his melodramatic resignation announcement, Lieberman called the cease-fire "a capitulation to terror" and claimed he would not be able to look residents of southern Israel in the eye if he remained part of the government. Lieberman has argued that "there are no innocent people in the Gaza Strip," but Bennett has sought to cast even him as too soft on Palestinian terrorism. Last month, the Jewish Home leader declared that if he were defense minister, he would order the army to shoot to kill any Palestinians who attempt to cross into Israel from Gaza, including children, and summarily bulldoze the homes of terrorists.
Netanyahu's hawkish attitudes and contempt for the Palestinian national movement have been hallmarks of his entire political career. In recent years, his reliance on the so-called "national camp" of Yisrael Beiteinu, the Jewish Home, and the ultra-Orthodox parties Shas and United Torah Judaism to form his Knesset majorities has exacerbated some of his worst instincts, as has his alliance with President Donald Trump; his latest so-called peace plan involves forcibly coercing the Palestinian leadership into essentially abandoning their goal of national self-determination entirely.
For all that, however, Netanyahu isn't acting irrationally. He knows he can't preside over mass starvation in Gaza and hope to get away with it. He also knows that wiping out Hamas entirely is both practically and politically impossible, seeing that conflicts like the one in 2014 can't be won — only avoided. It's easy for Naftali Bennett to say he would order indiscriminate killing at the border when he doesn't actually have to make that call, justify it to military leaders who actually understand what a bad idea it is, and live with it on his conscience. Netanyahu can't afford to be so bloodthirsty, even if he wants to.
It's a sad commentary on the state of politics in Israel today that Netanyahu, the destroyer of the Oslo Accords who has practically embodied the right-wing position toward the Palestinians since the '90s, is now too much of a softy to survive within his own government. Then again, this is what happens when you shift the Overton window so far to the right that extremists become accepted in the mainstream (an effect Americans are now coming to know all too well). With the Israeli left on the back foot and the center struggling to hold, Netanyahu has anchored his premiership by making common cause with an increasingly angry and violent nationalist movement, using anti-Palestinian sentiment and Jewish chauvinism as the glue to hold together a coalition of secular and religious parties that disagree vehemently on a variety of other issues.
In spite of the corruption investigations and various other controversies, Netanyahu remains popular in Israel, even though those who don't like him really can't stand him. His Likud party is considered likely to win by large margins in national elections that have to happen by next year anyway, and if he wins a new electoral mandate, it will be harder for the attorney general to move forward with indicting the prime minister in the corruption probes or removing him from office. By forcing him to call early elections, Lieberman and Bennett may even be doing Netanyahu a favor.
In theory, the collapse of Netanyahu's coalition could create an opening for Israel's main center-left parties, the Zionist Union and Yesh Atid, to make gains in the next elections and, if not form a government themselves, force Netanyahu into a centrist coalition instead of an ultranationalist one. Yet support for the Zionist Union has collapsed, and opinion polls show the right-wing majority holding, including in the first poll conducted after the cease-fire was announced.
Barring some miracle cure for the chronic malaise of the Israeli left, the next national elections will likely be a replay of the last two, with Likud leading the same coalition — and perhaps with Netanyahu forced to adopt even more hard-line positions as concessions to his right flank. If Netanyahu is felled by his corruption scandals, say, and new leadership comes to the fore in Jerusalem, it is much more likely to be a young right-wing nationalist star like Bennett or Shaked than anyone progressive American Jews can feel good about. Netanyahu is bad, but the way things are going, what comes next is probably going to be even worse.