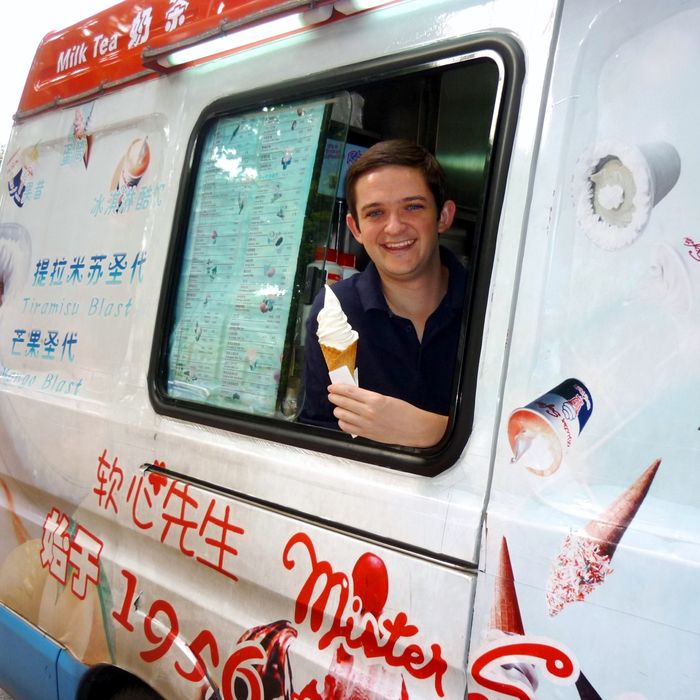 Just a few years ago, Turner Sparks was a minor celebrity in Suzhou, where the English teacher turned entrepreneur was adored for bringing New York's iconic Mister Softee trucks for the first time to China.
He started with one truck in 2007 with the help of Alex Conway, grandson of Mister Softee's co-founder and Sparks's old University of Miami roommate. Five years later, Sparks had built up his Mister Softee operation to ten trucks and 25 employees. He did local TV and newspaper interviews and was a fixture at school and corporate events, where he and his team doled out waffle-cone soft-serve to thousands. During one corporate party at Bosch, an international electronics company, he sold $9,000 worth of $1 cones in just two hours.
Competition was scarce, because he essentially invented the Suzhou ice-cream-truck market. "All these trucks were just going nuts, doing really well. Huge lines all the time," he told me. "Everyone knew Mister Softee."
He planned an ambitious expansion, and lined up investors to back it: He wanted to quintuple his fleet to 50 trucks, add more storefronts, and move into new territory.
Instead of the expansion he had planned, Sparks got an implosion. Two years ago, Sparks sold off all his trucks and moved back to the U.S. with just enough money to reinvent his life as a New York stand-up comic. What happened to Sparks is an illustration of how the landscape has shifted for foreign businesses in China since current president Xi Jinping has taken over the country, and the climate has become considerably less hospitable for foreign business — small ones, in particular.
"It's like a microcosm of what happened to everybody all the way down to a dude with an ice-cream truck," Sparks said. For him, it's cruelly appropriate that the ice-cream truck, a classic slice of Americana, would be ruined in the storm. "I feel like it's so poetic."
But, before everything fell apart, there were good times — and ice cream.
When you first meet Sparks, he comes off as every bit the stand-up comedian he now is — he's baby-faced with big blue-green eyes, a loud laugh that's damn near a cackle, and is relentlessly upbeat. It was that open optimism that led him to China in the first place.
After graduating from the University of Miami in 2004 with a degree in journalism, Sparks, now 36, signed a yearlong contract to teach English in China. After three months there, he got a part-time job at Suzhou Daily, writing about local events in their English-language section. When that gig dried up, his editor connected him to her husband, Jeffrey Cai, who owned a nearby printed circuit board factory and offered him a job there. Around that time, 15 months after he first arrived, Sparks chatted up the Stateside Conway — now a 36-year-old operations manager for Uber — about starting a business in China.
Since its Communist revolution, China had been inaccessible to foreign entrepreneurs. But things changed starting in 1978, when Deng Xiaoping threw open the doors to foreign businesses. After two decades of reforms and growth, China's economy in the early 2000s was surging. Looking to join the excitement, Sparks and Conway brainstormed a few business concepts until Sparks suggested Mister Softee. The idea had a lot of potential. Sparks noticed soft-serve windows at local McDonald's and KFC restaurants — even with their basic menus — were drawing crowds. He figured they could do even better with the help of Conway, who was steeped in Mister Softee's enterprise since birth and used to drive a truck. They also invited on Cai, who had local connections and firsthand experience creating a new business.
Added to that, Sparks and Conway believed they'd be the first company to bring ice-cream trucks to Suzhou, a city of 6 million people. The concept was so alien to Suzhou officials that Sparks had to show them videos and explain to them how the trucks worked.
"They thought we would be making the most dangerous business ever, like kids would be running after you in traffic," Sparks said.
The team set to work on their new enterprise. Sparks ran day-to-day operations as CEO, while Conway, working a separate full-time job in the U.S. as a consultant for Booz Allen, assisted with advice and strategy. Cai continued to run his factory, but let Sparks ramp up the business from Cai's offices.
In late 2006, they signed a deal with Conway's father, Jim, for the exclusive rights to develop Mister Softee in China. The younger Conway, Sparks, and Cai each kicked in a third of the money needed to start the business, raising the funds through friends and family.
They created a local supply chain from scratch, finding vendors for cones, straws and soft-serve mix at a Shanghai food-and-drink expo. Using secret blueprints from Mister Softee, the truck was built in Nanjing by a company that makes telecommunications trucks, armored vehicles, and ambulances. Workers were hired from a job fair, with many long-distance drivers jumping on the opportunity to work locally and try something different. To give the soft-serve the same taste as back home, they shipped the milk in from the U.S.
Suzhou officials worked with Sparks to create a new kind of business permit for their ice-cream trucks, called a Qualified Mobile Vendor License. It let them operate the trucks, but only as "delivery vehicles" for two stores. The license also required they have a staffed office and were restricted to operate at certain spots around the city. The solicitousness of Suzhou officials wasn't unique. All around China, local governments were inviting in foreign businesses, easing the cost of doing business with tax breaks, and giving them friendly government liaisons to help them navigate the labyrinthine bureaucracy.
After a year of planning, Conway flew over to Suzhou with his girlfriend (now wife), and his father and a cousin — the current co-owners of the original Mister Softee — to celebrate the launch of Mister Softee's new Chinese outpost.
The had a launch party at a restaurant in late 2007, with their first truck parked nearby taking its first orders. Throughout the party, a sustained line of about a dozen people waited for their cones.
"That was the moment that really stuck out to me as, 'Oh, this is really going to work,'" said Conway.
In Suzhou, they modified the Mister Softee menu for local palates, offering milk-tea floats, kiwi sundaes, and rice-cake-flavored ice cream with sweet red beans on top. The name "Mister Softee," which graced the founding Conway brothers' first truck in 1956, didn't properly translate so was changed to "Mister Soft Heart."
The ice-cream truck's famous jingle, though, stayed the same.
The truck pulled in so much money after just a year that Sparks was able to raise $1.4 million from a handful of private U.S. investors to go bigger. They kept expanding the business over the years to its peak of ten trucks, 25 employees, and two storefronts by 2011, making Mister Soft Heart a beloved name in Suzhou.
The first inclination Sparks got that things were changing was around 2012, when a local official called him into his office and accused Sparks of not paying enough in taxes.
"Immediately, I knew it was a shakedown," he said. "This guy was an idiot. He was like, 'There's money, I need some.'"
Sparks declined the man's offer and left, but says that meeting was his first experience with the corruption he'd often heard about in China. Soon after, two new drivers alerted Sparks to a longtime scam by his eight other drivers. They were quietly making extra soft-serve sales and pocketing the money for themselves. Because Mister Softee was a cash business, office workers would count drivers' ice-cream cones at the start and end of their shifts to make sure they weren't stealing. To circumvent that control, drivers bought their own cones. When Sparks started measuring the ice-cream mix instead, the drivers would buy extra cones and mix, too.
Eventually, he instituted random checks on drivers and fired several on the spot when they were caught with more mix in their trucks than they had at the start of the day. Soon after, his tires outside his apartment were slashed. Then a fired driver showed up at Mister Softee's office and threatened to kill the workers there.
Things got more bizarre. In early 2013, just a few weeks after they were fired, Sparks's former drivers resurfaced with their own unlicensed ice-cream trucks, with knockoff names including Baby Bear, Snow Princess, and Mr. Big. These drivers would park along Mister Softee trucks' routes to poach customers. Plus, they didn't have the special city license, which allowed them to operate without having to open storefronts or an office, and they could sell wherever they wanted.
Conway was too far away to help out as problems started cascading. Cai, meanwhile, had moved to the suburbs about an hour away and was starting another printed circuit board business, so had no time to lend a hand.
Sparks complained for months to the local government, saying those knockoff drivers didn't go through the same permitting process he did and were therefore operating illegally. What he got back was radio silence. The knockoff trucks were driving down Mister Softee sales at the same time Sparks was trying to raise more money for a massive expansion to more cities. Potential investors were getting spooked that the government wouldn't help him.
Several Suzhou officials didn't respond to my request for comment for this story.
Perhaps the slashed tires and death threats were unique to Mister Softee, but local officials' deciding to yank support was downright typical of the changing times.
As recently as 2010, China felt like it needed foreign businesses, but today its market is strong enough to survive without them, said Anil Gupta, professor of University of Maryland's Smith School of Business, who's been researching and writing about China for 25 years.
"The foreign companies that are still very welcome in China are the ones that bring technology or know-how" that China hasn't developed on its own, Gupta said. "If you don't, then increasingly you are not all that welcome."
That's good news for Apple, but not for Mister Softee. Other major companies that have since bailed on China include Uber in 2016 amid tough local competition and stricter government regulations on its pricing, and Seagate last year as Chinese regulators moved to impose higher taxes on the electronics maker's 2,000-employee factory. Restrictions like stiff internet censorship and requirements to share technology with China for market access have made competing harder. Now, one in four foreign businesses are scaling back in China or say they plan to, and most say they feel increasingly unwelcome, according to a 2018 survey from the American Chamber of Commerce in China.
Gupta added that blatant knockoff enterprises are so common in China that it's almost a wonder Mister Softee's easily replicated business wasn't copied sooner. Plus, local officials and courts are more likely to back the local knockoffs to support Chinese businesses — to hell with the permits.
"With 99 percent confidence, I would say this was destined to happen," Gupta said of Mister Softee's fate. "I would say that God couldn't even save this business."
And so, that's exactly how things fell apart. After receiving one-year permits for his trucks without fail from 2007 through 2012, Mister Softee's permits were withheld without explanation and Sparks couldn't reach government officials for months to clear up the issue. When Sparks finally heard back from government officials in mid-2013, they told him they would figure out a way to regulate the new trucks. Nearly a year later, with Sparks still operating without a new permit, officials proposed holding a lottery to dole out Suzhou permits to Sparks and the knockoff trucks. Around that time, police started ticketing Mister Softee trucks for parking illegally in spots they'd been working for years.
By 2015, it became clear the lottery would never take place and Sparks's new round of investment crumbled.
"Part of it was a relief, to know it was over," Sparks told me. "You feel, obviously, helpless."
Over the next year, he wound down the business, paid his remaining staff and sold off the trucks so some others could spread the gospel of neighborhood soft-serve to nearby cities.
In early 2016 on a Friday, Mister Softee's tumultuous foray into China quietly ended with Sparks, his lawyer, and accountant filing liquidation papers and figuring out who they still owed money to. Sparks had already sold off the office furniture to his ice-cream cone supplier.
"There are still ice-cream trucks in Suzhou," Beth Cheng, Mister Softee's Chinese office manager, told me in an email. "But they are not so popular like Mister Softee. For myself I will never buy ice cream from these trucks. I miss Mister Softee, it was a great memory for me."
After putting his profits back into the business for years, Sparks didn't have much money left for himself. In the end, there was no business to sell. After dabbling in comedy for years, he spent his last few months in Asia doing a comedy tour, preparing for his next reinvention.
Despite what happened, Sparks told me he felt enormous pride about bringing ice-cream trucks to China and the fact that his trucks were still running somewhere in the country, likely still playing a version of the classic Mister Softee jingle.