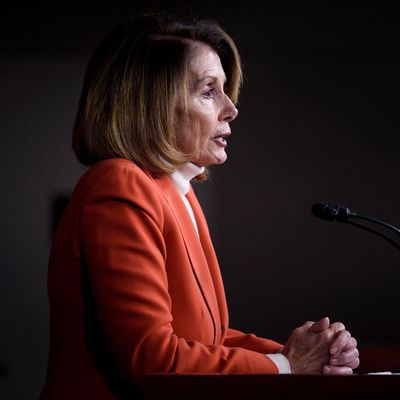 Nancy Pelosi is the current and maybe future leader of House Democrats.
Photo: Brendan Smialowski/AFP/Getty Images
Nancy Pelosi's plans for becoming the vindicated leader of the newly triumphant House Democrats hit a major, if entirely expected roadblock today as 11 of her Democratic colleagues, plus at least three congressmen-elect (and one other candidate who is leading his race), signed a letter vowing not to vote for her when the House formally chooses its Speaker in January.
To be clear, this isn't just about the internal House Democratic Caucus election of a leader, which is expected to take place on November 28. The signatories pledged to abandon her in the full House vote, in which the entire Republican conference will join them in voting against the Californian.
The letter doesn't go after Pelosi personally, to be sure, as Roll Call notes:
The letter itself doesn't outline the opponents' case against Pelosi, whom they call "a historic figure whose leadership has been instrumental to some of our party's most important legislative achievements."




Rather, they argue that Democrats won the majority "on the backs of candidates who said that they would support new leadership" and that voters want to see change in Washington.




"We promised to change the status quo, and we intend to deliver on that promise," they wrote. "Therefore, we are committed to voting for new leadership in both our Caucus meeting and on the House Floor."
The tricky thing about the numbers, as the Washington Post explains, is this:
If the current leads hold in the uncalled races, Democrats would have won 233 seats — a 16-seat majority.




That means Pelosi could lose as many as 15 Democratic votes when she stands for election as speaker Jan. 3. One of the 16 signers [of today's letter], Ben McAdams (Utah), is now trailing Rep. Mia Love (R-Utah) and might never cast a speaker vote.
Indeed, the anti-Pelosi letter has been circulating for nearly two weeks, and it looks like it might have been oversold, according to Roll Call:
 [T]hey had expected to get at least 20 signatures on the letter, so releasing it with only 16 suggests their opposition movement may be weakening.




Notably absent from the letter is Ohio Rep. Marcia Fudge, who is considering challenging Pelosi for speaker. Fudge said she wasn't deterred from running after meeting with Pelosi Friday but that she wouldn't make a decision until after Thanksgiving. 
But also missing from the letter were the signatures of Representative Conor Lamb and four newly elected Democrats — all of whom had pledged to support efforts to displace Pelosi on the campaign trail. They could in theory vote "present" in January and keep their promises not to support her, without knocking her off the podium. But Pelosi is obviously close to the edge.
A major complicating factor is that no one has publicly emerged as a rival to Pelosi for the November 28 vote. The dissidents signing the letter reportedly hoped they'd force Pelosi to withdraw, which would have obviously opened everything up, but she remains defiantly confident.
The chief sponsor of the anti-Pelosi encyclical was Kathleen Rice of New York. Other signatories were: Tim Ryan (Ohio), Seth Moulton (Massachusetts), Ed Perlmutter (Colorado), Kurt Schrader (Oregon), Filemon Vela (Texas), Bill Foster (Illinois), Brian Higgins (New York), Stephen Lynch (Massachusetts), Linda Sanchez (California), Jim Cooper (Tennessee), as well as Reps.-elect Jeff Van Drew (New Jersey), Joe Cunningham (South Carolina), Max Rose (New York), and candidates Anthony Brindisi of New York, and Ben McAdams of Utah. If Pelosi wins without being forced into concessions, these names will become infamous in the Speaker's office.