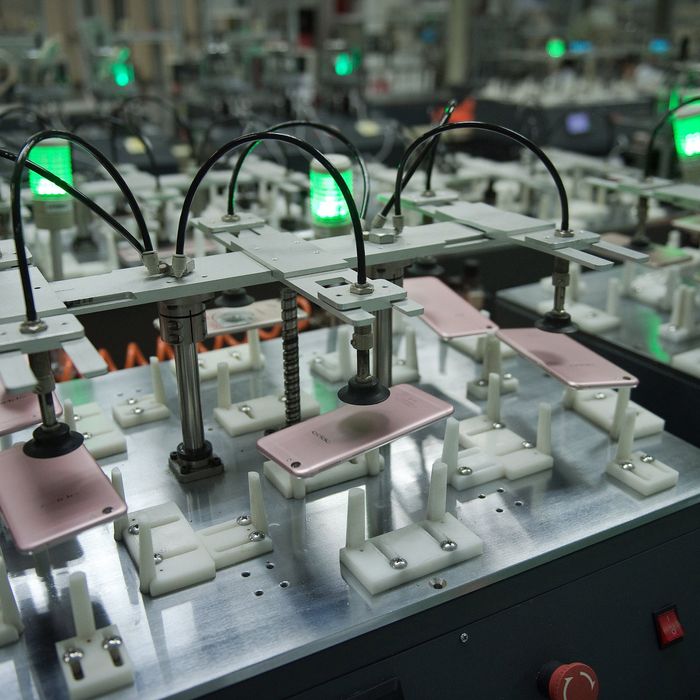 Smartphone products at a testing facility in Dongguan, China.
Photo: NICOLAS ASFOURI/AFP/Getty Images
Investors have long used reports from companies involved in the iPhone's complex supply chain as a windsock to determine how the iPhone is faring — if a company that supplied or assembled a key component of the iPhone reported a good or bad quarter, investors could use that to roughly gauge how the iPhone was doing overall.
In recent weeks, companies like Japan Display, which produces iPhone screens; Lumentum, which produces the laser diodes used in the Face ID technology in Apple's more recent phones; and Qorvo, which supplies radio frequency chips to Apple, have all cut their forecasts in public statements citing a reduction in demand from a "large customer," generally assumed to be Apple. And The Wall Street Journal reports that thousands of workers at Foxconn plants, where iPhones are assembled, are leaving earlier than expected due to a decrease in demand for the overtime hours that typically pad out the workers' wages.
It's important to note that all of these reduced-demand forecasts don't necessarily mean that nobody is buying the iPhone. Suppliers famously cut their production forecasts shortly before the release of the iPhone 6 — the best-selling iPhone in history — which saw Apple's supply chain quickly scrambling to meet demand. Perhaps most vitally for Apple, it's unclear how the iPhone XR, the company's $749 budget phone — which gotten great reviews and seems positioned to do well in holiday season — will perform over the coming weeks.
Still, the news from its suppliers has sent Apple's stock plunging even lower, and it will be harder than in previous years for Apple to ameliorate investor skittishness in 12 weeks, when the company releases its next earnings report, due to its decision to no longer report the number of iPhones it's selling.
The news of possible Apple production cuts comes in the midst of an overall slump affecting the entire tech sector. The so-called FAANG stocks (Facebook, Apple, Amazon, Netflix, and Google) have all seen declines of 20 percent or more from their peaks in the last two months, putting them all in bear market territory. This comes on the heels of a nine-year period during which these tech stocks all soared, buoying the market in general in the years after the Great Recession.
The current slump among these major tech stocks, caused by factors ranging from worries about regulation on Facebook's fortunes to Netflix's heavy debt load, is acting as a drag on the market overall. 2017 and most of 2018 were marked by a remarkably steady climb among nearly all publicly traded stocks. With the Dow now plunging, 2019 may be a much bumpier ride.