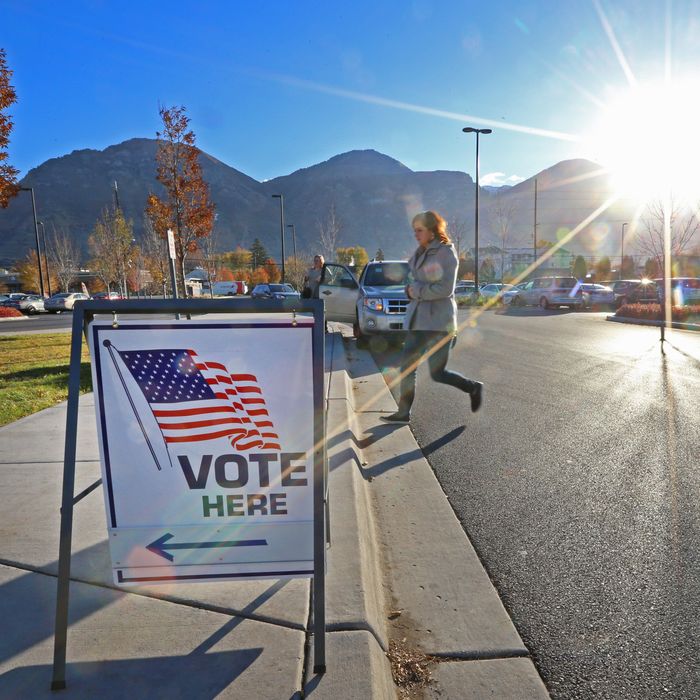 A woman walks into a polling center in Provo, Utah, where voters passed Medicaid expansion.
Photo: George Frey/Getty Images
Tuesday did not deliver entirely good news for progressives looking to push policies through at the ballot box. California voters rejected Proposition 10, which would have removed strict caps on rent control, Maine voters rejected a universal home care proposal, and voters in Alabama and West Virginia approved constitutional amendments that could ban abortion access in each state if the U.S. Supreme Court reverses Roe v. Wade. But ballot initiatives still provided moments of optimism for the left, like several red states voting to expand Medicaid and raise the minimum wage. Here are some of the key results.
Medicaid Expansion
Thanks to voters in three red states, another 325,000 people will now have access to Medicaid. Idaho, Nebraska, and Utah all passed expansion measures last night. With Democrat Janet Mills winning the governor's race in Maine, it's likely that Medicaid expansion will soon be a reality in that state, too — well after voters approved it by referendum in 2017. Outgoing Republican Paul LePage had refused to implement expansion, forcing the matter into the courts. Two Democrats who won the governorship from Republican incumbents, Tony Evers of Wisconsin and Laura Kelly of Kansas, support Medicaid expansion as well, though their conservative state legislatures might not go along.
Minimum Wage
Medicaid expansion wasn't the only progressive policy on Tuesday's ballots, and it wasn't the only policy to perform well. Both Missouri and Arkansas voted to raise the minimum wage — to $12 by 2023 in Missouri, and to $11 by 2021 in Arkansas.
This came mere months after organized labor and an active Fight for $15 movement helped kill Missouri's right-to-work law by public referendum. Missouri's minimum wage hike reinforces the public's thorough rejection of disgraced former governor Eric Greitens, a Republican who opposed a minimum-wage increase in St. Louis and allowed a bill reversing that hike to become law without his signature.
In Arkansas, which had one of the nation's highest poverty rates in 2017, a higher minimum wage could make a real difference for workers. A recent study of Seattle's $15 minimum wage phase-in showed that the policy resulted in higher earnings for retail and food service workers. For Arkansans reliant on part-time, minimum wage work, high hourly pay will ease some economic pressure.
Housing
Proposition 10's failure didn't signal a nationwide turn against affordable housing measures. Voters in various municipalities approved other initiatives that should expand pools of affordable housing to thousands more people. In Austin, Texas, voters approved a $250 million bond to construct housing for low-to-moderate income households. Portland, Oregon passed a similar bond, allocating $625.8 million in tax revenue to building new, affordable homes and funding the rehabilitation of older low-income housing. In Charlotte, North Carolina, voters passed what one community organizer called "the largest housing bond in the history of Charlotte." According to the Charlotte Observer, the city currently needs around 34,000 more affordable housing units.
But San Francisco may have handed down the biggest housing surprise of the night. Voters approved Proposition C, which will levy a new tax on businesses posting gross annual receipts of over $50 million and allocate the funds toward homelessness services, like housing and eviction defense. The tax will largely affect the tech industry, which flooded San Francisco with jobs and drove up rents, making San Francisco the most expensive housing market in the nation. "The tech boom is a clear factor," a housing rights organizer told The Guardian in 2016. "When you're dealing with this total concentration of wealth and this absurd slosh of real estate money, you're not dealing with housing that's serving a growing population. You're dealing with housing as a real estate commodity for speculation." As NBC News reported, tech moguls battled each other over the proposition — Marc Benioff of Salesforce supported it, Jack Dorsey of Twitter lamented its "unfairness" — but in the end, voters carried it through. (Seattle voters passed a similar tax in May.)
Marijuana
Michigan legalized recreational marijuana and Missouri voted to allow access to medical marijuana on Tuesday. Utah voters passed Proposition 2, which would, according to the Salt Lake Tribune, approve the creation of a medical marijuana program. Legislators would still have to draft, and then pass, such a program, over the objections of the powerful Church of Jesus Christ of Latter Day Saints, and the state's Republican governor, Gary Herbert. According to the Prison Policy Initiative, one out of every five incarcerated people is behind bars for a non-violent drug offense. Most are people of color.
Education Funding
Voters in several states and municipalities approved increased funding for public schools. Notable highlights include Seattle, which will increase property taxes to fund health clinics and expand preschool programs, and Georgia, where voters amended the state constitution "to authorize a referendum for a sales and use tax for education." Colorado voters, meanwhile, rejected a proposal that would have increased taxes on the wealthy to better fund public schools. "I think that voters were crystal clear, and I think our message was crystal clear that simply adding more money to the same system is not the solution, that money isn't necessarily the problem that's facing Colorado schools," a conservative activist told Colorado Public Radio.
The Takeaway
Members of new Democratic trifectas in Maine, New York, and Colorado should take heed, as should the national party at large. Progressive policies outperformed Democratic candidates and incumbents in several red states. If there's a gap between the public's support for progressive policies, and what the public believes the Democratic Party stands for, Democrats need to revise the party's image, and fast. But that could stoke a conflict between the party and its emerging suburban base — policies that materially improve the conditions of working people cost money, which generally means raising taxes on more well-off Americans.