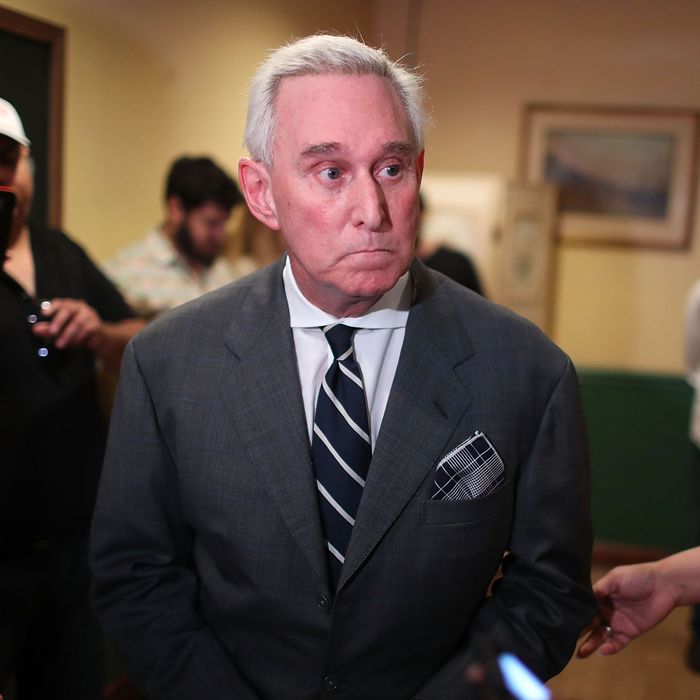 Roger Stone is having a bad day.
Photo: Joe Raedle/Getty Images
Jerome Corsi, the right-wing conspiracy theorist and associate of Roger Stone, asserted yesterday that his knowledge of the timing and content of stolen Democratic emails in 2016 was simply the product of his own brilliant analysis. "I basically figured it out, which is what I do," Corsi said yesterday. Piecing together public information, he sifted through 1,000 pages of information about the Democratic party's computer systems and, via "forensic analysis," inferred that John Podesta's emails had been stolen and would soon be published. Corsi also explained that his misstatements to the special counsel about his actions were simply inadvertent mistakes due to "terrible" memory. Corsi's just a confused old man with borderline dementia who is combing through 1000 pages of forensic computer analysis to detect patterns that escaped the world's leading information experts.
Shockingly, this account appears not to be, uh, true.
A court document apparently drafted by Robert Mueller and obtained by NBC and CNN cites emails that prove that Corsi was in contact with WikiLeaks and, more importantly, that he passed on what he knew to Roger Stone.
According to the document, Stone emailed Corsi on July 25, 2016: "Get to (Assange) [a]t Ecuadorian Embassy in London and get the pending (WikiLeaks) emails."
On August 2, Corsi, having evidently carried out this directive, emailed Stone:
Word is friend in embassy plans 2 more dumps. One shortly after I'm back. 2nd in Oct. Impact planned to be very damaging. Time to let more than [the Clinton Campaign chairman] to be exposed as in bed w enemy if they are not ready to drop HRC [Hillary Rodham Clinton]. That appears to be the game hackers are now about. Would not hurt to start suggesting HRC old, memory bad, has stroke – neither he nor she well. I expect that much of next dump focus, setting stage for Foundation debacle.
Stone repeatedly flaunted inside knowledge of WikiLeaks' stolen emails during the campaign, but, like Corsi, has denied having had any inside information about this. These denials also appear to be not, uh, true.
The Wall Street Journal has a new interview with Corsi suggesting Stone faces even more trouble. One of the most suspicious signs that Stone had a backchannel to Wikileaks is a tweet he sent on August 21, 2016, ""Trust me, it will soon the Podesta's time in the barrel." Stone later claimed he was simply guessing based on his research. Corsi tells the Journal that Stone asked him to create a "cover story" to hide his inside information. Corsi wrote a memo for Stone about the Podestas, which Stone could claim as the source for his tweet.
"What I construct, and what I testified to the grand jury, was I believed I was creating a cover story for Roger, because Roger wanted to explain this tweet," Corsi tells the Journal. "By the way, the special counsel knew this. They can virtually tell my keystrokes on that computer."
So what does all of this mean? Firstly, it suggests that both Stone and Corsi are likely facing perjury charges. More importantly, it establishes one of the channels through which Trump himself was kept apprised of his opponent's stolen emails. Stone, by his own account, communicated with Trump regularly throughout the campaign. The odds that the self-proclaimed "dirty trickster" declined to share his delicious secret about the stolen emails during those conversations with Trump are very, very low.
Stone has publicly vowed never to roll on Trump (a promise that implies he has incriminating information on the president). Since Trump can pardon Stone for perjury or any other charge, it is hard to see what leverage Mueller has to prove that Stone informed Trump about the stolen emails, assuming he did. On the other hand, we don't know what Mueller has, and the extent of what he has learned continues to surprise.
*This story has been updated