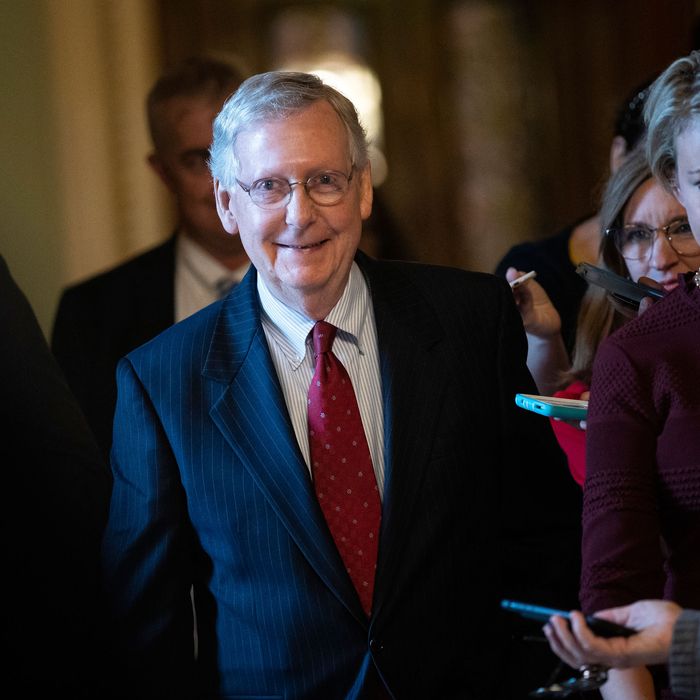 Mitch McConnell could have more, not less, power after a midterm election when his party loses races everywhere other than in the Senate.
Photo: Drew Angerer/Getty Images
The bulk of the attention political observers have paid to congressional elections this year has been devoted to the House, and when it's focused on the Senate, the big debate has revolved around Democratic odds for taking over the chamber.
Now that we are down to the final days of the midterm cycle, though, Democratic hopes of winning the net two seats they'd need for control have faded somewhat, according to most projections. And thanks to the unbelievably pro-Republican nature of the Senate landscape, a very different scenario has reemerged: the possibility of sizable Republican gains, even if Democrats reclaim the House and win a bunch of governorships.
The basic reality is this: Using Cook Political Report ratings, there are eight competitive Senate races for seats currently held by Democrats, six of them in states carried by Donald Trump in 2016, and five competitive Senate races in states currently held by Republicans, four of them in states carried by Donald Trump in 2016. To put it another way, Trump carried 10 of the 13 states with competitive Senate races this year, and Democrats are defending significantly more of those seats than are Republicans. But that actually understates the challenge to Democrats. Trump carried four of these competitive Senate states (Montana, North Dakota, Tennessee, and West Virginia) by more than 20 points, and another three (Indiana, Mississippi, and Missouri) by more than 15 points. Two of the three states in this group won by Clinton (Minnesota and Nevada) went for her by less than three points. The one solidly Democratic state on the list (New Jersey) has a scandal-plagued Democratic incumbent with terrible favorability numbers. This map is about as red as it could be.
So while FiveThirtyEight projects there's a 10 percent chance Democrats pick up more than the two net seats they'd need to flip the Senate, it projects an equal probability that Republicans will net five or more seats. This isn't a matter of some improbable Republican "counter-wave." It could happen even if Democrats do well at other levels simply as a product of exploiting a favorable landscape and winning a lot of toss-ups or near toss-ups. If the GOP won the races Cook calls toss-ups (plus those that lean in their direction), they'd come out of the elections with 56 senators. There would not be any more votes in the Senate where one or two or three defectors could thwart Donald Trump's plans. And if Republicans did lose the House, Mitch McConnell would walk tall in Washington.
A strong GOP Senate performance would also have potentially large implications for 2020, when the landscape will be far more favorable to Democrats, as Nathaniel Rakich notes:
Democrats have two obvious targets in 2020: Maine Sen. Susan Collins and Colorado Sen. Cory Gardner, the only two Republicans up for re-election in blue states. Four more Republicans sit in states that lean Republican by no more than 12 points, and so might be beatable in a favorable election environment or with the right candidates. Of course, it's not a given that Democrats will add any seats at all to their total in 2020: Sen. Doug Jones faces an uphill fight in deep-red Alabama. What's more, six more Democratic seats are also plausibly vulnerable.
Let's say for the sake of argument that Donald Trump manages to get himself reelected in 2020. Control of the Senate in 2021 could have enormous consequences for the shape of the federal judiciary, including the U.S. Supreme Court. So on November 6, it's not just who "wins" the Senate, but the margin by which that party wins that could matter most in the long run.