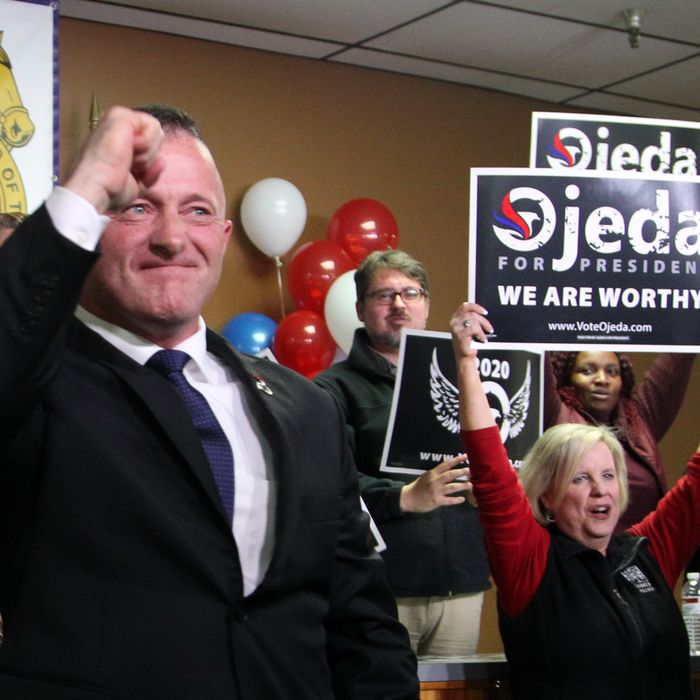 Richard Ojeda at his first presidential campaign rally.
Photo: John Sommers II/Getty Images
In the two weeks since the midterm election, Cory Booker has been making calls to Iowa, and Beto O'Rourke has turned Medium into his LiveJournal. Kamala Harris has aligned herself with top fundraising staff, and Julian Castro has begun meeting with donors. Elizabeth Warren has said it's "too early" to look at a 2020 run, and Bernie Sanders said his team is very much "looking at" a 2020 run.
They're all moving slower than Richard Ojeda, the fiery West Virginia Democrat who held his 2020 campaign launch Monday night at a union hall in Louisville, Kentucky. He summed up his candidacy with an oath. "I will never sell you out," he told a crowd of teachers, union members, and curious Democrats in a city chosen, an aide said, because Ojeda wanted to channel the fighting spirit of Louisville native Muhammad Ali.
"I will not take corporate money. I don't want it," Ojeda said. "I will do everything in my power to make sure that Americans who are sick not only have access to health care as a basic human right, but that every American who has found themselves struggling with addiction will finally get access to the help they deserve. I will strengthen our unions and our middle-class families so that no longer will they be pushed around by employers, but will finally have a seat at the table."
The launch of Ojeda's presidential campaign comes only 13 days after he lost a bid for Congress, finishing 12 points behind this Republican opponent in a district that Donald Trump won by 49 points. But the former Army paratrooper, who told local news that he "took a quick nap after the last race," is not much for licking his wounds, and with the number of obstacles between him and the White House, it doesn't hurt to get an early start.
The most obvious of those obstacles — that the vast majority of Americans don't know his name, and even those that do might not be saying it right (it's oh-JEH-duh) — wasn't a problem for the 150 or so supporters in the room Monday. It helped that a couple busloads came down from West Virginia.
Among those who made the more-than-200-mile ride were Laura Snyder, a kindergarten teacher from Webster County, and her 9-year-old daughter Ava, both in "Teachers for Ojeda" shirts. Snyder said she became a fan of Ojeda's after she and Ava met him during the West Virginia teachers' strike earlier this year. "He was just so kind and treated her like she was an equal to everyone else," Snyder said. Ava says she supports Ojeda because during the strike "all of my friends were missing each other and he helped us get back to school."
Ojeda's support for West Virginia's teachers, who demanded and eventually won pay raises in March, and his savvy use of Facebook Live helped turn him into a minor cult figure in the state. That support helped him easily win the Democratic primary in the race to fill the seat left open by former representative Evan Jenkins. But it wasn't enough to overcome the "D" next to his name on Election Day earlier this month.
Still, as Ojeda's communications director Madalin Sammons points out, he "turned more Trump voters to voting for a Democrat" than anyone in the country. It's Ojeda's ability to win 44 percent of the vote in a district where Hillary Clinton only got 23 percent that makes her think he's got a shot on the national stage.
"People are excited about someone who speaks like them, someone who understands their issues on the ground," says Sammons, who was working at Family Dollar before she joined the Ojeda campaign two years ago. "He can really speak to people in Middle America. He can speak to people in Appalachia and these are people who are generally forgotten."
Ojeda's platform, which he quickly ran through in a speech Monday night, is largely unchanged from three weeks ago. He wants to protect and grow labor unions, implement Medicare for All, and make marijuana legal. He talks with feeling about the opioid crisis and the unrepentant pharmaceutical giants that used his home state as a pain-pill dumping ground. He seethes about attacks on working people and the advantages of being wealthy. And with an eye toward the swamp, he proposed Monday to make the work of lobbyists more transparent by forcing them to wear body cameras.
His policy positions are largely within the mainstream of his party, but Sammons says even if Democrats have 20 people vying for the nomination, Ojeda's voice will stand out. "A lot of the people who are speculated to run come from similar backgrounds," she says. "I think there's a need for a voice like Richard's in 2020. There is nobody as fiercely pro-labor as what Richard Ojeda is. And if we're committed to restoring our middle class, it's going to be through a massive pro-labor movement."
But Ojeda will stand out among any other Democrat who runs in another, more dubious way. He'll be the only one who's on the record as having voted for Trump. During his congressional campaign, he got used to explaining it away. He supported Bernie Sanders, he says, but in the general election gravitated toward the guy who seemed to be talking to people like him for the first time. The guy who, unlike Clinton, promised to save the coal industry.
Ojeda says he quickly turned on Trump. But choosing a Republican sex pest over the first woman with a real shot at the White House is unlikely to play well with Democratic primary voters.
But Mary Stanton is not one to cast aspersions. "I know that he was against Hillary and so that's another thing that draws us to him," she said. A Democrat, Stanton couldn't bring herself to vote for either Trump or Clinton in 2016, calling it a "choice between two evils." But Ojeda, she says, gives her "an opportunity to vote for someone I actually like who is in the Democratic Party."