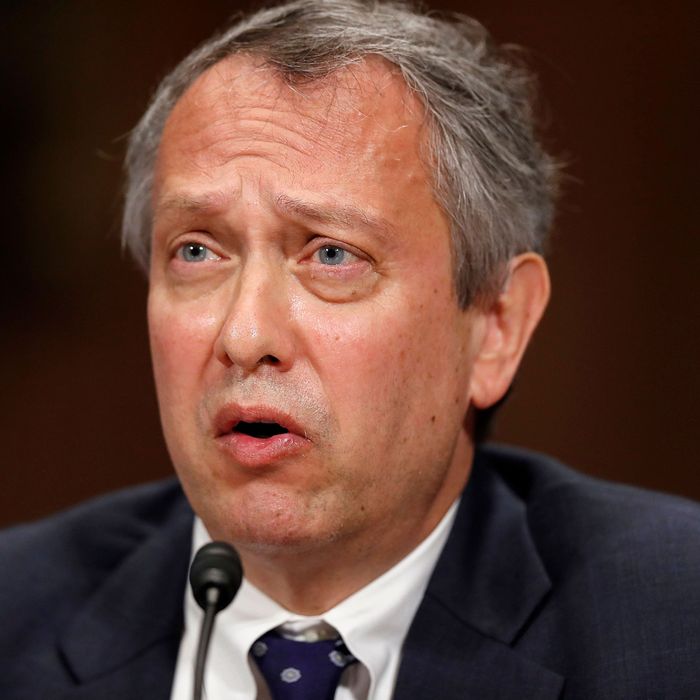 Judicial nominee Thomas Farr has long been associated with GOP enemies of voting rights.
Photo: AP/REX/Shutterstock
In the aftermath of southern midterm elections in which Republican voter suppression played a role in some close key races, a North Carolina judicial nominee long associated with such efforts has aroused intense opposition from civil-rights groups and Senate Democrats.
And now, his confirmation appears to have been killed by two Republican senators, with the crucial blow being struck by African-American Tim Scott.
Conservative attorney Thomas Farr, who has been repeatedly nominated but not confirmed for a district court judgeship in his home state, looked to be on the brink of confirmation for a position that has been vacant for 12 years, dating back to his first nomination by George W. Bush. President Obama could not secure a Senate vote for either of two African-American women he nominated for the same place on the federal bench. The saga has become something of a symbol of the racial overtones of the intense partisan warfare that has characterized politics in North Carolina — and during the Trump era, nationally — in recent years.
Farr was for years closely associated with the godfather of southern Republican racist politics, the late North Carolina senator Jesse Helms. And that association finally did him in with Scott, as reported by the Raleigh News & Observer:
In a brief statement explaining his decision, Scott cited a 1991 Department of Justice memo that was leaked just this week, days before the Senate was set to vote on Farr's confirmation. It detailed Farr's involvement in "ballot security" activities by the 1984 and 1990 campaigns of then-Sen. Jesse Helms, R-North Carolina….




"I am ready and willing to support strong candidates for our judicial vacancies that do not have lingering concerns about issues that could affect their decision-making process as a federal judge," Scott said in his statement. "This week, a Department of Justice memo written under President George H.W. Bush was released that shed new light on Mr. Farr's activities. This, in turn, created more concerns. Weighing these important factors, this afternoon I concluded that I could not support Mr. Farr's nomination."
Farr also represented North Carolina Republican legislators whose voter-ID law was eventually struck down by federal judges on grounds that it targeted African-American voters "with almost surgical precision." Whether or not Farr is personally an enemy of voting rights, he has certainly been an enabler for those who frown on those people voting, and as a federal judge in a state with more than its share of voting-rights litigation, his confirmation might have mattered. But once again, he failed.
All 49 Senate Democrats came out in opposition to Farr's confirmation, and they obtained a key ally when lame-duck GOP senator Jeff Flake announced he would not support any judicial nominations until the Senate acted on legislation to protect special prosecutor Robert Mueller from being fired by the president. Flake's stand matters most in the Senate Judiciary Committee, where he is in a position to stop action on committee referral of nominees. But on the Senate floor, he was able to reduce the GOP's margin of error to a single lawmaker. In this case, that lawmaker was Scott, who voted to let the confirmation go forward on a procedural vote earlier this week, but did not commit to support for Farr on confirmation itself — apparently with good reason.
Despite this defeat for Trump and Senate GOP leader Mitch McConnell, this week's developments served as a reminder that in January the GOP's 51/49 margin in the Senate will grow to 53/47. Frequent gadflies Susan Collins and Lisa Murkowski (who were uncommitted on Farr's confirmation when Scott killed it) will no longer have much leverage over their colleagues. And Jeff Flake will be gone. It wouldn't be entirely surprising if Trump duly nominates Farr once again next year, showing his stubborn solidarity with the South's Republican fire wall against the threat of full voting rights.