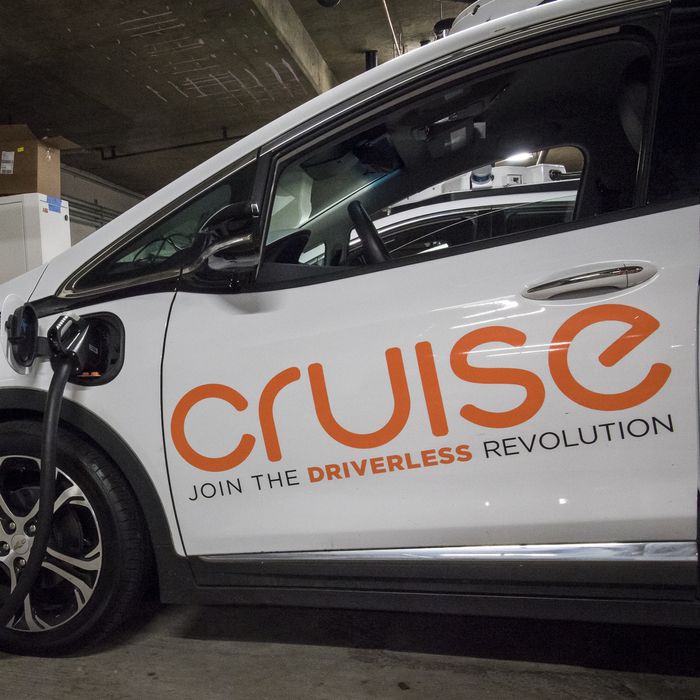 A GM Cruise test vehicle recharging in San Francisco.
Photo: David Paul Morris/Bloomberg via Getty Images
General Motors announced mass layoffs on Monday. The automaker plans to cut about $6 billion in spending and fire 14,700 employees, including more than 6,000 factory workers and 8,000 salaried workers. It will also idle five North American factories. Don't take it as a sign of business trouble, though: GM reported $2.5 billion in net income in the third quarter of 2018, and has done very well during the past decade of economic growth. Rather, the layoffs are a long-term strategic decision — one that gives us some insight into the future of car manufacturing in the U.S.
There are two strategic imperatives behind the layoffs. The first is GM's need to get out of the business of making increasingly unpopular sedans in favor of selling trucks, SUVs, and crossovers, in following with general consumer preferences. The company is halting production on the Chevrolet Cruze and Volt, the Buick LaCrosse, and the Cadillac XTS and Cadillac CT6.
The second, says GM CEO Mary Barra, is making "GM lean and agile as we aim to lead in autonomous and […] electric vehicles." That's great news for people working at GM Cruise, the company acquired by GM for $1 billion in 2016 and now valued at $11 billion. GM Cruise has quickly become a true contender for winning the race to build a commercial business around automated vehicles.
But GM Cruise is a bit different from GM's other divisions. For one thing, it's based in San Francisco rather than Detroit (and is opening a second office in Seattle), in order to attract more engineering talent. It's growing extremely rapidly, but its total headcount is 1,000, and that's nearly all for research and development. By contrast, the Detroit/Hamtramck factory, one of the five to be closed, is located only three miles away from GM's corporate headquarters, and employs nearly twice as many people as the entire Cruise division — but not for much longer.
GM Cruise is — there's no denying it — a huge success. "GM Cruise is a little bit behind Waymo on the tech side, but not that far," says Sam Abuelsamid, a senior analyst at Navigant Research; he releases his Automated Driving Leaderboard every year and put GM Cruise at the top of the heap for 2018. "But we're not just looking at the core automated driving technology, we're looking at the whole landscape of companies being able to successfully commercialize that technology. GM has the manufacturing infrastructure, a dealer network to provide fleet management and maintenance, and a financing arm they can use fund the fleets." It makes sense that GM would want to plow more money into what is obviously the future of its company.
But that's not much solace for auto workers who have just found out they'll be laid off after returning from the Thanksgiving holiday. It's hard not to look at GM's layoffs and general strategy and see a gloomy analogy for the American economy of the past 30 years. Blue-collar manufacturing jobs and mid-level white-collar jobs for people without advanced degrees are vanishing and being replaced by a smaller number of positions requiring expensive and extremely specialized education.
That doesn't mean that there won't be auto manufacturing jobs in the U.S. once self-driving cars arrive on a mass scale. GM's plant in Orion, Michigan currently produces the all-electric Chevy Bolt and test vehicles for GM Cruise, and it will take on manufacturing autonomous vehicles once they enter mass production. (The Orion factory, which currently puts out around 1,000 vehicles per week and employs just under 1,200 people, was untouched by GM's closures.) Ford, which is also working rapidly towards building its own self-driving vehicles, has said that its will be built in Flat Rock, Michigan. As both companies move towards producing automated vehicles, they will likely do so in America. "There's not really any compelling reason to move that [production] to some other location," says Abuelsamid.
But we're in an awkward phase of the hype cycle. "Automated vehicles are gonna take a lot longer than the hype over the last few years has suggested," says Abuelsamid. "We expect that at least through 2023 and 2024, [the] growth [will] be very slow." Abuelsamid doesn't foresee autonomous vehicles being produced in the millions until 2025, and even then he predicts that it will be something like 5.4 million out of the 105 million cars produced annually — not even 5 percent of the market. GM's layoffs don't presage the death of auto manufacturing in this country, but even if Mary Barra's wildest hopes about self-driving automobiles come to pass, I doubt GM will replace the number of manufacturing jobs being lost right now. The future of GM's profitability may lie in autonomous vehicles, but the future employment of autoworkers does not.
Correction: A previous version of this article mistakenly stated that GM would cut 147,000 jobs. The actual figure is 14,700.