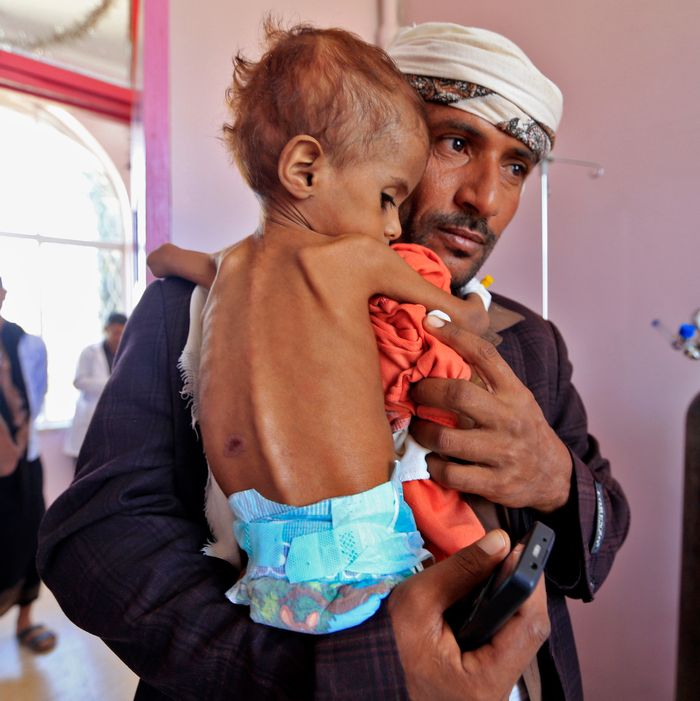 A Yemeni man carries his child, suffering from malnutrition, into a treatment center at a hospital in Sanaa on October 6, 2018.
Photo: MOHAMMED HUWAIS/AFP/Getty Images
The government of Saudi Arabia has been bombing and starving the Middle East's poorest country for about three years, now. One recent estimate suggests that 85,000 children under 5 years old have already died from malnutrition as a result of Riyadh's intervention in Yemen's civil war. If the Saudis' airstrikes and blockade continue, Yemen is poised to face the worst famine humanity has seen in 100 years, according to the U.N.
The United States bears much of the responsibility for all of this: Our federal government's steadfast commitment to an alliance with the Saudis has led America to support Riyadh's monstrous campaign by supplying it with weapons, logistical support, and midair refueling services for Saudi fighter planes. Without that last form of support, much of the Saudi campaign would be impossible.
The U.S. has no real interest in the outcome of Yemen's civil war — whether that impoverished country is ruled by Shia rebels or a Saudi client is of a little consequence to a global superpower based in the Western hemisphere. On the other hand, allowing the Saudis to drop American-made bombs on school buses — and to commit other crimes against humanity with our visible assistance — significantly increases the risk of terroristic blowback against the U.S.
And yet, Saudi Arabia donates a lot of money to D.C. think-tanks, and also orders a great deal of weapons from American arms manufacturers. In recent years, it has also softened its opposition to Israel. And so the vast majority of American elected officials (in both parties), declined to mount any serious opposition to the war crimes our government was abetting.
But then, the Saudi government ordered the murder and dismemberment of a U.S. citizen who wrote for the Washington Post, and had personal relationships with influential people in our nation's capital. And now, the Senate's lonely critics of the Saudi war in Yemen have finally persuaded a critical mass of their colleagues to at least give their case a hearing.
In a 63–37 vote on Wednesday, the Senate advanced debate on a bill that would revoke U.S. support for the Saudi intervention. This was a remarkable result, given how hard the White House had lobbied against the measure. Secretary of State Mike Pompeo and Defense Secretary Jim Mattis had addressed the entire upper chamber, in a closed, classified briefing, in the hopes of persuading them to block a debate on Yemen. In public remarks, Mattis warned that withdrawing U.S. support would jeopardize peace talks that are expected to begin next month in Sweden.
But then, Mattis and Pompeo also told the Senators that no "direct reporting" ties Jamal Khashoggi's murder to Saudi crown prince Mohammad bin Salman — a claim that stands at odds with the CIA's analysis.
Wednesday's vote is a victory for senators Bernie Sanders, Chris Murphy, Mike Lee, and Rand Paul, who have long been pushing for an end to U.S. support for the Saudi intervention. That said, it is far from clear that there are enough votes in the Senate to actually pass the bill — and it is almost certain that the lame-duck Republican majority in the House will not take it up.