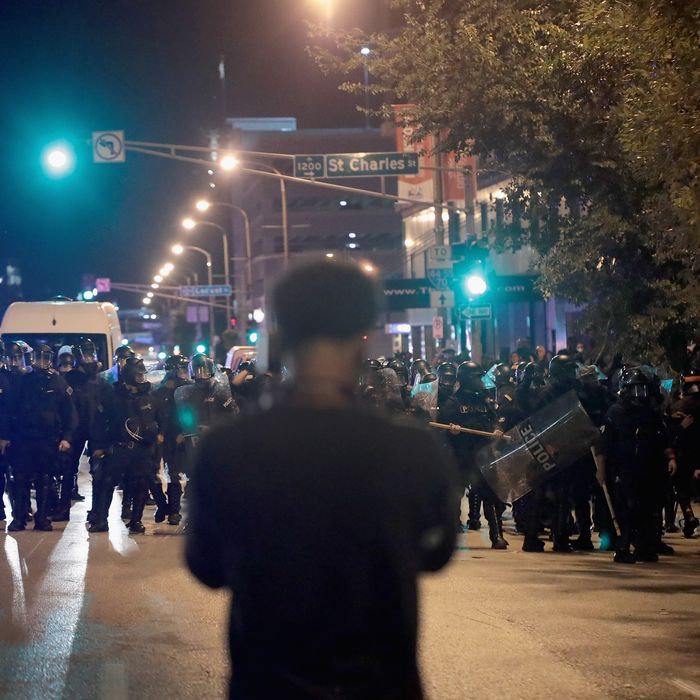 A 2017 protest against the acquittal of a St. Louis police officer for killing an African-American generated some more police misconduct.
Photo: Scott Olson/Getty Images
During the latter stages of the struggle to end Jim Crow and beyond, federal civil rights laws often proved essential in seeking justice for African-Americans when local law enforcement officials (or in some cases, juries) refused to take action against violent racists.
It's another matter altogether, though, when the alleged violent racists are themselves local law enforcement agents. That's why this news from St. Louis (as reported by HuffPost's Ryan J. Reilly) is significant:
Four St. Louis police officers were indicted on federal civil rights charges Thursday in connection with their actions during an unconstitutional crackdown on a protest last year.




A federal grand jury indicted St. Louis Metropolitan Police officers Dustin Boone, 35, Bailey Colletta, 25, Randy Hays, 31, and Christopher Myers, 27, on felony charges that included deprivation of constitutional rights, conspiracy to obstruct justice, destruction of evidence, and obstruction of justice.
The charges stemmed from an incident during September 2017 protests against the acquittal of former St. Louis policeman Jason Stockley on murder charges in connection with his 2011 killing of an African-American, Anthony Lamar Smith, after a high-speed chase subsequent to an alleged drug deal. At the time of the protests, police officers were observed behaving in an angry, confrontational manner, serious enough that a federal judge later admonished them for seeking to violate protesters' First Amendment rights. More recently evidence emerged that three of the officers present during the protests went way over the line and later (along with a fourth officer) lied about it. That's what led to the current indictment:
The indictment alleges that at least three of the defendants "expressed disdain for the Stockley protesters and excitement about using unjustified force against them and going undetected while doing so." It features text messages between three of the defendants in which they joked about using force against protesters demonstrating against the Stockley verdict.




"let's whoop some ass," [Christopher] Myers wrote.




"it's gonna be a lot of fun beating the hell out of these shitheads once the sun goes down and nobody can tell us apart" wrote [Dustin] Boone. "We really need these fuckers to start acting up so we can have some fun."




Boone later wrote that it was a "blast beating people that deserve it" and bragged about chanting "OUR STREETS" with other cops after they locked "fools up on prison busses."
The "our streets" chant was a mocking reference to one of the slogans of the #BlackLivesMatter movement. That's rather questionable conduct from members of what was called the SLPD's Civil Disobedience Team, deployed to keep things calm.
Their big mistake, the indictment suggests, was beating up an unarmed undercover cop who was in a pretty good position to testify against them, as the St. Louis Post-Dispatch notes:
After learning that the person they attacked was an undercover officer, the three male officers lied about the arrest, claiming he resisted arrest and was not compliant, the indictment says. They also tried to contact the undercover officer to dissuade him from pursuing disciplinary or legal action, the indictment says.  
A fourth officer, a woman, allegedly helped cover it all up.
So all in all, the four officers were indicted by a federal grand jury "on felony charges that included deprivation of constitutional rights, conspiracy to obstruct justice, destruction of evidence, and obstruction of justice."
Questions remain as to whether these actions, if proven, represented rogue police misconduct or a more pervasive pattern. In St. Louis, the latter is a real possibility.