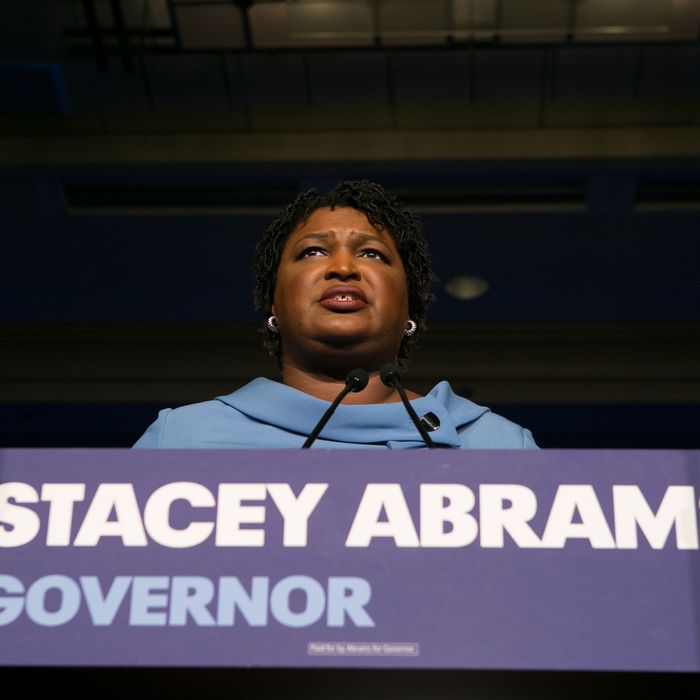 After a history-making run, Georgia's Stacey Abrams reaches the end of this particular road.
Photo: Jessica McGowan/Getty Images
After mulling some long-shot legal actions to force a runoff or even a re-running of the election, Georgia Democratic gubernatorial candidate Stacey Abrams ended her impressive but narrowly unsuccessful campaign, stepping out of the way of Republican Brian Kemp's ascension to the governorship, which he claimed several days ago.
But her speech, made soon before the likely certification of Kemp's win by his successor as secretary of state, was more an acknowledgement that she had exhausted legal remedies rather than any admission of defeat:
"I acknowledge that former Secretary of State Brian Kemp will be certified as the victor in the 2018 gubernatorial election, but to watch an elected official who claims to represent the people in this state baldly pin his hopes for election on the suppression of the people's democratic right to vote has been truly appalling," Abrams said.




"So, let's be clear. This is not a speech of concession. Because concession means to acknowledge an action is right, true or proper. As a woman of conscience and faith, I cannot concede that. But my assessment is the law currently allows no further viable remedy."
The Atlanta Journal-Constitution's Greg Bluestein subsequently described it as a "non-concession concession speech." Abrams repeated many of the accusations she's made against Kemp for years (they often jousted in court and in the media thanks to her role as a champion of minority voter registration, which often involved fighting Kemp as a vote-suppressing election administrator), and also announced she would soon help form a new group (named Fair Fight Georgia) aimed at continuing the fight for restored voting rights in Georgia. That group might, she indicated, even challenge Kemp's management of the current election, if not its outcome:
In the coming days, we will be filing a major federal lawsuit against the state of Georgia for the gross mismanagement of this election and to protect future elections.
A relieved Kemp, who maintained his party's hold on the governorship for a fifth consecutive four-year term, signaled a desire to move on:
While saying she would pray for Kemp's success, Abrams made no bones about her unwillingness to let bygones be bygones:
They can complain that I should not use this moment to recap what was done wrong or to demand a remedy," she said. "You see as a leader, I should be stoic in my outrage and silent in my rebuke. But stoicism is a luxury, and silence is a weapon for those who would quiet the voices of the people. And I will not concede because the erosion of our democracy is not right."
There will be a December 4 runoff in Georgia after all, but Abrams will only be able to participate in it as a supporter of two other statewide Democrats. One is Secretary of State candidate (and former congressman) John Barrow, and it might offer some vindication to Abrams and her supporters if Barrow were to end the GOP's stranglehold over election administration. But it will still be bitterly disappointing to them that this history-making gubernatorial candidate won't be on the runoff ballot. The odds are very high, though, that Abrams will be back, and not just in court.