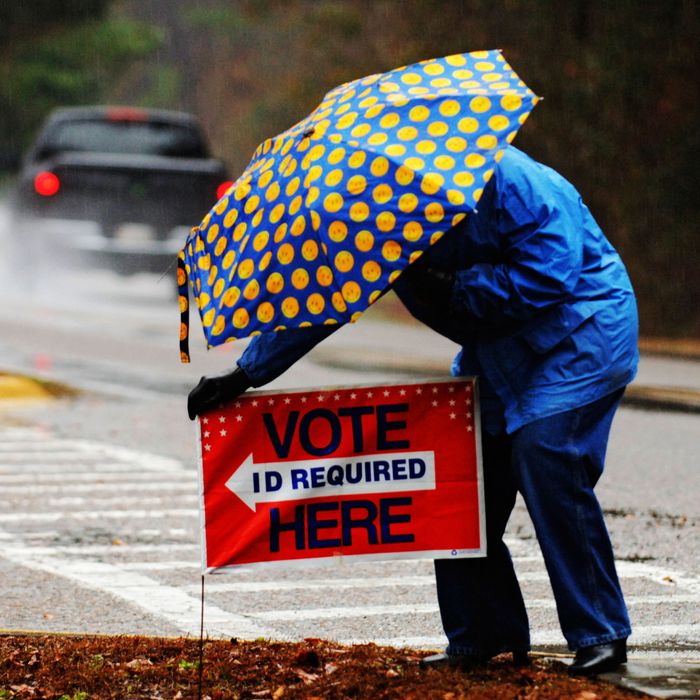 Mother Nature could have the last say on how Election Day rolls out.
Photo: Stephen Morton/Getty Images
There have been a lot of twists and turns in this midterm election cycle. But the final twist and an excruciating turn may belong to Mother Nature. Meteorologists are projecting possible violent storms for the south central, southeastern, and midwestern regions on or just before Election Day. And that may be about the only thing that could dampen turnout this year. The Washington Post has the story:
This year's midterm election features an intensity usually reserved for a presidential race. In parts of central and eastern United States, a major storm system may add a wrinkle to this high-stakes contest.




The storm is set to rapidly develop Monday into Tuesday as it travels from the Southern Plains to the Great Lakes region. Numerous states could be hit by heavy rain and even some tornadoes.
The Post report emphasized the risk of big storms in the south central and southeastern states:
But a Toledo, Ohio, TV station suggested things could get hairy in the Midwest as well:
We are 5 days away from Election Day, but computer models now agree a rapidly developing storm will likely sweep into the Great Lakes region next Tuesday. The weather system will bring highs in the 60s and rain, but it could also bring strong to severe thunderstorms if the timing comes together right. Even if we stay storm free, a classic November wind storm is expected. Weather maps show the potential for wind gusts in the 40 to 50 mph range late Tuesday through early Wednesday morning. We will have much more on the messy Election Day weather as we get closer, but as it stands right now this storm has the potential to be a nuisance or perhaps even dangerous.
Yikes.
Traditional lore has it that bad weather is a boon for Republicans, who more often have the wherewithal (and given the high percentage of Republican seniors, the time free from work) to vote under unpleasant or even dangerous conditions. It's harder to say how it would play out in an election year with such high levels of Democratic enthusiasm — particularly in suburban congressional districts where college-educated white voters seem to be trending sharply blue.
One factor is reasonably clear: States with heavy early voting could avoid some or even most of the effects of bad Election Day weather. Unfortunately, the central/southeastern states threatened this year are not generally America's hotbeds of early-voting opportunities, though there are exceptions in Georgia (1.8 million votes already cast), North Carolina (1.7 million cast), Tennessee (1.3 million cast), and Illinois (1 million cast). Those who have waited to cast their ballots on Election Day may find themselves dealing with a more immediate danger of wind and water than that posed by some partisan "wave."