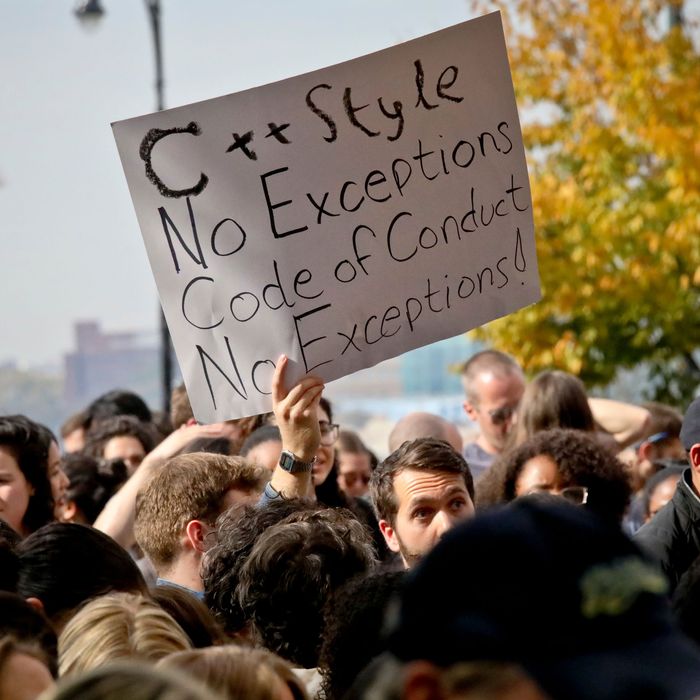 Google employees stages a walkout demanding workplace protections and equality.
Photo: Bebeto Matthews/AP/REX/Shutterstock
Following a company-wide walkout with participant numbers in the thousands, Google announced it was updating its policies surrounding sexual harassment last week. The walkouts were motivated by a New York Times story detailing the reported $90 million in exit payouts Android creator Andy Rubin has received since leaving the company in 2014 — a departure which occurred after a female colleague reported Rubin for coercing her into performing oral sex and an internal investigation found the claim credible. In a company-wide email, CEO Sundar Pichai detailed a list of changes the company will be implementing in the coming weeks and months. They include putting an end to forced arbitration, which Pichai wrote will be optional for "individual sexual harassment and sexual assault claims." (Pichai's letter and the list of changes did not address a significant number of the demands listed by the organizers of the walkout.)
Now, others in Silicon Valley are following suit. "We will not require our employees to use arbitration in cases involving discrimination in the workplace," Airbnb told BuzzFeed News in a statement. "Additionally, we will not require employees to use arbitration in cases involving sexual harassment." A spokesperson for eBay also said the company would be ending forced arbitration: "We've adjusted our existing employee policy regarding sexual harassment claims to better reflect and encourage eBay's values of being open, honest and direct." While a number of companies, like Reddit, Pinterest, and Twitter noted they had never had a forced arbitration policy, others — Tesla, Slack, and Netflix — declined to comment to BuzzFeed News.
At the end of 2017, Microsoft made headlines when it publicly announced the end of its forced arbitration policies. At this point, just about a year later, it seems like the least a tech giant can do.