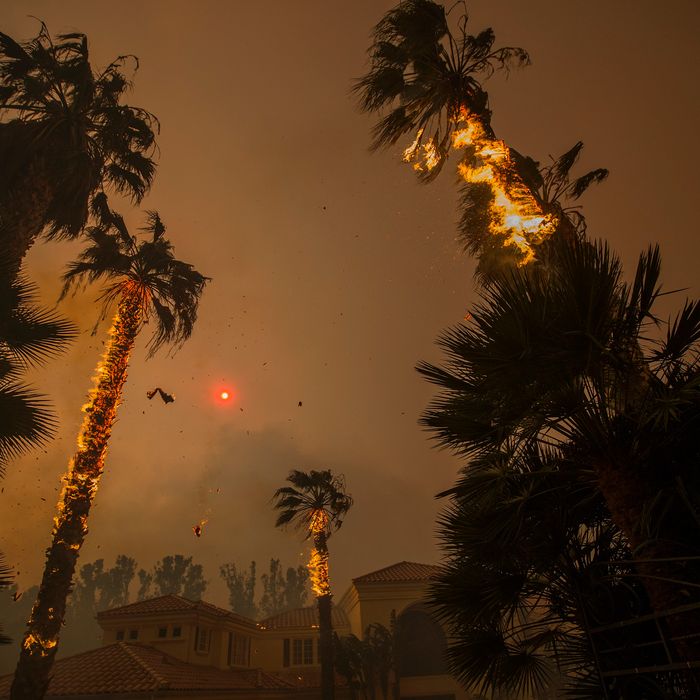 Embers fall from burning palms and the sun is obscured by smoke as flames from the Woolsey Fire close in on a house on November 9, 2018 in Malibu, California. About 75,000 homes have been evacuated in Los Angeles and Ventura counties due to two ongoing fires in the region.
Photo: David McNew/Getty Images
November always marked the beginning of rainy season in California. Now it is fire season.
Last November, the Thomas Fire in Southern California grew 50,000 acres in a single day, eventually burning 440 square miles and forcing more than 100,000 people to evacuate. It was not an outlier. Five of the worst 20 wildfires in California history hit the state in the fall of 2017, a year in which more than 9,000 separate ones broke out. All told, they burnt through more than a million acres, or nearly 2,000 square miles. This summer, there were just 6,000 fires, but more land was burnt — more than 1.5 million acres, the smoke visible by satellite and blanketing half the country. And then came this year's November fires, just as fire season was supposed to be ending: the Camp fire, which has already killed 31 and left at least 200 others missing; the Woolsey fire, near Los Angeles, which has forced 170,000 people to evacuate; and the nearby Hill fire, also shedding its smoke into an American jet stream that will be carrying it as far as the country's northeast. By 2100, should we not change course on carbon, the California acreage burned each year by wildfires is expected to grow sixteen-fold.
In the California of that future, every season would be fire season. In fact, that is already how climate scientists and firefighters are now describing the state's wildfire season: year-round. Multiply the devastation, as the coming decades almost surely will, and it begins to seem all-encompassing: the burning nearly nonstop, and the fearsome prospect of new fires looming just over every crest and down every valley in a state full of them, nearly every week of the year, with no meaningful reprieve.
Against that possible future, the simple inversion of November from rainy season to fire season is a powerful poetic reversal — and a sort of map for how all of us will wake up to climate horrors in the decades ahead. Scientists may say that warming proceeds incrementally, and that the most dramatic impacts of warming — deadly heat waves like the one that struck globally this summer, from Oman to Quebec, killing hundreds; or droughts, like the one this summer that turned much of Europe's farmland brown; or hurricane systems that deliver 500-year storm after 500-year storm, like the one that made Harvey the third such storm to hit Houston in three years — arrive erratically, with one extreme season likely followed by a few more "normal" ones. They are right.
But, with climate as with everything else, we tend to ignore developing news at first, sometimes until we reach an inflection point and start exaggerating it, out of fear and perceived novelty. And so, in the decades ahead, the experience of living through climate change will likely be defined by sudden, cascading inversions, the changes creeping along imperceptibly before they feel terrifyingly all-consuming. Rainy season becomes fire season, which gives way, now, to mudslide season. From Paradise to Malibu, the natural backdrops that seemed so perfect they could almost have been soundstages, manmade paradises, are becoming real-world theaters of climate catastrophe — nature reclaiming dominion from developers and homeowners, reminding everyone living on the planet that we are merely its tenants.
In its swaggering 20th century, the United States built two states of paradise. One, Florida, was erected out of a swamp so total the entire state was "once reviled as a liquid wasteland." The other, southern California, had been largely desert. By 2100, should our patterns of consumption not change, neither will endure as postcards of pleasure or plenty — indeed, as anything but the front lines of a new future of onrushing climate devastation. Even in their heydays, each state produced its own counter-narratives: the Los Angeles of film noir and Chinatown, Charles Manson and Skid Row, Watts and Rodney King; the Florida of Elmore Leonard's noir, the Mariel boatlift and Scarface, Aileen Wuornos and "Florida Man." But those were notes of cynicism and desperation played in a minor key, and climate change will bring a much more explicit and unmistakable reversal: tens of thousands of square miles turned to ash, each year, in California, with much of the rest of the state choked by smoke; in Florida, seawater won't just flood the Fontainebleau and the shops at Bal Harbour and Calle Ocho but the Everglades, too. Even the alligators will be drowned.
Can California survive? Of course, in some form. But what will it look like? The footage from this weekend, arriving from Paradise and Malibu, too, did not offer a vision of a future that many today would consider livable. In fact, they seem eerily familiar from disaster movies using such images as visual shorthand to suggest the offscreen presence of mad, panicked stampedes away from a rampaging threat: abandoned buses, burnt gray, empty home after empty home. Were we watching the news or the zombie apocalypse? This harrowing footage of an escape-route drive flanked by fire, captured by dashcam, had the character of a stunt driver demonstration you might stumble upon on YouTube:
But when it comes to climate horrors, the real world is already outpacing our imaginations. In Hollywood, you couldn't sell a script in which the state's firefighting force was made up of penitentiary inmates, earning, for their labor and their valor, the pittance of $1 or $2 a day? Meanwhile, the fires are growing by the thousands of acres.
In Washington, last week, voters rejected a ballot initiative to establish a modest carbon tax. That the referendum was defeated in such a liberal state, by voters who aren't even burdened with state income tax, struck some observers as a possible death knell to the dream of a carbon tax, which seemed, as recently as William Nordhaus's Nobel Prize a few weeks ago, the obvious technocratic solution. One wonders whether the outcome might have been different, were the election staged just one week later, with the images of the Camp fire, or the Malibu evacuations, fresh in voters' minds. It is distressingly hard to say. In an age of cascading climate change, we forget so quickly. And normalize so much.