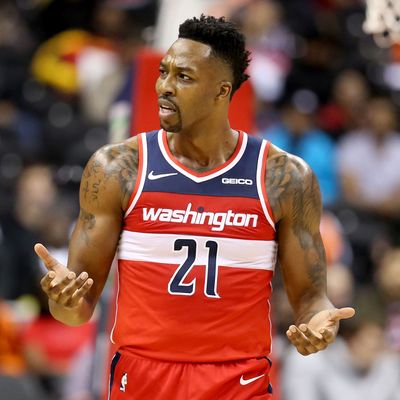 Washington Wizards center Dwight Howard.
Photo: Will Newton/Getty Images
This past September, it was seven years since I wrote, in this magazine, "The Last Closet," a feature about the total insanity that, in September 2011, there were no openly gay players in the four major North American men's professional sports leagues. Sports seemed like the last bastion of this sort of homophobia left in American life, but it did seem like that taboo was … loosening, at least, within sports culture. "Something has happened in the last year," one expert told me. "It's almost like homophobia is no longer considered cool in sports." Two years later, NBA journeyman Jason Collins came out in the pages of Sports Illustrated to nearly universal acclaim and a standing ovation at Barclays Center. A year after that, the Rams drafted openly gay defensive end Michael Sam in the seventh round of the NFL draft, and he kissed his boyfriend in celebration live on ESPN's airwaves; his jersey quickly became the second-best-selling in the NFL. They seemed like just the start.
They were not. Sam never played a regular-season down in the NFL, Collins played 22 games for the Nets, and … that was that. There were more openly gay speakers at Trump's Republican National Convention than there are openly gay players in men's sports today. This has not been an issue in women's sports and college sports; Outsports keeps a running list of out LGBT athletes that seems to grow daily. But that progress has not been mirrored in the world of professional men's sports. Obviously, there are gay players in these sports, surely dozens of them. But they are nowhere to be seen or heard. There has been no progress made in this area at all.
If you're looking for a clue as to why, look at a Twitter controversy that popped up over the weekend involving Washington Wizards center Dwight Howard. It's a bit complicated, but, essentially, a man accused Howard of a pattern of harassment and threats meant to hide the fact that Howard had a relationship with him as well as transgender women and men. There has much been discussion about the veracity of the accusations, as well as accusations that Howard's representatives threatened the man to stay silent, but what has been telling has been the reaction to the accusations from two different communities.
The first has been the mainstream sports press, which, as far as I can see, hasn't so much as glanced in the direction of the story, let alone asked Howard about it or received a comment from his camp. (Howard is currently injured and missed his fourth consecutive game tonight against Houston.) While I certainly understand being cautious about poking too deeply into an athlete's personal life, it's not often a player is a trending topic on Twitter and nobody will openly inquire as to why; poor D'Angelo Russell was making TMZ a couple of years ago for a stray Instagram Story mistake. And Howard is, after all, accused of harassment, something that seems to be making the news quite a bit lately.
NBA Twitter has been a different story than the NBA press. In certain ways, it is always a different story. The social-media universe that surrounds the NBA — following the league, on and off the court, with an intensity unlike any other sport — has long been seen as driving every league conversation and, in many ways, its popularity in general. It has also been seen, on net, as contributing to the league's public image as much more inclusive and proudly progressive than the other sports — with players exhibiting more autonomy and demonstrating more freedom to take political stances, particularly when it comes to race.
It is always dangerous to try to draw any all-encompassing takeaways from Twitter, but, well, over the weekend, there was a lot of this:
Essentially, NBA Twitter treated the Howard news like any other off-court story involving an NBA player: as an excuse for endless jokes and memes and GIFs, the regular dunking-on, increasingly exhausting kabuki you see anytime someone gets embarrassed in public. But with this particular story, there was an undeniable undercurrent of homophobia and transphobia throughout. It really wasn't even an undercurrent: It was foregrounded, in nearly every post. It was, to put it mildly, pretty ugly out there, folks.
To see NBA Twitter embrace mockery of a man simply because of online rumors involving transgender sex is distressing. Perhaps it should not be surprising. The NBA has embraced its role as the Progressive Sports League — I feel like I'm saying this all the time, but we're really not talking enough about how one of the best NBA players of all time called the president "U Bum" on Twitter and actually shut him up — but, as with any corporation, it has embraced progressive attitudes when it is convenient for them without necessarily always practicing what it preaches. The NBA can launch its Pride Week campaigns and refuse to play its All-Star game in North Carolina until the so-called "bathroom bill" was repealed. But those are corporate moves, not cultural ones, ones that cast the league publicly as a pro-LGBT group while not addressing the issues inside their own locker rooms and their own fan bases. And culturally speaking, like with other major men's sports, the NBA still has no openly gay players. It would be like Nike standing up for pro-gay causes but conspicuously having no gay employees itself — an absurdity. The league is outwardly pro-LGBT causes, but it hasn't solved its own issues within.
And these issues are deeply rooted. After all, it wasn't long ago that LeBron James — who now is widely considered a strong LGBT advocate — was saying that if you were gay and not telling your teammates about it, you were being "untrustworthy." He, like many players, has changed his tune since then — James, forever a businessman, certainly saw the public relations value in evolving as well — but it's still rather common to hear anti-gay sentiment from players; Amar'e Stoudemire had to apologize for remarks he made just last year. And, again: There are no openly gay players in the NBA. It's difficult to argue for the league's inclusiveness when that continues to be the case. And, without getting into the specifics of Howard's personal life, it is worth noting that Howard, for reasons that have never been entirely clear, has been considered a locker-room cancer his entire career; when the Hawks traded him last year, Hawks players reportedly screamed in jubilation upon hearing the news. Howard has never been in any trouble with the law and is jovial and outgoing, if perhaps a bit awkward and dorky. There has never been a definitive explanation as to why every locker room is always trying to push him out. Perhaps we have potentially stumbled across one — an explanation that would not flatter his teammates.
The NBA has, in many ways, been a force for positive societal good over the last half-decade, and it has been rewarded accordingly, both financially and in positive press. But there is still a fundamental way that the NBA is like every other sport, and every NBA locker room is like every other sport's locker room. That is perhaps not surprising. But to learn that the league's most hard-core fans appear to be as resistant to an openly gay player as some of his hypothetical teammates would be … well, we may have even further to travel than any of us realized. At this point, I'm fully expecting to write this column again in another seven years.