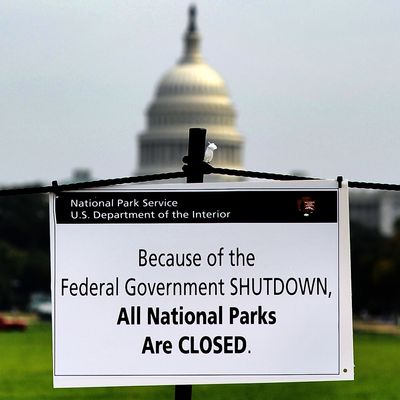 Here we go again, maybe.
Photo: Jewel Samad/AFP/Getty Images
It's the week of Thanksgiving Day, but it feels like Groundhog Day in Washington. With the midterm elections over (except for a couple of unresolved House races), a lame-duck session of Congress will deal with what feels like a very old issue: the president's threat to veto an appropriations measure and trigger a (partial) government shutdown if he doesn't get his way on border wall funding. Politico has the latest scoop:
With a partial government shutdown potentially two weeks away, Democrats and Republicans are dug in, each side upping its demands and vowing not to buckle to the other.




President Donald Trump is pressuring Republicans to obtain at least $5 billion for his border wall, far more than what Senate Democrats are prepared to give. Democrats in turn are considering pushes for legislation to protect special counsel Robert Mueller and the elimination of a citizenship question from the next census, according to people familiar with the negotiations.
The shutdown would be "partial" this time because Congress actually enacted appropriations bills covering roughly three-fourths of the federal budget before the beginning of the current fiscal year on October 1, including such big items as defense and Health and Human Services. But a lot of agencies remain on the block, as the National Association of Counties noted on October 2:
 Congress still must approve appropriations bills related to: Agriculture; Commerce, Justice, and Science; Financial Services; Homeland Security; Interior and Environment; State and Foreign Operations; and Transportation and Housing and Urban Development (T-HUD).
It's Homeland Security funding that's hanging fire, thanks to Trump.
He's refused to rule out a shutdown and has told GOP leaders that he wants no less than $5 billion for the wall, according to sources familiar with internal talks. That's more modest than Trump's earlier demands, which went as high as $25 billion….




 Democrats would need major concessions from Republicans to deliver even $5 billion at this point. Some Republicans have discussed providing that amount over two years, but the GOP has yet to rally around that position, and it's not clear that the president would view that as enough….




People in both parties say there would be little reason for a shutdown if not for the wall demand. Both parties have broadly agreed to spending levels for 2019, but the border security portion is bedeviling Capitol Hill and has given Democrats an opening to ask for legislation protecting the special counsel and removal of the citizenship question.
At present, Democrats are unwilling to go higher than $1.6 billion for border wall funding; they argue that the administration is struggling to spend the money they already have for border security. And if the funding fight gets kicked into next year, Democrats will have additional leverage due to their control of the House.
There's already talk of a brief stopgap funding bill if the December 7 deadline arrives without an agreement. And another option would be a continuing resolution that runs until the end of the fiscal year, which would deny both sides the additional money they want for their own priorities (some of which has already been negotiated).
A lot will depend on Trump's appetite for a shutdown. It's hard to imagine him swallowing an appropriations rider that protects Mueller from his own ill intent, and the census citizenship question comes from the same nativist agenda that has made the border wall so precious to him. Traditionally presidents who have suffered adverse midterm results like to make a few conciliatory gestures to the opposition. Beginning a new relationship with freshly empowered congressional Democrats by forcing a government shutdown is not part of the normal playbook for this situation. But at some point Trump will have to follow through on one of these border wall shutdown threats, or look "weak." And we can't have that, can we?