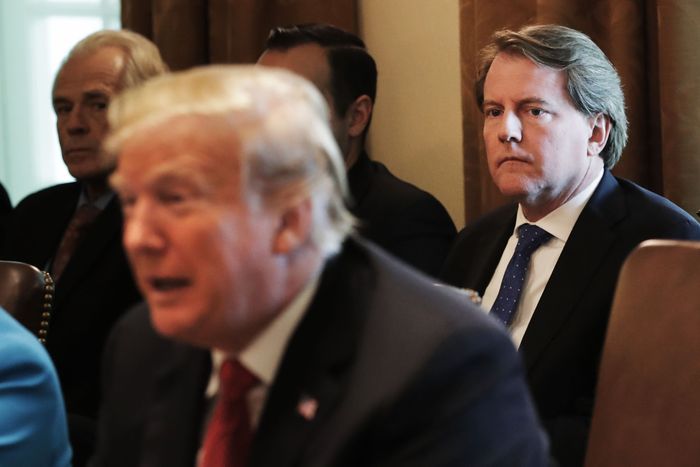 Former White House Counsel Don McGahn pretty clearly thought his boss the president was a loose cannon.
Photo: Chip Somodevilla/Getty Images
It is exceptionally well-known that the president is either impressively ignorant of, or entirely indifferent towards, all sorts of basic protocols and procedures aimed at keeping federal law enforcement officials on the up-and-up and out of politics. He never, for example, cared a whit about the regulation that led Attorney General Jeff Sessions to recuse himself from the investigation of possible links between Russia and the Trump campaign in which he was intimately involved. And he's made it clear on multiple occasions that he believes the FBI and the Department of Justice should be loyal to his own self rather than to some abstract notion of "the law."
A new report from the New York Times' Michael S. Schmidt and Maggie Haberman shows Trump thinking of Justice Department officials as political police whom he can sic on his enemies. And he figured he'd could order the White House Counsel to deploy them for that express purpose:
President Trump told the White House counsel in the spring that he wanted to order the Justice Department to prosecute two of his political adversaries: his 2016 challenger, Hillary Clinton, and the former F.B.I. director James B. Comey, according to two people familiar with the conversation.




The lawyer, Donald F. McGahn II, rebuffed the president, saying that he had no authority to order a prosecution. Mr. McGahn said that while he could request an investigation, that too could prompt accusations of abuse of power. To underscore his point, Mr. McGahn had White House lawyers write a memo for Mr. Trump warning that if he asked law enforcement to investigate his rivals, he could face a range of consequences, including possible impeachment.
The memo basically told POTUS he was being a reckless fool who was actively encouraging comparison to Richard M. Nixon in his worst abuse-of-authority phase. But Trump wasn't deterred:
It is unclear whether Mr. Trump read Mr. McGahn's memo or whether he pursued the prosecutions further. But the president has continued to privately discuss the matter, including the possible appointment of a second special counsel to investigate both Mrs. Clinton and Mr. Comey, according to two people who have spoken to Mr. Trump about the issue. He has also repeatedly expressed disappointment in the F.B.I. director, Christopher A. Wray, for failing to more aggressively investigate Mrs. Clinton, calling him weak, one of the people said.
There are two shocking things about this revelation. The first, as Dara Lind explains, is pretty obvious:
Presidentially directed indictments against specific individuals would be a massive breach of the independence of the Justice Department; the general expectation that prosecutors are supposed to issue indictments based on an examination of the evidence at hand; and the democratic norm against prosecuting political opponents for political acts.
Trump probably doesn't care about any of that. But he should care about the fact that Robert Mueller could add these incidents to the list of ways in which Trump has sought to obstruct justice in his handling of the FBI and the Justice Department. The new story also casts new light on why McGahn (who has also cooperated "extensively" with Mueller's investigation) and Trump both seemed eager to end their relationship the minute Brett Kavanaugh was confirmed.