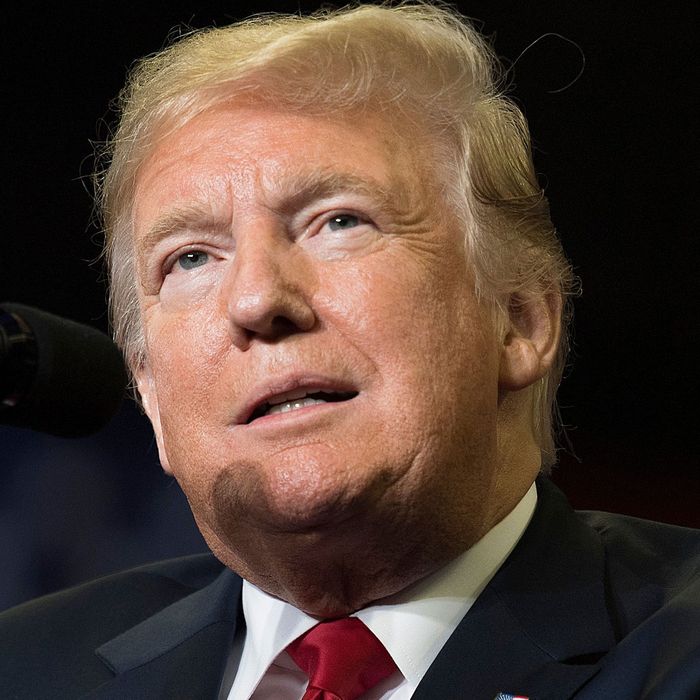 President Trump and acting attorney general Matt Whitaker.
Photo: Jim Watson/AFP/Getty Images; Charlie Neibergall/AP/REX/Shutterstock
Two days after he hired a transparent political hack to run the Justice Department, President Trump has failed to come up with a remotely plausible cover story. "I didn't speak to Matt Whitaker about" the Russia investigation, Trump told reporters this morning, "I don't know Matt Whitaker. Matt Whitaker has a great reputation and that's what I wanted."
None of those things are true. Whitaker does not have a "great reputation." He lost a race to be the Iowa Republican Senate nominee in 2014, and spent the next few years working for a scam patent company that was shut down as a fraud while getting Trump's attention by engaging in low-rent pro-Trump punditry that he leveraged into a chief of staff job.
Trump does know Whitaker, and has spoken about the Russia investigation with him. "As Sessions's chief of staff, Whitaker met with the president in the Oval Office more than a dozen times, normally accompanying the attorney general, according to a senior administration official," the Washington Post reported yesterday. "When Trump complained about the Mueller investigation, Whitaker often smiled knowingly and nodded in assent, the official said." Last month, Trump told Fox News, "I know Matt Whitaker."
At the same appearance this morning, CNN reporter Abby Phillip asked Trump if he wants Whitaker to rein in Robert Mueller. Given that Trump publicly demanded his last attorney general stop Mueller, and that Whitaker has publicly called for Mueller's last supervisor to reign him in, this seems like a fair question. Trump responded by calling the question stupid and attacking Phillip:
Definitely what an innocent president who isn't obstructing justice would say in that situation.
*This post has been updated throughout.