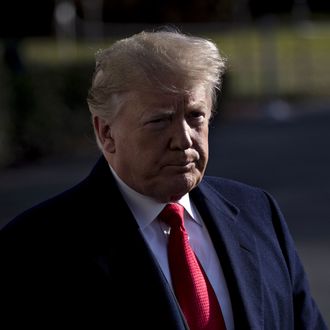 Donald Trump.
Photo: Andrew Harrer/Bloomberg via Getty Images
During the 2016 campaign, and for years after, Donald Trump insisted that he had no dealings with Russia whatsoever. He also assured the public that we could take his word on this, and there was no need to look at his tax returns. But yesterday's confession in open court by Michael Cohen shows that Trump was attempting to do business in Russia during the campaign, with high-level officials from the same government that was interceding on Trump's behalf.
The new Trump line is that this is all okay and that we knew about it the whole time:
It seems like these very legal and very cool negotiations might have been a real plus for Trump on the campaign trail. Maybe modesty prevented him from boasting about it.
Trump's lawyer, Rudy Giuliani, lashed Cohen for having lied about Trump's very legal and cool business deals. "Michael Cohen is a liar," he announced. "It's no surprise that Cohen lied to Congress." That only a total scumbag would lie about Trump's business with Russia seems like a harsh but fair conclusion. But why was Cohen lying about this?