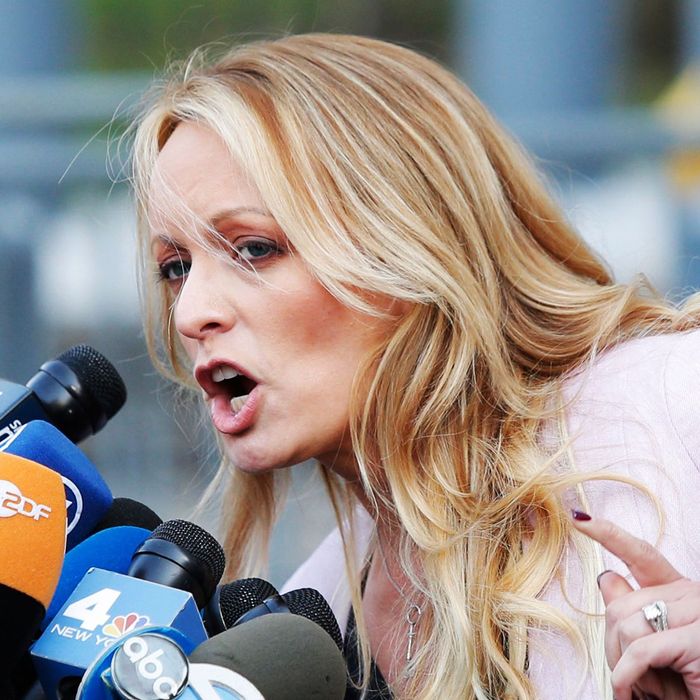 Getting Stormy.
Photo: Eduardo Munoz Alvarez/AFP/Getty Images
Back in August, Michael Cohen told a federal court that he had committed multiple campaign-finance violations at Donald Trump's behest. Specifically, the president's former "fixer" said that Trump had personally directed him to make "hush payments" to his former paramours Stormy Daniels (a.k.a. Stephanie Clifford) and Karen McDougal — for the explicit purpose of aiding the mogul's presidential bid. If true, this would ostensibly make the payments unlawful, in-kind contributions to the Trump campaign.
The fact that prosecutors allowed Trump's former "fixer" to implicate the sitting president in a crime — as part of a plea agreement — strongly suggested that authorities possessed significant evidence validating Cohen's charge. Still, for months, it has been unclear precisely what kind of dirt the feds have on the commander-in-chief.
Until now.
In a blockbuster investigative report — replete with five co-authors and three dozen sources — the Wall Street Journal provides (what appears to be) the definitive account of Trump's elaborate yet clumsy attempts to prevent the American electorate from learning about his dalliances with an adult film star and Playboy model.
The exposé is worth reading in full. But if you're short on time, here are a few of the key revelations.
1) Federal prosecutors have a lot of evidence of Trump's involvement in the payments.
The Journal writes that Trump "was involved in or briefed on nearly every step of the agreements" — and that much of this involvement is documented in "corporate records" and taped phone calls. Which is to say: The paper's reporting indicates that Michael Cohen hasn't merely been offering prosecutors his word about Trump's role in the payments, but has also provided them with receipts. Among the compromising documents that prosecutors have uncovered: a draft contract written in the fall of 2016, in which National Enquirer publisher David Pecker agreed to sell the rights to McDougal's story to Michael Cohen for $125,000. The contract was never executed, but:
Mr. Pecker told Mr. Cohen to tear up the reimbursement agreement, but Mr. Cohen kept a copy. Federal agents found it in a search of Mr. Cohen's office earlier this year.
2) There is also a lot of evidence that Trump viewed the payments to McDougal and Stormy Daniels as political expenditures (which is to say, that they were illegal).
During his 2008 presidential run, former North Carolina senator John Edwards paid a former lover not to go public about their affair. The Justice Department considered this an illegal campaign contribution. But Edwards insisted that the payment was intended to benefit him maritally, not politically — and the jury refused to convict him.
Thus, for Trump to face legal liability for his role in the payments to Daniels and McDougal, prosecutors would need to establish that the transfers were politically motivated.
The Journal's report suggests that that shouldn't be too difficult:
As a presidential candidate in August 2015, Donald Trump huddled with a longtime friend, media executive David Pecker, in his cluttered 26th floor Trump Tower office and made a request. What can you do to help my campaign? he asked, according to people familiar with the meeting.




Mr. Pecker, chief executive of American Media Inc., offered to use his National Enquirer tabloid to buy the silence of women if they tried to publicize alleged sexual encounters with Mr. Trump.




Less than a year later, Mr. Trump asked Mr. Pecker to quash the story of a former Playboy model who said they'd had an affair. Mr. Pecker's company soon paid $150,000 to the model, Karen McDougal, to keep her from speaking publicly about it. Mr. Trump later thanked Mr. Pecker for the assistance.
3) Michael Cohen only agreed to pay Stormy Daniels himself as a last-minute, emergency measure to prevent her from going public right before the 2016 election.
One of the more baffling details of the Stormy Daniels story, to this point, has been the fact that Michael Cohen — the right-hand man of a (putative) billionaire — was forced to finance the payment himself by drawing down on his home-equity line.
The Journal reveals that this maneuver was an act of desperation. In the aftermath of the Access Hollywood tape, Trump became eager to prevent further prurient information about himself from hitting the headlines. But he was also adamant that the hush payment had to be carefully disguised, so that it could not be traced back to him (another indication that he knew the arrangement was legally dicey).
The money was slow in coming because Mr. Trump, Mr. Cohen and the longtime chief financial officer of the Trump Organization, Allen Weisselberg, couldn't settle on a plan for getting it to Mr. Davidson without anyone being able to trace it back to Mr. Trump, according to Mr. Cohen's account to prosecutors … While Mr. Cohen considered a path forward, he offered excuses to Ms. Clifford's camp … Mr. Davidson told [American Media chief content officer Dyland] Howard on Oct. 25, 2016, that Ms. Clifford would soon speak publicly. Mr. Howard texted Mr. Cohen that they needed to coordinate "or it could look awfully bad for everyone."




In a tense three-way call on an encrypted app, Messrs. Pecker and Howard urged Mr. Cohen to complete the deal before Ms. Clifford disclosed the hush-money negotiations.




Out of options and time, Mr. Cohen decided to cover the payment himself. "F— it, I'm just going to do it," he told Mr. Davidson in a phone call.



4) Longtime Trump Organization CFO Allen Weisselberg engaged in some shady (and possibly illegal) accounting in order to conceal Trump's involvement in the payments.
Back in August, news leaked that prosecutors had given the Trump Organization's chief financial officer immunity in exchange for information relevant to their investigation of Michael Cohen. At the time, the fact that Weisselberg required immunity fueled speculation that investigations might be on to white-collar criminal activity more serious than violations of campaign-finance law. But the Journal's account suggests that Weisselberg might have required immunity solely for his role in the hush payments — as he engaged in some modestly fraudulent accounting to conceal Trump's reimbursement of Cohen.
Had he just paid the ex-adult film star himself, Mr. Trump would have been out of pocket $130,000. Instead, Mr. Weisselberg authorized a reimbursement of twice that much, characterized in Mr. Trump's records as legal fees, to cover the income tax hit Mr. Cohen would take. He also added a $60,000 bonus. Mr. Cohen received the money in monthly installments of $35,000.
5) David Pecker — the owner of one of the world's most infamously irresponsible tabloids — has some ethical lines that he just won't cross.
Mr. Cohen asked American Media to buy Ms. Clifford's story. Mr. Pecker refused on the grounds that he didn't want his company to pay a porn star.



In conclusion: If Donald Trump weren't president, he would (almost certainly) be indicted by now.