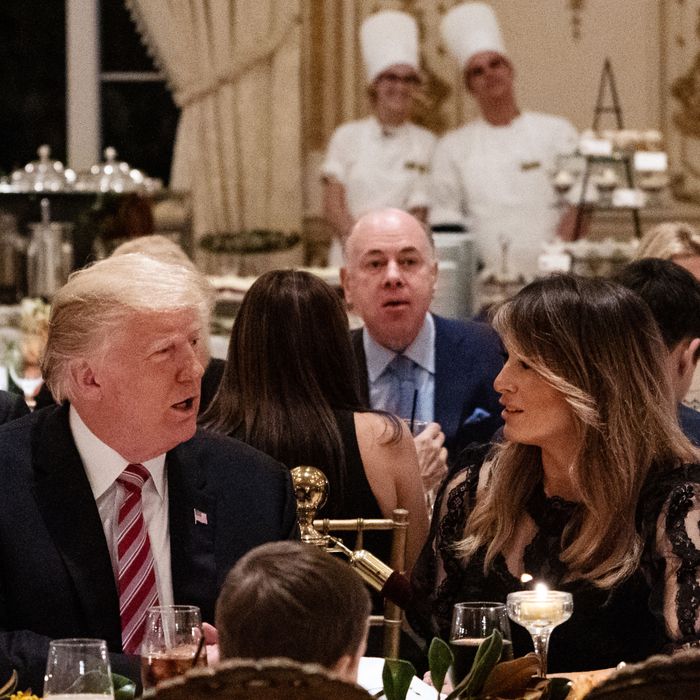 Trump with the person he's most thankful for this year, and also his wife.
Photo: MANDEL NGAN/AFP/Getty Images
Asked Thursday what he's thankful for this Thanksgiving, President Trump answered as only he could, with a perfunctory nod toward his family and high praise for himself.
"For having a great family, and for having made a tremendous difference in this country," Trump said at Mar-a-Lago, his private Florida club. He went on: "I've made a tremendous difference in the country. This country is so much stronger now than it was when I took office that you wouldn't believe it."
He added that foreign leaders regularly compliment the strength of the U.S., apparently unaware that feeding his ego is a well-known strategy. "When I see foreign leaders," Trump said, "they say, we cannot believe the difference in strength between the United States now and the United State two years ago. Made a lot of progress."
Earlier on Thanksgiving, Trump made a phone call to military leaders around the world, an apparent attempt to push back against the criticism he's received for failing to visit troops in a war zone in the two years since he was elected. But the call quickly veered away from the expected praise and pleasantries. In his characteristic stream-of-consciousness style, Trump spoke to the military leaders about the U.S.-Mexico border, Jamal Khashoggi, and the Ninth Circuit Court of Appeals. At one point, he tried to get a Coast Guard commander to weigh on "bad trade deals," leading to this awkward exchange.
Trump also aired some grievances on Twitter, continuing his attacks on the Ninth Circuit and his spat with Chief Justice John Roberts, who on Wednesday knocked down Trump's criticism of "Obama judges" and "Trump judges."
Later, Trump delivered sandwiches, fruit, and chips to a nearby Coast Guard station before returning to Mar-a-Lago to eat Thanksgiving dinner with hundreds of wealthy members of the exclusive private club.