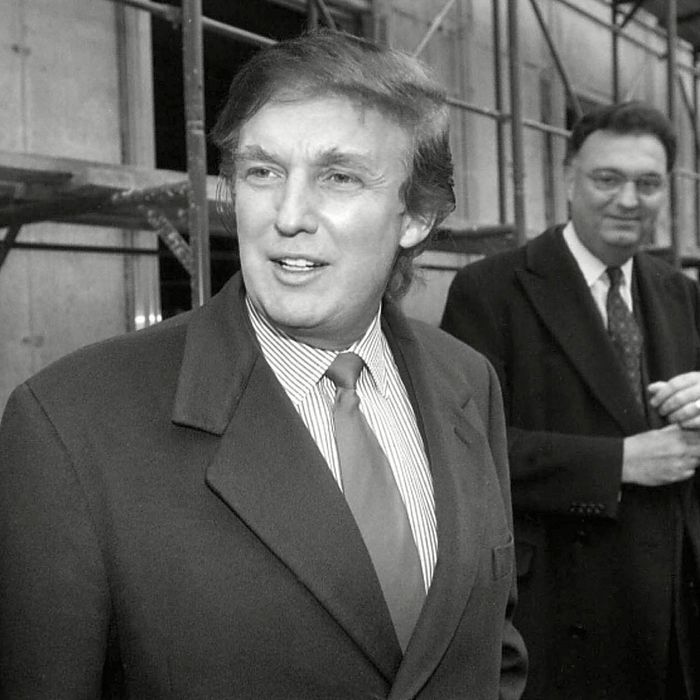 Donald Trump in Moscow in 1996.
Photo: AP/REX/Shutterstock
For at least three decades, Donald Trump has dreamed of a hotel stamped with his gilded name near Moscow's Red Square. As early as 1987, in The Art of the Deal, Trump imagined "a large luxury hotel across the street from the Kremlin in partnership with the Soviet government."
Twenty years — and a few failed Russian hotel bids — later, he made a promise in a 2007 court deposition: "We will be in Moscow at some point." Now, that dream of Russian hospitality is turning nightmarish, as Trump's former lawyer Michael Cohen stated in federal court on Thursday that he had engaged in talks to license a tower in Moscow deep into the 2016 campaign, potentially exposing the president to charges of perjury.
As the special counsel investigation heats back up, the task of pinning down the significance of an individual detail in a sprawling inquiry has only grown more challenging. So, what is the history of Trump Tower Moscow, and its significance to Robert Mueller's team?
1987: Trump first considered the hotel during a 1987 trip to the Soviet capital. He was treated as an intelligence target while in Russia: the KGB helped smooth out the paperwork for his visit in coordination with a mid-80s effort to recruit more American sources, looking for powerful men who had a "habit of having affairs with women on the side." Though the project stalled, Trump had a lovely time in Moscow. He stayed at the Lenin suite in the National Hotel near the Red Square, run by the state agency for tourism. His room was almost certainly bugged.
1996: Trump went to Russia for an "exploratory trip," registering his trademark in the country and exploring options for upmarket condos near a former Soviet Olympic stadium. "I've seen cities all over the world," Trump said in a news conference at the time. But he had never been "as impressed with the potential of a city as I have been with Moscow." At the conference, Trump announced a plan to invest $250 million in Russian real estate, and tag his name on two high-end residential buildings. Trump never broke ground, but during the visit he made connections with the development company Bayrock Group, which would result in Trump Soho, and a mob-tinged Russian connection, Felix Sater, who would become crucial to later Trump Moscow talks.
2005-2008: Trump teamed up with Sater to visit an abandoned pencil factory along the Moscow River, with potential for condos, a hotel, and commercial space. In 2007, Trump tried again, on a visit to sell vodka and attend the Moscow Millionaire Fair. That same year, during the completion of the woeful Trump Soho, he met with Russian investors at Trump Tower in another unfruitful bid. Over the next year and a half, Trump Jr. would visit six times to consider deals, ultimately determining the country was a "scary place" for business.
November 9, 2013: It was a short, 36-hour trip to Moscow for the Miss Universe Pageant, but Donald Trump kept busy. "I have plans for the establishment of business in Russia," he announced, somewhat robotically. "Now, I am in talks with several Russian companies to establish this skyscraper." He attended the pageant, of which he was a co-owner, and allegedly appeared in a notorious piece of kompromat. Upon his departure, he tweeted to his potential business partner Aras Agalarov, "TRUMP TOWER-MOSCOW is next."
2015-2016: After almost 30 years of looking, the most serious bid came in 2015, when Felix Sater teamed up with his childhood friend and Trump's personal lawyer Michael Cohen to realize the dream by licensing a 100-story Trump hotel in the Russian capital. (By this point, the Trump organization was done building hotels, but still in the business of lending out the name for a licensing fee.) "Buddy our boy can become president of the USA and we can engineer it," Sater emailed Cohen in on November 3, 2015. "I will get all of Putins [sic] team to buy in on this, I will manage this process." About a week before, the day of a Republican primary debate in Colorado, Trump signed a letter of intent to go ahead with the project. Sater tracked down financing with the state-controlled VTB Bank, which was then under U.S. sanctions, but switched sources on New Year's Day to GenBank, also under U.S. sanctions.
Cohen initially testified to Congress that the plan quickly fizzled out, claiming that he had spoken with Trump about it three times before the project ended in January 2016. However, on Thursday, Cohen pleaded guilty to lying to Congress, stating in court that the licensing deal for Trump Tower Moscow continued into June, after Trump secured the Republican nomination. In his guilty plea, Cohen says that he had briefed the Trump family with Moscow developments, discussed its status with Trump, and traveled to Russia to pursue the deal. Late on Thursday, BuzzFeed News — which originally broke the story in May — reported that the Trump Organization intended to give the hotel's $50 million penthouse to Vladimir Putin as promo. "In Russia, the oligarchs would bend over backwards to live in the same building as Vladimir Putin," Felix Sater told BuzzFeed News.
Last week, Trump responded to questions from the Mueller investigation in writing, and, according to an ABC News report, questions about Trump Tower Moscow were included on the list, suggesting that Mueller may have pinned the president to a story prior to Cohen's plea. But Donald Trump Jr., a frequent target of exposure to the investigation, may have walked himself even further out on the plank. In September 2017,  Trump Jr. told the Senate Judiciary Committee that he knew "very little" about the plans for a tower in Moscow.
Another piece of Cohen news broke on Thursday, with perhaps a longer tail of significance: as part of his plea deal, the lawyer has agreed to a cooperation agreement with the special counsel. Cohen, who is scheduled for sentencing on December 12 for his tax evasion and bank-fraud charges, sat with counsel investigators for 70 hours of interviews, relaying information on Trump-Russia contacts during the campaign, obstruction of justice, Trump's business history in Russia, and the president's discussion of pardons. If Thursday's Trump Tower Moscow details are any indication, we're scheduled for many more caustic Twitter mornings.