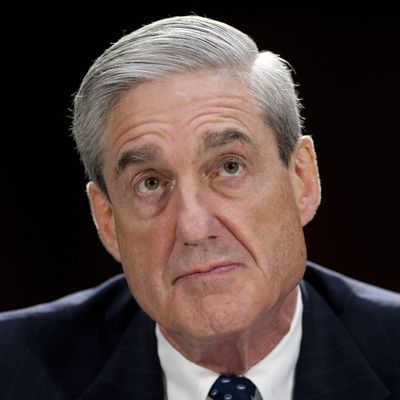 Moneymaker.
Photo: Saul Loeb/AFP/Getty Images
Shortly after waking Thursday morning, the president of the United States announced that a high-profile federal investigation was actually illegal — and exorbitantly expensive.
There are a few reasons to treat Donald Trump's estimation of the Mueller probe's cost with skepticism. For one thing, the president appears to have some doubts about it himself — ostensibly, his own first reaction upon typing the number was to question whether such outlandish spending was even possible. For another, just 48 hours ago, Trump referred to the Mueller investigation as the "now $30,000,000 Witch Hunt." Now, perhaps Robert Mueller decided Wednesday that his team needed a Ferrari LaFerrari Aperta in order to chase down Roger Stone. But it seems more likely that the president is picking large numbers out of thin air, in a bid to discredit the investigation into his campaign's alleged ties to Russian interference in the 2016 election.
Another point in favor of theory No. 2: As of September, the fiscal cost of the Mueller investigation was roughly $0.00. By that point, the probe had spent roughly $26 million. But, by striking a plea agreement with Paul Manafort for his myriad white-collar crimes — an agreement that required Trump's former campaign manager to forfeit five multi-million-dollar properties, a life-insurance policy, and the contents of multiple bank accounts — Mueller's investigation had acquired somewhere between $26 million and $42 million worth of revenue for the federal treasury.
The Mueller probe's (apparent) profitability is indicative of more than just Donald Trump's mendacity: It also reflects the fact that there are few forms of law enforcement more cost-efficient than cracking down on super-rich tax cheats and money launderers. And yet, for some strange reason, the federal law enforcement has not made punishing the financial malfeasance of the super-rich a top-tier priority.