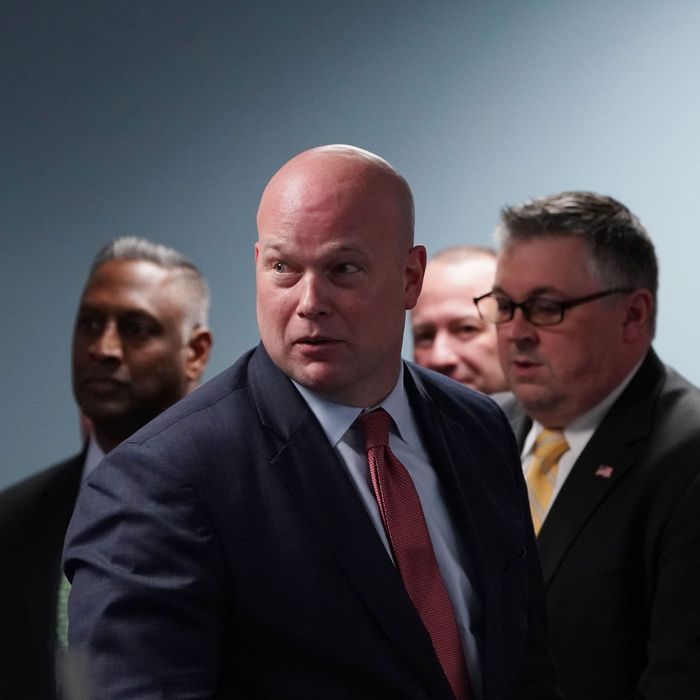 Photo: Don Emmert/AFP/Getty Images
Matt Whitaker was hired as acting attorney general in order to obstruct justice for Donald Trump in the Russia investigation. Alas, it seems Whitaker has also been obstructing justice for himself.
Before he came to the Department of Justice, Whitaker worked as the legal muscle for World Patent Marketing, a firm that scammed customers who think they have promising inventions, by taking their money, promising elaborate marketing services, and giving them nothing. Whitaker has said through a spokesperson he was "not aware of any fraudulent activity," but new documents from the Federal Trade Commission reveal Whitaker "began fielding angry complaints from customers that they were being defrauded, including from a client who showed up at his Iowa office to appeal to him personally for help." Throughout this period, Whitaker remained enthusiastic about the firm and expressed a willingness to endorse it publicly.
The documents reveal Whitaker "did little to assist the investigation," reports the Washington Post, "When the FTC subpoenaed for his records, he missed the deadline to reply. In a voice mail responding to follow-up calls from investigators, Whitaker said he was happy to cooperate and stressed an important role he had just assumed in Washington." Stonewalling requests for information, throwing around your title to intimidate investigators — sounds perfect for the job.
Whitaker's willingness to flout professional ethics and work for crooks is part of what made him so attractive to Trump. And Trump has lavished praise upon his acting AG, making clear he is in no rush to fill the job with a permanent replacement who would need to be confirmed by the Senate. In the meantime, the public has no way of knowing whether Whitaker is undermining Robert Mueller's investigation or how he might be doing it, if so.
The most darkly comic note from the newly disclosed FTC documents is a message from one of the investigators, incredulous at the news that the lawyer for the scam firm they are investigating has somehow gotten a job at the Department of Justice. "You're not going to believe this," James Evans, who works for the agency's Bureau of Consumer Protection, wrote on October 24, 2017. "Matt Whitaker is now chief of staff to the Attorney General. Of the United States."
A year ago it was mind-boggling that a crooked low-rent lawyer could get a job — any job! —at the Department of Justice. And now he is the highest-ranking law-enforcement official in the United States.