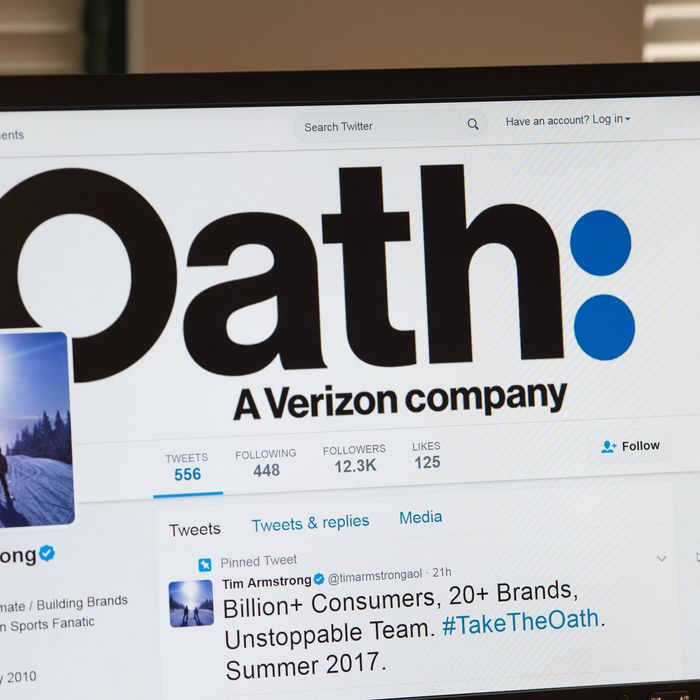 Pour one out for Oath tonight. Mourn you till I join you, Oath.
Photo: NICHOLAS KAMM/AFP/Getty Images
When Verizon bought AOL in 2015 for $4.4 billion, and then acquired Yahoo! for $4.5 billion in 2017, it made the curious choice to tie the two companies together under a new brand name, Oath:. (That colon isn't a typo, but how Verizon chose to style the name; a choice — much like buying Yahoo! and AOL — that is interesting but perhaps should have been given more thought.)
Even if AOL and Yahoo! were husks of their former selves, both brands had serious value and name recognition. Oath sounded more like the name of a new Netflix original series about knights or wizards, and was widely ridiculed at the time. It also perhaps highlighted the odd bundle of properties that Verizon had come to own, a jumble of sites like HuffPost and Engadget, platforms like Tumblr and Flickr, and an ad-selling platform that would ostensibly help advertisers get eyeballs across that wide range of sites and platforms.
Verizon seems to have tossed in the towel on trying to make people understand just what Oath means, with acting CEO Guru Gowrappan announcing in an email today that the division will be renamed simply Verizon Media Group. "I want to be clear that we will continue to have a portfolio of brands and products — and we will always lead with those," wrote Gowrappan in an email posted in a now-deleted tweet by a HuffPost reporter. Verizon Media Group may not have the stylistic flair of Oath, but you can read the name and get a rough idea of what the division does.
As a business unit, Verizon Media Group is facing strong headwinds. Its collection of sites still brings in hundreds of millions of visitors every month, but its advertising platform is failing badly in the face of the Google/Facebook duopoly of online advertising. Revenue for the division has shrunk in the past four quarters, down from $2.2 billion Q4 2017 to $1.8 billion in Q3 2018.
What the future holds for Verizon Media Group is less clear. Verizon acquired a new CEO, Hans Vestberg, in August of 2018, and he's made it clear that he wants to restructure the company. And online media companies aren't having the easiest time of it as of late, with layoffs and missed advertising forecasts being the norm.
Verizon itself is doing well — its latest earnings call reported $32.6 billion in revenue for Q3 2018, with a net income of a bit over $5 billion, and the vast majority of that came from the wireless division. But Vestberg warned investors at the time that "we do not expect to meet our previous target of $10 billion of [annual] revenue [for Oath:] by 2020."
It other words, Verizon itself doesn't expect a turnaround at Verizon Media Group, and may be simply content to draw in the relatively small amounts of revenue the unit can bring in. What should worry those working for Verizon Media Group is whether Verizon will now turn an eye toward cutting costs.