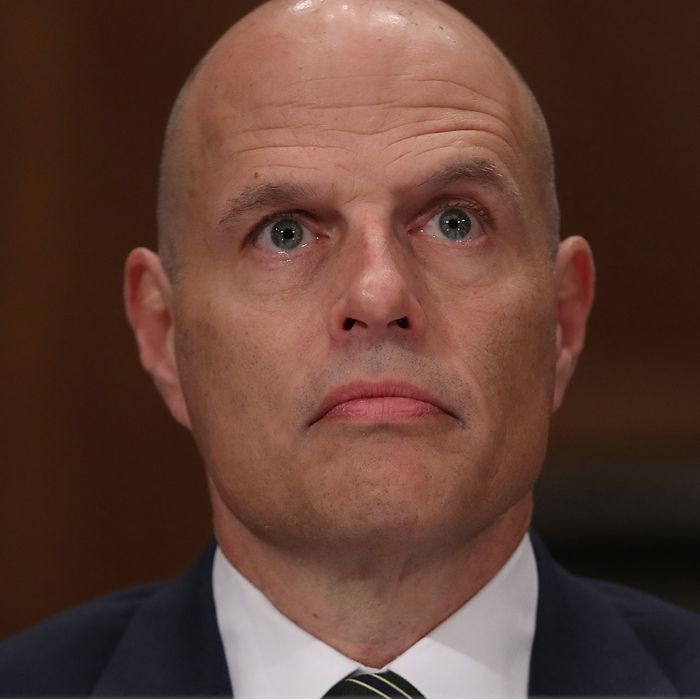 Ronald Vitiello.
Photo: Win McNamee/Getty Images
Gosh, it's tough to know who to side with on this one. Earlier today, a Senate panel delayed a crucial vote on the the nomination of Ronald Vitiello, the Trump administration's nominee to lead Immigration and Customs Enforcement. Vitiello has served as ICE's acting director since June and was nominated for the permanent job in August.
Concerns about Vitiello's nomination were raised by unions representing ICE employees, who are aghast about a meme he posted during the 2016 primary season. At the very least, they said in a letter to the Senate committee it indicated "extremely poor judgment."
According to the Washington Post:
Sen. Ron Johnson (R-Wis.), the committee's chairman, said the vote on Vitiello was being delayed so that senators could practice "due diligence" regarding the concerns raised by unions representing Immigration and Customs Enforcement personnel. One issue they mentioned in a letter to the Senate Homeland Security and Governmental Affairs Committee is that Vitiello apparently shared an image of Trump on Twitter that compared the president to the cartoon character Dennis the Menace.
Here's a Twitter user's screenshot of the meme:
Gizmodo first drew attention to the tweet early last year, which Vitiello captioned, "This I can tell you! 100%." He also made posts comparing Democrats to the KKK, and the account, @VitielloRonald, is now locked.
Like I said, it's tough to know which awful side to choose in this dustup. On the one side, we've got a group of employees at a morally repugnant government agency handwringing about a meme. On the other hand, we've got the guy who wants to lead that terrible agency getting in trouble because he just couldn't stop himself from posting online.
It's not just about dumb tweets though. The ICE union also raised issues with Vitiello's handling of protests at an ICE facility in Oregon, and that he had interfered with some employees' ability to perform their duties.
Johnson said that "we're just trying to rapidly go through the issues raised by the union and do our due diligence to get answers about it." They could vote as early as Thursday.