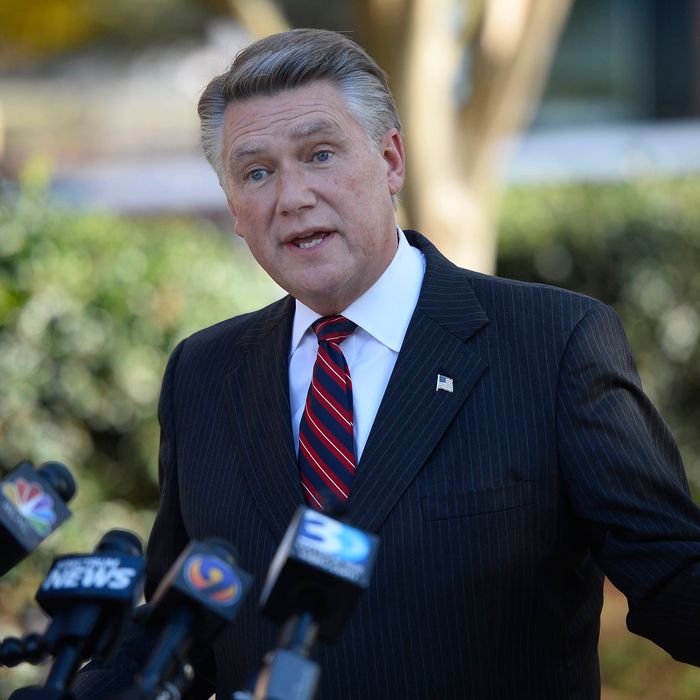 Republican Mark Harris answers questions at a press conference on November 7, 2018, in Matthews, North Carolina.
Photo: David T. Foster III/TNS via Getty Images
North Carolina Republicans are very concerned about voter fraud. "Committing voter fraud is easy in our state," the state's Republican lieutenant governor, Dan Forest, said in a video released in October. As WRAL News reported at the time, Forest's presentation outlined ways to cast a fraudulent ballot in the state. "Just for fun, here's one way an organized group could commit voter fraud in North Carolina," he said.
Just for fun, here's another way to commit voter fraud in North Carolina. You could — theoretically, of course — hire someone who would coordinate an effort to falsify absentee ballots. That's the allegation roiling the state's Ninth Congressional District, where Republican Mark Harris defeated his Democratic challenger, Dan McCready, by just 905 votes. For all the GOP's hand-wringing over voter fraud in North Carolina, one of their own candidates has been caught up in a scandal over voting irregularities.
Sworn affidavits submitted by Bladen County voters paint a bizarre picture. The Washington Post reports that in one affidavit, a voter, Datesha Montgomery, said that a woman came to her home in October, explaining she was collecting ballots in the area. But Montgomery hadn't completed her ballot. "I filled out two names on the ballot, Hakeem Brown for Sheriff and Vince Rozier for board of education," Montgomery wrote. "She stated the others were not important. I gave her the ballot and she said she would finish it herself. I signed the ballot and she left. It was not sealed up at any time." Another affidavit claimed that a Bladen County man named Leslie McCrae Dowless had acknowledged "doing absentee" for the Harris campaign and said that he would receive $40,000 if Harris won. "You know I don't take checks. They have to pay me cash," the affidavit quotes Dowless as saying.
Voting experts, meanwhile, have greeted Bladen County's absentee results with skepticism. In the county's Bladenboro 2 precinct, only four of the 159 ballots cast by mail were submitted by African-American voters. Absentee ballots were requested by another 156 voters, but they never submitted them, Gerry Cohen, an election-law expert who used to work for the state legislature, told the Post. "There are patterns that are at odds with behavior of North Carolina voters. It's a whole series of suspicious events," Cohen added.
The state board of elections has sensibly decided to hold off on certifying the district's results — meaning that although Harris is in D.C. to attend congressional orientation, there is some chance that he won't actually take office in January. This possibility hinges on the results of the state's investigation, and whether the number of suspicious ballots proves greater than his margin over McCready. Harris, a Baptist pastor, had defeated Republican incumbent Representative Robert Pittenger in the primary, and proved a controversial candidate in the run-up to the general election. In August, the Charlotte News and Observer reported Harris "questioned whether careers were the 'healthiest pursuit' for women" in a 2013 sermon. Roll Call previously reported that Harris has also called on women to submit to their husbands, saying in one sermon:
You see wives, please hear me this morning. The message is not from your husband to submit, the message is from the Lord. You're not to ever submit ma'am because your husband demands it, but you do it because the Lord ordained it. Now ladies, you can rebel against that command, but just please understand you're not rebelling against your husband.
Harris's earlier victory over Pittenger is under scrutiny, too, as Splinter noted; the state is also investigating irregular absentee ballots in the primary race. Harris had defeated Pittenger by only 825 votes. Of the 456 absentee votes cast, 437 were for Harris — an unusually lopsided result.
North Carolina Republicans, meanwhile, are now hard at work at creating a voter ID law approved by voters in November. They say the measure will cut down on voting fraud.