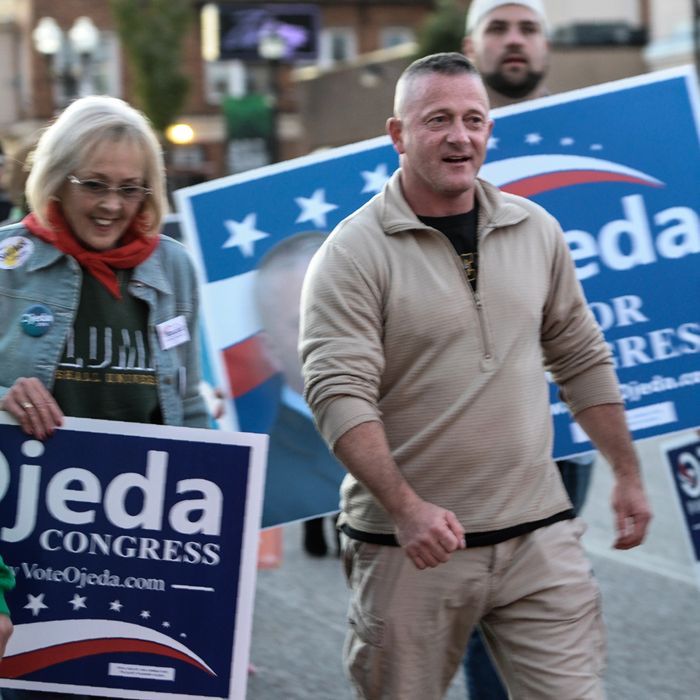 On Tuesday, Ojeda lost his bid for West Virginia's 3rd Congressional district.
Photo: MICHAEL MATHES/AFP/Getty Images
Less than a week after losing a bid for Congress in West Virginia, Democrat Richard Ojeda, a no-nonsense populist and former Army paratrooper, is running for president, he tells The Intercept.
"We're going to have quite a few lifetime politicians that are going to throw their hat in the ring," Ojeda, whose new Twitter handle is @VoteOjeda2020, said of the crowd of Democrats expected to vie for the White House, "but I guarantee you there's going to be a hell of a lot more of them than there are people like myself. That is, a working-class person that basically can relate to the people on the ground, the people that are actually struggling."
Huntington, West Virginia's WOWK reports that Ojeda will make his announcement Monday at the Vietnam Wall in Washington, D.C. His first campaign ad went online Sunday night.
The appeal of Ojeda, who plans to focus his campaign on corruption in D.C., is "straightforward," The Intercept's Ryan Grim writes:
The Democratic Party has gotten away from its roots, and he has a unique ability to win over a white, black, and brown working-class coalition by arguing from a place of authority that Trump is a populist fraud. He's launching his campaign with an anti-corruption focus that draws a contrast with Trump's inability to "drain the swamp."
To sell Democratic voters on that message though, he'll first have to convince them to forgive his vote for Trump in 2016. Ojeda backed Bernie Sanders in the Democratic primary, but after Hillary Clinton won the party's nomination, he swung his support to Trump. The lying billionaire, unlike Clinton, promised to "get the coal miners back to work," Ojeda has explained.
He would eventually recant his support for Trump, and go on to gain a following across the state of West Virginia, when he emerged as a leader of the teacher's strike. A State Senator, Ojeda gave fiery speeches and deftly used social media as teachers stormed the state capitol to demand raises.
He went on to win the Democratic primary for an open seat previously occupied by Republican Evan Jenkins. Ojeda campaigned on a staunchly pro-worker and pro-union platform. He supports marijuana legalization and rails against the pharmaceutical companies that have used his district as a dumping ground for opioids. He also cuts a good ad:
Ojeda's personality and policy appeared to give him a real shot to win a district that Trump took by 49 percent. Instead, Ojeda lost by 12 percent, in part because Trump campaigned on behalf of his opponent, Carol Miller.
In his concession speech last week, Ojeda ripped both of them. "Because of you, the people in southern West Virginia will have another voiceless representative that supports legislation that hurts our working-class citizens!" Ojeda said in the speech, addressing Trump. "On several occasions, you came here to speak for Carol Miller! You called me a stone-cold crazy wacko and then you mispronounced the way I say my name! But make no mistake about it! You're going to know my name! I'm Richard Ojeda! I'm Richard Ojeda! I'm Richard Ojeda, and I'm not done fighting, and neither are we!"