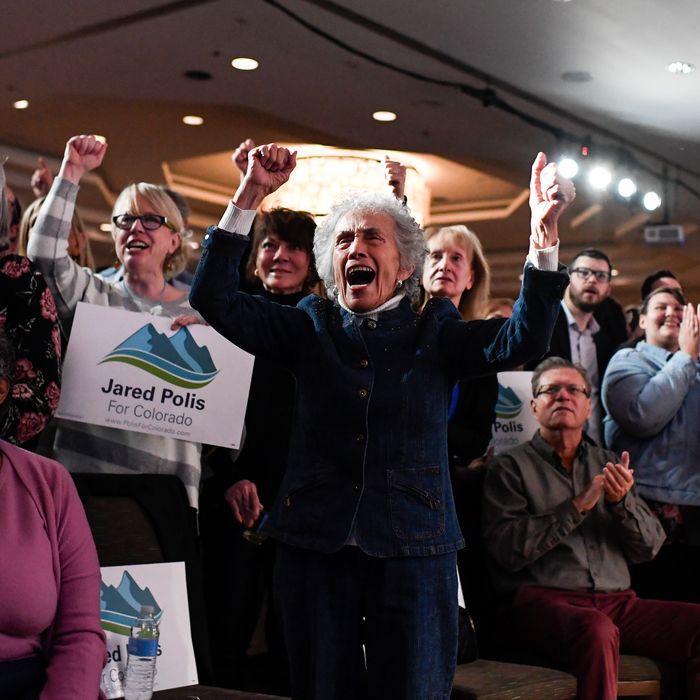 Supporters of Colorado governor-elect Jared Polis cheer during the Democratic watch party in downtown Denver on Tuesday, November 6, 2018.
Photo: AAron Ontiveroz/Denver Post via Getty Images
Democrats made real gains in state government on Tuesday. The party nearly doubled its number of trifecta governments, where one party controls the executive branch in addition to each chamber of the state legislature. They now have total control in 13 states versus 21 Republican trifectas. Three other states now have divided legislatures, where one party controls one chamber but not the other. Other states, like Wisconsin, elected Democratic governors while Republicans retained control of state legislatures.
The Democratic Party's weaknesses in state government are legendary and have probably contributed to its weaknesses at the federal level. State government is an important pipeline to higher office, and as Stateline reported this week, Democrats lost 900 legislative seats during the Obama administration. In many states, ineffective local parties have prevented Democrats from blocking Republican bills, like those that undermine abortion rights, and from advancing their own legislation, like Medicaid expansion. But now in states with Democratic trifectas — or at least a significant number of lawmakers willing to work across the aisle — Democrats will have opportunities to implement their policies, and demonstrate their effectiveness to voters. Here are some issues they're likely to focus on.
Reproductive Rights
In Colorado, where Democrats picked up a new trifecta, they have a chance to loosen several existing restrictions on abortion access. Public employees' insurance does not cover abortion, and public funds can only be used to cover abortion in cases of rape, incest, or life-threatening illness, according to the Guttmacher Institute. Plus, the state constitution does not explicitly acknowledge a right to abortion. Legislators can't unilaterally amend Colorado's constitution to state an affirmative right to abortion, but they can put an amendment on the state ballot for voters' consideration in 2020.
Similarly, Democrats in other trifecta states could move to expand funding for abortion and enshrine an affirmative right to abortion in state law. For instance, now that Democrats have an outright majority in the New York State Senate, they could finally send the Reproductive Health Act to Governor Andrew Cuomo's desk. That bill, if passed, would regulate abortion as health care; at the moment, abortion is regulated in the state criminal code. RHA would also amend state law that requires abortions to be performed only by licensed physicians, and not physician assistants and registered nurses, and it would expand the state's 24-week cutoff for abortions to allow exceptions for fetal viability and damage to a woman's health.
Health Care
In Maine, Medicaid expansion will likely go into effect as a result of Democrats winning the governorship and flipping the state senate. Voters had already chosen to expand Medicaid by referendum in 2017, but Republican governor Paul LePage refused to implement expansion. In August, the state supreme court ordered his administration to do so.
Maine's likely Medicaid expansion has received far more attention in recent days, but now state Democrats can also take steps to address the state's severe opioid crisis, which LePage famously blamed, in racist terms, on out-of-state drug dealers with names like "D-Money, Smoothie, Shifty, these types of guys." LePage also favored an enforcement-first approach to the crisis, while deprioritizing social spending as a means to address the issue. "During his three years as governor, LePage has proposed or made significant cuts in the funding that supports drug intervention and treatment programs, especially for opiate addiction treatment under MaineCare, the state's Medicaid program," the Portland Press-Herald reported in 2014. LePage didn't mellow toward the end of his tenure, either. In 2018, the Press-Herald reported that the administration's vaunted $4.8 million program to provide treatment to individuals with substance use disorders had "resulted in five uninsured people and fewer than 50 Medicaid recipients receiving treatment." Maine Democrats now have the ability to increase public funding for medication-assisted treatment while patching other holes in the state's withered safety net.
In other states, where Democrats made gains in state legislatures but did not establish one-party rule, Medicaid expansion has still become a viable possibility. As Virginia demonstrated in 2017, Democrats don't necessarily require a trifecta to pass Medicaid expansion; the legislation passed the General Assembly after some Republican lawmakers voted with Democrats on the issue. In Maine, too, the legislature passed Medicaid expansion without a Democratic trifecta in place.
Aside from expanding Medicaid, Democratic leadership may make it more accessible. In Wisconsin, incoming Democratic governor Tony Evers will likely reverse Medicaid work requirements and premiums that his predecessor, Scott Walker, passed before losing his bid for re-election. The state's Republican legislature probably won't expand Medicaid, but Evers could make Republican intransigence on the issue a key talking point.
If we learned anything from the midterms, it's that voters want better health care. Democratic trifectas could even try to implement single-payer models at the state level — there was some talk of the possibility in New York and California — but they'd be chancing a risky legal backlash to do so.
Education
There are no Democratic trifectas in states where public educators walked out of classrooms in protest earlier this year. But Democrats elsewhere are well-positioned to prevent similar walkouts in their own states, by increasing funding for public K-12 schools while blocking voucher programs and charter school expansion. In New York, for example, Democrats could channel more public money into a new school funding formula created as a result of a lawsuit settled in 2006. Increasing funds for public schools could help resolve a national teacher shortage by giving districts room to fill vacancies and pay attractive higher salaries — and it's popular with voters, too. A 2018 poll of voters in 12 Southern states found that respondents overwhelmingly backed increased state spending for public schools.
In Illinois, however, there's some doubt that a Democratic trifecta will advance all of these education priorities. The state's new Democratic governor, J.B. Pritzker, says he opposes charter school expansion and a tax credit that funds scholarships for private schools, but he also told Chalkbeat, an education news website, that he believes some charter schools are "worthy of support." That's not what teachers' unions or public education advocates want to hear —  especially since Pritzker's sister, former Secretary of Commerce Penny Pritzker, is a major charter school donor.
But Pritzker has said consistently that he intends to fully fund the state's public university system, which is reeling from years of spending cuts by the administration of outgoing Republican governor Bruce Rauner. If he does, he may inspire other Democratic governors and legislators to do the same. Some might not need much prodding. The Wichita Eagle reported in 2017 that as a state senator, Kansas governor-elect Laura Kelly helped draft a budget proposal that "partially reversed" Republican governor Sam Brownback's funding cuts for the University of Kansas and Kansas State University. In Wisconsin, similarly, Democrat Tony Evers made education funding a key plank in his platform.
Kelly and Evers, unlike Pritzker, lack a Democratic state legislature. If they can get Republicans on board, however, increased funding for land-grant universities in particular could help the economies of rural communities. Previous research found that rural students are underrepresented in college populations — a trend possibly exacerbated by Republican state administrations that bleed land-grant universities of necessary funds. "Threats to pensions (in Illinois) and tenure (in Wisconsin) portend an exodus of faculty and their all-important research funding, and have already resulted in a frenzy of poaching by better-funded and higher-paying private institutions, industry, and international competitors," The Atlantic reported in 2017.
Elsewhere, Democrats can expand satellite campuses, restore lost funding, and help bring tuitions down at public universities. Democrats in trifecta states are also in good position to experiment with free public college tuition — though they'd have to avoid the failures of New York Governor Andrew Cuomo's Excelsior Scholarship. Excelsior only provided funding to 29 percent of its applicants, according to Gothamist, and its retroactive requirement that students be enrolled in classes full time penalized lower-income students, who tend to balance part-time class loads with work in order to pay for school.
If state Democrats prioritize public university funding, they'd create jobs and make college more accessible to rural students and low-income students in particular. They might even expand the party's base, as Democrats are struggling to win white rural voters and whites without college degrees.
Voting Rights
Several states expanded voting rights on Tuesday; Florida extended the franchise to people convicted of nonviolent felonies, and Michigan and Nevada implemented automatic voter registration. Since then, Republicans have doubled down on voter suppression as a strategy, suing to stop ballot-counting in Florida and Georgia. But newly empowered state Democrats have an opportunity to protect people of color from further disenfranchisement.
New York and Connecticut are the only two trifecta states that do not allow early voting. Democrats could introduce early voting in these states, and expand it elsewhere. "Cuts to early voting can cause long lines with a disparate impact on voters of color," the U.S. Commission on Civil Rights wrote in a 2018 report. A study cited by the commission concluded that after Florida reduced early voting availability in 2012, lines lengthened at polling places and voters cast fewer ballots. Connecticut's new secretary of state, Denise Merrill, told the Danbury News-Times that early voting will be on her agenda. In New York, the state Assembly had already passed legislation to introduce early voting to the state, in addition to same-day registration, but those bills stalled in the state Senate. Now that Democrats control the legislature outright, these reforms could soon be reality.
Tuesday's voting irregularities reinforced the urgency of voting rights reform. Georgia only sent three voting machines for an expected 3,000 voters in one Atlanta precinct — which was only one of many low moments tarnishing the contest between Brian Kemp, the state's Republican secretary of state, and Democrat Stacey Abrams. "[Kemp] has purged 1.4 million voters from the rolls since he took office in 2010, and declined to update the state's faulty voting machines, which have been known to change people's votes unprompted, and which several security probes have demonstrated are vulnerable to cyberattacks," wrote New York 's Zak Cheney-Rice.
The midterms may not have given Democrats the blue wave they were dreaming of, but gains at the state level could have a significant effect on people's lives, and be key to rebuilding the party as it works to counter the Trump administration.