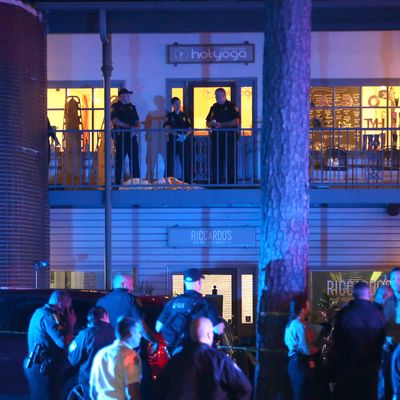 Police investigators work the scene of a shooting at Hot Yoga Tallahassee on Friday, November 2.
Photo: Steve Cannon/AP
Early Friday evening, a gunman opened fire inside a yoga studio in Tallahasse, Florida, and shot six women, killing two, a doctor and a college student, before eventually turning his gun on himself. Authorities have not determined the shooter's motive, but he had a history of harassing young women and had expressed misogynistic and racist views online, including sympathy for the anti-women "incel" movement. It is thus possible the attack was motivated by far-right extremism, and if so, that would make it the fourth attack — and third deadly attack — perpetrated by a right-wing extremist in the U.S. in less than two weeks. Here's what we know so far.
What happened?
Just after 5:30 p.m. on Friday, a 40-year-old white man named Scott Beierle entered Hot Yoga Tallahassee, a yoga studio on the second floor of a shopping center in Tallahassee's Glendale neighborhood. An evening yoga class had just begun, and Beierle, who was carrying a black bag, first posed as a customer. Then, without warning, he pulled out a handgun and began firing on the dozen or so people inside the studio. The gunman shot six women, killing two, and pistol whipped a male yoga student. Beierle shot one of the women six times.
The yoga student who was pistol-whipped, Joshua Quick, told Good Morning America on Sunday that he grabbed a broom and attacked Beierle when the shooter's gun jammed, allowing others time to escape the studio. "Patrons fought the assailant to prevent him from harming themselves and others," according to a statement from Tallahassee police.
The first 9-1-1 call came in at 5:37 p.m. and police arrived three minutes later to find that the attack was over and that Beierle had committed suicide by a self-inflicted gunshot wound. About 40 witnesses were later interviewed.
The police investigation is still underway, but as of Sunday night, authorities have not released any information regarding the gunman's motive, or any link between him and any of the victims. The father of one of the women who was killed said that police told him the attack was random.
In a local refrain that now routinely follows most mass shootings in America, Tallahassee City Commissioner Scott Maddox commented that, "In my public service career, I have had to be on some bad [crime] scenes. This is the worst."
Speaking with reporters on Saturday, Tallahassee Police Chief Michael DeLeo praised the efforts to confront the shooter during the attack. "The fact that we had people fight this attacker to help save other people and prevent him from doing further harm, really I think speaks to the true spirit of Tallahassee and what this community's about."
Tallahassee mayor Andrew Gillum, who is also the the state's Democratic candidate for governor, returned to the city from the campaign trail on Saturday night after getting news of the shooting.
Who were the victims?
Two women were killed in the attack: Dr. Nancy Van Vessem, 61, and Maura Binkley, 21.
The Tallahassee Democrat reports that Dr. Van Vessum was the well-respected chief medical director for Capital Health Plan, a local network of about 450 medical professionals, and a faculty member at nearby Florida State University, where she coordinated the clerkship rotations of third and fourth-year medical school students. Dr. Van Vessum also conducted research on providing care to people with multiple chronic diseases, and a nearby hospice center remembered her as a "champion for end-of-life care." Capital Health Plan released a statement calling her "a guiding, visionary force in our daily work to serve the wellness and health care needs of thousands of families in this community."
Maura Binkley, 21, was a fourth-generation legacy student at FSU, where she was double-majoring in German and English, and hoped to get a job with Teach for America after graduating next May. She had grown up in Atlanta, and was a leader in her sorority at FSU, Delta Delta Delta, according to CNN and the Democrat. She also volunteered as a literacy teacher, and was apparently considering graduate school and a career in public service down the line. "She just wanted to help other people," her dad, Jeff Binkley, told the Democrat. "That's all she ever wanted to do."
Maura also "hated gun violence so much," according to her father. "I want people to know that she loved everyone. She believed in living her life for others," he said. "One of her greatest wishes was simply for peace, that the senseless violence would stop."
The four other women who were shot, a 34-year-old, two 21-year-olds, and a 19-year old, all survived their injuries. Two remained hospitalized in stable condition as of Saturday night. The other two women, as well the man who was pistol whipped by the gunman, were all treated and released.
Who was the shooter?
Scott Paul Beierle, 40, was a substitute middle school teacher, Florida State University graduate, and Army veteran with a history of harassing young women. including two arrests for groping. Originally from upstate New York, he had been living in Deltona, Florida, some 200 miles away from Tallahassee, where he was staying in a hotel before the shooting.
Beierle served in the Army from 2008 to 2010, according to the Pentagon, and he was stationed for at least some of that time in Germany, according to Facebook posts he made during his service. He attended FSU from 2011 to 2013, eventually earning two graduate degrees from the school.
In 2012, Beierle was arrested for misdemeanor battery after he allegedly grabbed the buttocks of two women on the FSU campus. The police report said that one woman alleged that Beierle had groped her while she was at the soda fountain in a dining hall. The other woman told police he had groped her on "three separate occasions over the last month." The charges were ultimately dropped.
One of the women, Courtnee Connon, spoke to the Associated Press about the incident. She was 18 at the time, and said she was now feeling guilty about not pressing charges — wondering if that might have somehow prevented the attack on Friday. She said she has never forgotten how "creepy" Beierle was.
Speaking with the Tallahassee Democrat, Connon elaborated that:
He stuck out like a sore thumb. He was just a very big guy. And it definitely made me feel intimidated. I wouldn't say he seemed crazy. He just seemed really creepy.
After Beierle grabbed her, he sat down and stared at all the women who walked by him, and Connon reported him after she saw him grab more women:
I think I thought if he got arrested that that would hopefully be enough to stop him from doing something like that again. And honestly, I think the idea of going to court and everything just scared me.
Connon, who also said she had been the same yoga studio that Beierle attacked, was not the only person who considered the shooter strange and potentially dangerous.
A male FSU student who was roommates with Beierle in 2011 told USA Today "he was very weird and made everyone uncomfortable," particularly with regards to women:
Beierle was odd and obnoxious. He appeared friendless – no one ever came to visit him, [Julien] Brown said. He sat around in the living room in his briefs drinking beer, refusing to put on pants even when friends of his roommates came over. Sometimes, he stayed up all night watching TV and laughing loudly at the screen. Other nights, he could be heard screaming in his sleep. …




Beierle made inappropriate comments when Brown or his other roommate had girlfriends over. It got to the point that Brown and his roommate wouldn't leave any of their guests, male or female, alone with Beierle. "We compared him to Ted Bundy back then," Brown said. "It was the way he lurked and followed girls."
Another former FSU student who once took a class with Beierle wrote on Facebook that she stayed away from him at the time thanks to "his odd leering, inappropriate comments and general demeanor," and that she and other colleagues made sure they were never alone with him.
In 2014, Beierle was charged with trespassing at an FSU dining hall, but was later the beneficiary of some kind of pretrial intervention. The trespassing incident did, however, prompt the university to issue a campus-wide ban for Beierle.
He was then arrested for battery again in 2016 when he allegedly groped a sunbathing woman's buttocks at his apartment complex's pool after she had refused his offer to rub sunscreen on it. The police report said Beierle had sat down next the woman while she was sunbathing on her stomach. He told her she had a "nice butt":
He asked her if he could put sunscreen on it. She thanked him but told him no. The suspect then introduced himself and said nice to meet you. He then slapped her butt, grabbed it and shook it. The suspect then got up and left the pool area.
Those charges were ultimately dropped as well.
The Democrat reported on Sunday that Beierle had worked as a substitute teacher at Deltona Middle School last year, where he "earned a reputation among students for being lazy, detached and downright strange."
"He just gave off a psychopath vibe, like someone crazy," one student recalled, noting that she never saw him smile and that he "put you on edge" when speaking with him. Another student said Beierle was quiet, didn't seem to care about doing his job, and "was really creepy."
Beierle was calling himself a "Urban Planner/Public Administrator" on his LinkedIn page, though he additionally said that he had been a "job seeker" since 2013. His LinkedIn page also indicated that he had once worked in Maryland as an English teacher.
What do we know about his motive?
Police have searched Beierle's car, home, and hotel room, as well as his digital devices and academic, military, and internet histories. On Sunday night, Tallahassee Police Chief Michael DeLeo said that authorities have not determined the gunman's motive. There is also, so far, no known link between the gunman and his victims or the yoga studio.
"Why here? Why did he come back to Tallahassee and the yoga studio?" wondered DeLeo to reporters on Sunday. "That there's clearly some issues with women is an understatement. He certainly felt rejected, betrayed and alone from that sense. On the surface it appears that's what precipitated the attack."
DeLeo's characterization of Beierle's feelings toward women seems like an understatement too. Reporters have uncovered videos and songs published by Beierle in which he expressed far-right views — including some identical to views which have allegedly motivated previous deadly attacks targeting women in the U.S. and Canada. After reviewing Beierle's uploads, BuzzFeed News characterized the shooter as "a far-right extremist and self-proclaimed misogynist who railed against women, black people, and immigrants:"
On a YouTube channel in 2014, Beierle filmed several videos of himself offering extremely racist and misogynistic opinions, in which he called women "sluts" and "whores," and lamented "the collective treachery" of girls he went to high school with.




"There are whores in — not only every city, not only every town, but every village," he said, referring to women in interracial relationships, whom he said had betrayed "their blood." …




In one video called "Plight of the Adolescent Male," he named Elliot Rodger, who killed six people and injured 14 and is often seen as a hero for so-called incels, or those who consider themselves "involuntarily celibate."



In April, a 25-year-old man who identified as an incel and expressed extreme anti-women views online used a rented van to kill ten people in Toronto. The attacker, Alek Minassian, praised Elliot Rodger and said that the "incel rebellion has already begun" in a Facebook post before his attack — likely referring to an uprising of violence by sexually frustrated, women-hating men in order to attack society and upset the sexual order, including the use of mass rape as a weapon.
BuzzFeed News also found a song Beierle uploaded to the internet shortly before attacking the yoga studio:
Unlike the YouTube videos, his songs on Soundcloud were all uploaded in the last few months. Shortly before Friday's shooting, Beierle uploaded one song called "Fuck 'Em All," with the lyrics: "To hell with the boss that won't get off my back / To hell with the girl I can't get in the sack."




Another song, called "Nobody's Type," featured him lamenting that women didn't find him attractive. "I'm no athletic shark. I'm not a physical specimen. I don't win the trophies and medals. Nobody stands in awe of me," he sang.




In "American Wigger," he sang that he would "blow off" the head of a woman he referred to using the c-word. The song "Locked in My Basement" featured an extremely disturbing tale of Beierle holding a woman prisoner in his basement using chains so he can rape her.




Other songs were entitled "Who Let the Fags Out?" and "Bring Your Fatwa."
In one of the gunman's YouTube videos, "he said that he resented having to subsidize as a taxpayer 'the casual sex lives of slutty girls' through the Affordable Care Act's contraception provisions," and "criticized 'the invasion of Central American children' in the U.S. that year and said the migrants seeking asylum should be deported on barges."
The New York Times also took a look at Beierle's videos, which were all uploaded to YouTube in 2014:
In the videos, Mr. Beierle pontificated from a dimly lit bedroom, with an unmade bed and a pile of cardboard boxes in the background. He lamented his inability to connect with other people — from Army comrades who he said would not travel with him while stationed in Europe to women who refused to go out with him.




He identified with "involuntary celibates" and told personal stories of rejection, naming multiple girls who he said had wronged him.

"Made one date, didn't show up," he said of one woman. "Made another date, didn't show up. Kept making excuses. Ah, I could've ripped her head off."
Beierle's Facebook profile indicates that he was a member of two political groups, FSU College Republicans and We Are Conservatives. His only publicly visible political post on the social media site was a picture of him standing next to a cardboard cutout of former president Ronald Reagan. He was not registered with any political party.
Again, it's not clear if there is any evidence that directly links Beierle's extremist views to his attack on the yoga studio, but when combined with the shooter's history of sexual harassment — it seems likely they played some role.
Two weeks of right-wing violence
If the yoga studio attack in Tallahassee was motivated by the gunman's far-right views, it would be the fourth instance of right-wing domestic terrorism to strike the U.S. in less than two weeks.
Two weeks ago, also in Florida, an obsessed Trump supporter allegedly mailed pipe bombs to Democratic leaders, members of the media, and others that Trump has identified as his enemies. None of the bombs exploded, and the suspected mail-bomber was identified and arrested within a week.
That same week, on October 25, a white man attempted to enter the locked door of a black church in Louisville, Kentucky, then shot and killed two black men at a nearby Kroger supermarket. That shooting is being prosecuted as a hate crime.
Two days later, on October 27, a neo-Nazi attacked the Tree of Life synagogue in Pittsburgh, killing 11 mostly elderly people in the worst anti-Semitic attack in American history. The attacker, who yelled about wanting to kill Jews during the assault, was not a Trump supporter, but was obsessed with the caravan of Central American migrants which Trump and others on the right have been cynically promoting ad nauseam ahead of the midterm elections.
This post has been updated to reflect new reporting on the shooting and shooter.