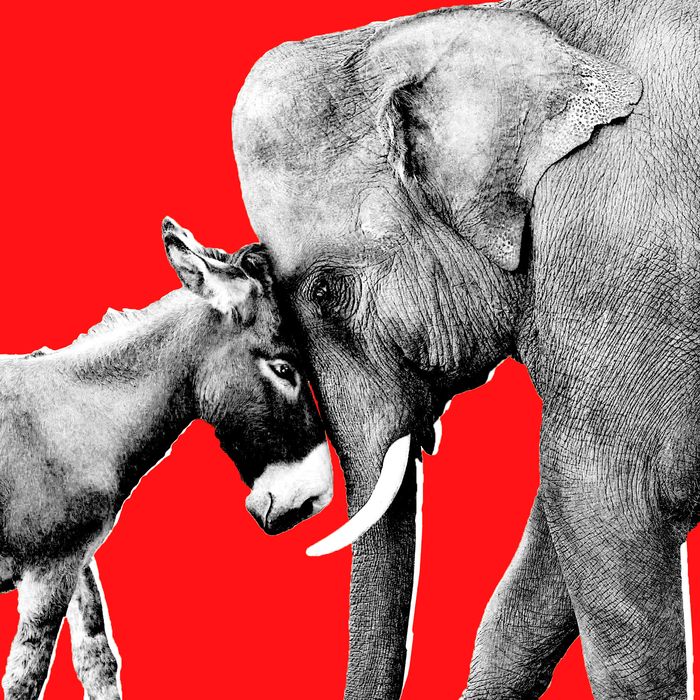 There are an awful lot of nail-biters on tap for November 6 – and after.
Photo: John Lund/Corbis via Getty Images
Just two days from now the midterm elections of 2018 will finally be over — for the most part. We may not know some results in California and Washington until late mail ballots are counted, and with an unusually high number of too-close-to-call races, there will likely be contests that go into overtime across the country. Here's the latest on the most consequential, and most contentious, races we'll be watching on November 6:
The Big Picture
At present the odds are good if not overwhelming that Democrats will regain control of the House and make significant gubernatorial and state legislative gains, while Republicans maintain control of the Senate (possibly even increasing their margin over Democrats there). Cook Political Report's David Wasserman calls the House landscape "fairly stable," with Democrats "poised to gain between 25 and 40 seats" (they need a net gain of 23 for control). FiveThirtyEight gives Democrats six in seven odds of winning the House. Cook rates 71 House races as competitive, with all but four of those occurring in districts currently controlled by Republicans. FiveThirtyEight considers 111 races at least somewhat competitive, with 102 of them involving Republican-controlled seats. Democrats have an advantage in the generic congressional ballot — an approximation of the national House popular vote — of 7.0 percent according to the RealClearPolitics polling average, and of 8.1 percent according to FiveThirtyEight.
Cook considers 13 Senate races — eight in seats controlled by Democrats, five in seats controlled by Republicans — competitive, which is obviously a far better landscape for the GOP than in the House. FiveThirtyEight suggests there is an equal probability (just 10 percent) that Republicans will pick up at least three net seats, or that Democrats will gain the two seats they need to flip the Senate
Over half the 35 governors' races on tap this year are rated as competitive by Cook, with an amazing 12 considered toss-ups. Because Republicans are defending 26 governorships, Democrats are almost certain to make gains.
Turnout is likely to be high for a midterm nearly everywhere. Early voting has grown as a share of total voting for a good while now, but so far, this year's numbers are especially impressive:
Crazy Close House Races
There are 29 House races that Cook rates as toss-ups, in all sorts of places — a disproportionate number of which are suburban "Romney-Clinton" districts (carried by Mitt Romney in 2012, but by Hillary Clinton in 2016) where college-educated white voters' distaste for Trump seems to be a crucial factor in making historically Republican seats suddenly vulnerable. There are five such districts in California, including the 39th District (covering Orange, Los Angeles, and San Bernardino counties), considered particularly hard to call. The incumbent is a Republican, Ed Royce, who is retiring. The district is trending blue, however, thanks to demographic changes; Clinton won it by nearly 9 percent. The candidates are interesting: Democrat Gil Cisneros is a Latino Navy vet who can largely self-fund thanks to a winning $266 million lottery ticket he held back in 2010. Republican Young Kim is a state legislator who has an angle on the district's large Asian-American population. Cisneros has been hit with a subsequently recanted sexual-harassment allegation. The two most recent polls have shown the race statistically tied.
Another very close California race is in Orange County's 48th District where Republican incumbent Dana Rohrabacher — sometimes known as "Putin's favorite congressman" thanks to his strongly pro-Russian outlook — is a slight underdog to Democrat Harley Rouda. The most recent polls couldn't be much closer.
The same is true of an Obama-Trump district (carried by Obama in 2012, Trump in 2016) in bellwether Iowa, the Des Moines–based Third District. Like other Iowa Republicans, incumbent Representative David Young (who was elected and reelected in two of the best Republican cycles in the state's recent history) has been on the defensive all year. However, Young was still favored over Democrat Cindy Axne until the general election race really got rolling. Polls have shown Axne with a statistically insignificant lead, and there's buzz about Republicans in Iowa generally making a late comeback with national cash infusions and Trump-generated right-wing enthusiasm. If Republicans hold Iowa's Third District, or even more impressively, the state's First District (where GOP incumbent Rod Blum has been in deep trouble the entire cycle), it could mean the Democratic "wave" won't meet high expectations.
There's a suburban/exurban district in central Virginia that was carried by both Romney and (more narrowly) Trump that's by most accounts too close to call as well: the Seventh, where incumbent Republican Dave Brat is running even in polls with Democrat and former CIA agent Abigail Spanberger. The hard-core conservative Brat is famous for having defeated then-House Majority Leader Eric Cantor in a 2014 primary, but has at some points trailed Spanberger, despite GOP efforts to smear her for once teaching at an Islamic school before joining the Company. A New Mexico open seat (vacated by Republican Steve Pearce) in another historically Republican district (carried by 10.5 percent by Trump) is the site of a pick 'em race between Republican Yvette Herrell and Democrat Xochitl Torres Small, a water-rights lawyer who has managed a significant spending advantage.
And still another race Democrats could win in a district carried by both Romney and Trump is in New York's Hudson Valley 19th District, where incumbent Republican John Faso has been trading the lead in polls with Democrat Antonio Delgado, a contest marred by racially tinged GOP attacks on the African-American challenger for a past career as a rapper.
Races That Could Help the GOP Keep the House
If Republicans pull off a few upsets in Donkey-held districts, they may be able to weather Democratic gains without losing the House. There is one sure GOP pickup in Pennsylvania's 14th District, where the court-ordered re-redistricting of the state overall benefited Democrats but made one pro-Republican flip certain. Republican Pete Stauber is the favorite in Minnesota's Eighth District, an open Democratic seat in the Iron Range, where Trump won by nearly 16 percent in 2016 (after Obama won it by 5 percent in 2012). And Republicans are optimistic about flipping another Obama-Trump seat in Minnesota's First District, whose incumbent, Tim Walz, is the Democratic nominee for governor. Republican Jim Hagedorn and Democrat Dan Feehan are in a close race where limited polling is inconclusive.
There are two highly competitive open seats in Nevada in which Democrats are modestly favored; a win in either or both might signal a good night for Republicans. In the southern Nevada Third District being vacated by Democratic Senate nominee Jacky Rosen, Democratic philanthropist Susie Lee (who ran unsuccessfully for the nomination in the Fourth District in 2016) is facing semi-perennial candidate and basketball scion (he's the son of legendary UNLV coach Jerry "Tark the Shark" Tarkanian) Danny Tarkanian. The district went for Clinton by one point in 2016. In the central Nevada Fourth District, where freshman Democrat Ruben Kihuen declined to pursue reelection after being hit with multiple sexual harassment allegations, two former congressmen from the district, Democratic Steven Horsford and Republican Crescent Hardy (the latter beat the former in 2014, and then lost to Kihuen in 2016) are facing each other again. Clinton carried the district by five points in 2016.
Possible "Blue Wave" Shockers
Democrats fantasizing about the consequences of a larger-than-expected wave can now focus on two very famous House members, after Cook reclassified their races. A new Democratic poll showed nativist icon Steve King of Iowa barely leading his Democratic opponent J.D. Scholten. King has been getting some bad publicity of late for his enthusiasm for global white supremacists, and if his state does indeed show big-time buyer's remorse for its big vote for Trump in 2016, King would be an especially appropriate victim. Cook now rates the race "Lean Republican." In California, famous Trump-enabler Devin Nunes's race is still "Likely Republican," but his opponent Democrat Andrew Janz is extremely well-funded and there's talk of a Latino voter uprising against the incumbent.
Two races in traditionally Republicans districts in Georgia could also provide signs of a blue wave if Democrats pull an upset on November 6. One is the north Atlanta suburban 6th district, site of the famous 2017 special election in which veteran Republican candidate Karen Handel defeated Democratic newcomer Jon Ossoff in the most expensive House races ever. National gun control advocate Lucy McBath is running a stronger-than-expected race against Handel this year; the single public poll in the race showed Handel up by four points. In the next-door 7th district, Democratic academic Carolyn Bordeaux is close enough to incumbent Rob Woodall to make Republicans a bit nervous. Both Democrats could benefit from gubernatorial candidate Stacey Abrams's intense minority turnout efforts.
Tight Races That Will Determine Senate Control
While Cook still rates nine Senate races as toss-ups, several now look to be tilting one way or the other depending on last-minute developments and turnout patterns. New Jersey Democrat Bob Menendez is maintaining a narrow but steady lead over Republican Bob Hugin in a race dominated by the challenger's money and the incumbent's ethics issues. And Ted Cruz seems to be holding onto his lead over the now-legendary fundraiser Beto O'Rourke. The latest poll, from Emerson, shows O'Rourke within the margin of error, trailing Cruz by three points. His best hope is a late enthusiasm-based surge. North Dakota Democrat Heidi Heitkamp is now regularly trailing Republican Representative Kevin Cramer in polls, though the state is notoriously difficult to survey. Another race that seems to have been trending Republican is in deep-red Tennessee where former Democratic Governor Phil Bredesen, who was looking very strong earlier in the cycle, has slipped behind Representative Marsha Blackburn in most recent polls (though a late online poll of registered voters showed them tied).
But Democratic incumbents are still leading by varying margins in three other red states that Trump handily carried in 2016. The most secure is probably West Virginia's Joe Manchin (who protected himself by voting to confirm Brett Kavanaugh), though two late polls have shown his once-large lead over Republican attorney general Patrick Morrisey shrinking to five points.. Montana's Jon Tester has led state auditor Matt Rosendale by a steady but gradually shrinking margin. And Indiana's Joe Donnelly appears to have dropped into a very close race with Republican businessman Mike Braun after leading the race for weeks.
Two races for Republican-held seats that Democrats have been counting on in their drive for Senate control are now too close to call. In Arizona, recent polls have provided results ranging from a six-point margin for Democrat Kyrsten Sinema to a seven-point margin for Republican Martha McSally. But Republicans think negative attacks on Sinema's "radical" background and the latest Trump-fed immigration panic might tilt the race to McSally. FiveThirtyEight rates Sinema a very slight favorite. And in Nevada, Republican incumbent Dean Heller is in a very tight race with Democratic representative Jacky Rosen, though Heller was once thought to be an almost certain loser this year. Nevada is turning into a partisan slugfest across the board, with very close gubernatorial and House races taking place as well. Early voting in the state (which is also very close) represents a test of each party's well-oiled mobilization machine.
And there are two other Senate races that have been too close to call all along, both in Trump 2016 states. In Florida incumbent Democrat Bill Nelson has overcome a slow start and is riding anti-Trump sentiment in his race against massively funded Governor Rick Scott. The governor is being helped by positive assessments of his role in dealing with Hurricane Michael, but may be hurt by very high African-American turnout stimulated by Democratic gubernatorial candidate Andrew Gillum. This is another state with heavy early voting coming in at potentially historic levels. Most recent polls have given Nelson a slight edge, but the very latest, a large-sample survey from St. Pete Polls, has Scott up by a point. Meanwhile, in Missouri incumbent Democrat Claire McCaskill has been in a back-and-forth race with Attorney General Josh Hawley. While it is clearly true that the state's dynamics favor the challenger, McCaskill has by most accounts run the better campaign.
High-Profile Gubernatorial Toss-ups
There are some signs that the Florida's governor's race between Andrew Gillum and Republican representative Ron DeSantis is tightening as well, with recent polls giving Gillum a lead within the margin of error. But the impressive turnout patterns that gave Gillum an upset win in the August Democratic primary may be his ace in the hole, and FiveThirtyEight gives him a three-in-four chance of winning at this point. Two other dead-even gubernatorial contests are raging in Nevada and Ohio (in Nevada, Republican Adam Laxalt faces Democrat Steve Sisolak, and in Ohio it's Republican Mike DeWine versus Democrat Richard Cordray). And in Wisconsin and Kansas, there are very close gubernatorial races attracting especially intense national attention. In Wisconsin, Scott Walker is in the biggest peril of his political career, but the latest survey from the gold-standard Marquette Law School pollster showed Walker and Democrat Tony Evers dead-even. In Kansas, nativist/voter suppressor Kris Kobach is even with Democrat Laura Kelly, and independent Greg Orman may keep Kelly from consolidating the anti-Kobach vote. A real sleeper is in South Dakota, where out of nowhere conservative Democrat Billie Sutton, a paraplegic former rodeo professional, is in a tight race with U.S. Representative Kristi Noem.
Contests That Could Head Into Overtime
If the midterm cycle didn't satisfy your political appetite, there are two races that could extend the election season. In Mississippi, the nonpartisan special election to fill senator Thad Cochran's term (he resigned earlier this year) will be held on November 6, but appointed Republican Cindy Hyde-Smith is unlikely to win the required majority, and will almost certainly face former Democratic congressman and USDA Secretary Mike Espy in a November 27 runoff; a trial heat poll showed her leading Espy by a comfortable margin. And one of the closest and bitterest races in the country, the Georgia gubernatorial contest between Republican Brian Kemp and Democrat Stacey Abrams, could go to a runoff as well since state law requires a general election majority. If the main race is as close as polls currently indicate (neither candidate has held a polling lead larger than the margin of error since this contest began), then the customary 2 to 3 percent usually carried by the Libertarian candidate could be enough to send the contest to a December 4 runoff. Historically such runoffs have favored Georgia Republicans, but the unprecedented nature of Abrams's candidacy (she is vying to become the nation's first African-American woman to serve as governor) and her turnout-focused strategy could make this a nail-biter all the way into the heart of the holiday shopping season. You might recall that Democratic Senator Doug Jones won a similarly scheduled special election last year in next-door Alabama. These are unpredictable times.