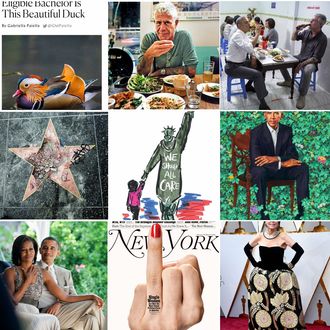 New York magazine's Top Nine for 2018.
Photo: topnine.co
I'll keep this brief because you already know what you want to get out of this post. The end of the year is upon us and, as has become internet tradition in the last three years, you'd like a collage of your nine most-liked Instagram posts from 2018 so you can repost that image on Instagram for even more likes. And you'd like to know how to do it as easily as possible. Well, great. We've got an Instagram best-nine generator recommendation for you and some tips to make the process as easy as possible.
This year, we're recommending a program called Top Nine. (Last year's was Best Nine. Same shtick, different day.) There's a desktop version and an app. We used the desktop version, since they email you the file no matter which option you use. A note: If your Instagram account is private, you'll need to use the app. Head to TopNine.co and input your Instagram handle. As in previous years, you can also input any public Instagram handle if you're curious.
Next, Top Nine asks for an email. Before you balk, know that in past years, during peak times, collage generating has taken as long as an hour. By giving them your email, you can just walk away from your computer and you'll get your Top Nine when it's ready. (You can read Top Nine's privacy policy here. It's pretty boilerplate, but when you're finished making your collage I recommend taking a few seconds and heading here to request Top Nine delete your email and all data associated with it.)
Once you've entered your email and your Instagram handle … you're done. You'll see a pop-up reading "Your Top Nine is almost ready" appear. There's weirdly no X in the box in the upper right-hand corner, but click there anyway to make the pop-up — an ad for getting your Top Nine printed on mugs and shirts — go away. A troubleshooting tip: If Top Nine starts telling you it need to log into your Instagram on the next page don't listen. Instead, try opening the program in an incognito window. This fixed the problem for me. When your collage email arrives, you can download the file to your device to post. It'll have Top Nine branding on it, but you can crop this out if that's more your vibe.