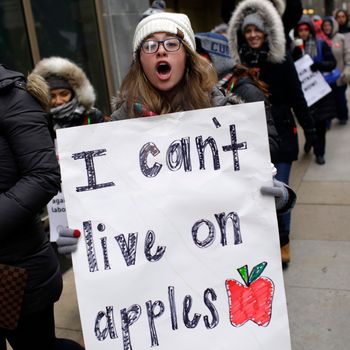 Educators from the Acero charter school network hold signs as they protest during a strike outside Chicago Public Schools headquarters on December 5, 2018 in Chicago, Illinois.
Photo: Joshua Lott/Getty Images
In a statement released to New York Magazine on Friday evening, the Acero network of charter schools accused the Chicago Teachers' Union of violating the Illinois Educational Labor Relations Act. According to Acero, the CTU's strike—which entered its third day on Friday morning—is illegal. The charter network has also demanded a temporary restraining order to bring the strike to an immediate end. "CTU-ACTS has failed to follow the basic procedural requirements outlined in the law," Acero claimed, in explaining its justification for seeking the restraining order. "This includes the requirements specific to demonstrating a bargaining impasse, posting of offers and providing notice before advancing to a strike."
In filing documents viewed by New York, Acero also says CTU violated certain provisions of the National Labor Relations Act by interfering with secondary workers (known colloquially as scabs). Acero claims that at Octavio Paz Elementary School, strikers formed "a human shield to prevent a substitute teacher from entering the building," forcing a guard from the Chicago Public Schools "to extend his arms and use his body" to escort the substitute teacher inside the building, that picketers offered alcohol to the Cisneros Elementary School principal, and that a picketer threatened to call Immigration Customs and Enforcement on a parent dropping a child off at Cisneros Elementary School, among other incidents.
Acero also claims the union has bargained in bad faith by demanding the addition of sanctuary school policies in its members' contracts, engaging in regressive bargaining, organizing on company time, and adopting a "take it or leave it" attitude during negotiations.
CTU representatives and contacted by New York for comment were initially unaware that Acero had filed the actions. At the time, the union's bargaining committee was at the table with Acero representatives to continue re-negotiating the terms of their contract. In a statement, CTU president Jesse Sharkey told New York:
"Acero's management is desperate, and our pressure is working. There is nothing illegal about our strike over wages, benefits, class size and other conditions that are mandatory subjects of bargaining under the federal labor law that governs this contract. Acero CEO Richard Rodriguez is a political hack trying to build his personal empire and the size of his wallet at the expense of our students. A growing groundswell of parents, neighborhood residents and elected officials are rejecting his spectacular greed, just as the courts will reject this desperate move to hoard power and public dollars at the expense the children in these schools and the educators upon whom they rely.
This is a pathetic and predictable ploy. Our bargaining team is at the table now and intends to work through the weekend to win a fair agreement."
Responding to Acero's claim that a picketer had threatened to call ICE on a parent, CTU communications director Chris Geovanis said, "We've been demanding sanctuary school language in our bargaining expressly to prevent that kind of incident from happening."
In a previous press advisory, CTU had reported that an Acero parent on the picket line had called the Chicago police to report a physical assault on a striking teacher by a guard from Monterrey Security, a private security company in the employ of the charter network.
Acero confirmed to New York in an email that the network employed guards from Monterrey Security, both before and during the strike, and denied that there had been any incidents involving Monterrey. Acero additionally confirmed that a picketer had called police to report an assault, though the charter network says the police did not take a report. Monterrey Security has a checkered history: In October 2017, the state of Illinois had begun a review of the Chicago-based private security company after two NFL teams—the Buffalo Bills and the Minnesota Vikings—had fired Monterrey. According to CBS News, the company allegedly double-billed the Vikings and "failed to do proper training and background checks and hired ex-convicts." And in March of this year, the Chicago Tribune reported that a man died of asphyxia after a Monterrey Security guard hired by a Chicago Walmart handcuffed him and drove a knee into his neck over suspicions of shoplifting. In press advisories, CTU has criticized Acero for employing Monterrey.
Acero has retained the services of Robbins Schwartz Nicholas Lifton and Taylor, which says on its website that charter school law is one of its specialties. A bio for Acero's attorney, Joseph J. Perkoski, says he represents "both public and private employers in collective bargaining, contract maintenance and grievance arbitration matters."