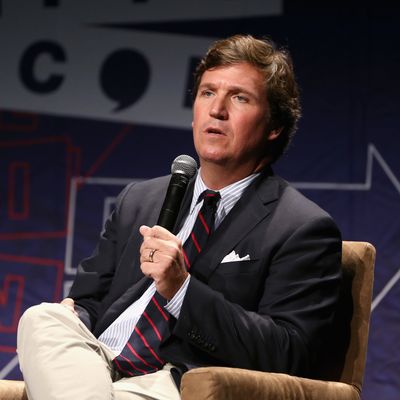 Tucker Carlson.
Photo: Rich Polk/Getty Images for Politicon
Fox News host Tucker Carlson has lost at least six advertisers in the five days since he disparaged immigrants by saying they're making the U.S. "poor and dirtier," but on Monday's show, he showed no contrition for his bigotry.
"The left would very much like you to stop talking and thinking about bad decisions they've made over the years," he said Monday. "'Shut up,' they're screaming, including to this show. Obviously, we won't and you shouldn't either."
He went on to explain what he meant when he said immigrants make the U.S. "dirtier": They litter and Carlson is, apparently, an environmentalist now.
Pacific Life, which had an ad run immediately after Carlson's remarks on Thursday, was the first to abandon him. Last Friday, it announced that it was pulling commercials from his show. "Our customer base and our workforce reflect the diversity of our great nation, something we take great pride in," the insurance company said in a statement.
On Monday, five more companies followed. They are the jobs website Indeed; the online marketplace Minted; SmileDirectClub; Nautilus, Inc. which makes the Bowflex; and the personal finance website NerdWallet.
"Whenever we receive feedback about advertising on specific programs, we evaluate it on a case-by-case basis," a NerdWallet spokesperson told The Hollywood Reporter. "If our review determines that a certain show's content doesn't align with our company values, we take commensurate and appropriate action."
Some advertisers have decided to continuing standing by Carlson, the Daily Beast reports:
Farmers Insurance, one of the program's advertisers, said in a statement to The Daily Beast that the company's ad buying decisions should not be portrayed as political.




"Farmers invests in advertising across a broad range of networks and programs that reflect the diversity of opinions and viewpoints found across the nation," the company said in a statement. "Advertising decisions made by Farmers should not be construed to be an endorsement of any kind as to a show's content or the individuals appearing on the show."




Mitsubishi, another advertiser, told The Daily Beast it did not consider politics as a factor when making ad buys.
Fox News is defending Carlson in his time of need. In statement, a spokesperson said: "It is a shame that left-wing advocacy groups, under the guise of being supposed 'media watchdogs,' weaponize social media against companies in an effort to stifle free speech."